Home: Road Trip to Shop in Chatham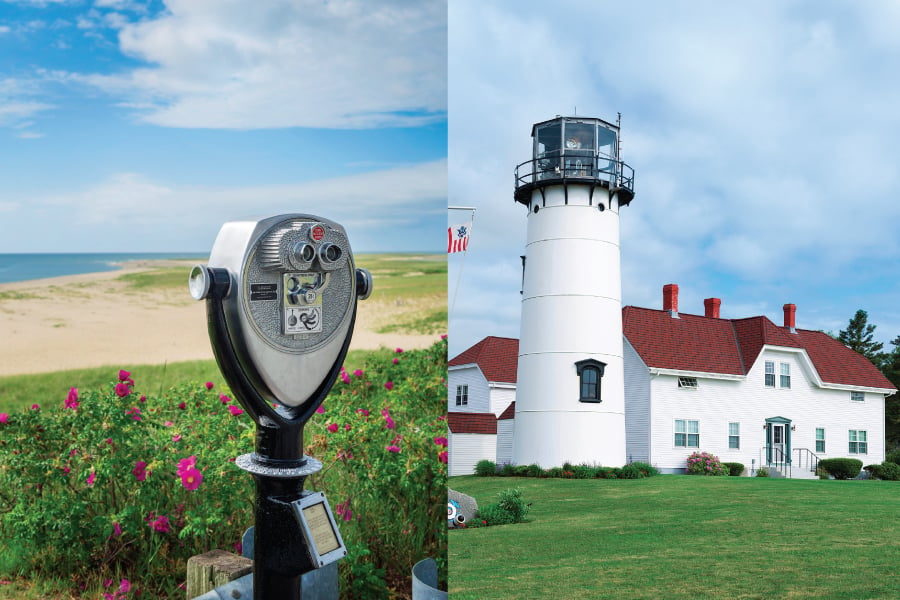 Ninety-two miles from Providence? That's roughly an hour and forty minutes — far less time than it takes to do a week's laundry. In fact, the thought of chores propelled us to our car. Before we knew it, we were walking the tony main street. Chatham, we learned, is the most easterly, sea-reaching point in the state, with water lapping on three sides. Among the Cape's oldest townships, it was settled in 1656 (the same year comet-spotter Edmond Halley was born). We spied star-quality work in the numerous galleries, upscale home and garden wares (our downfall) and enough heavenly jewelry to fill a pirate's chest. Soak up the scenery and make your way through some of these stops — they trail one after another — and you'll long to hightail it back as much as we do:
Monomoy Salvage

Monomoy Salvage
Scores of patinaed weather vanes, boat wheels and porthole windows made it challenging to keep our heads. This postcard-worthy little building is a happy jumble of painted signs, nautical instruments and much more. From a basket of bottle openers, we nabbed an iron sea bass ($5) for a friend. The rumor? Visitors from abroad are stocking up on Monomoy's New England-flavored goodies and shipping them home — hurry!
1134 Main St., 508-945-6055, monomoysalvage.com.
Kahn Fine Antiques
As the name implies, only the cream of the antique crop — wondrous scrimshaw (a whale's jawbone transformed into a tortoiseshell-inlayed cribbage board), nautical instruments, clocks and such — find their way. Even the setting, which is designed to resemble a nineteenth-century luxury yacht, is unique. Given a choice (and fatter wallet), we would have carried off a gleaming brass telescope and a lovely eighteenth-century rope-handled chest.
582 Main St., 508-945-6450, kahnfineantiques.com.
Gallery Antonia
The owner named the gallery for his grandmother. And the welcoming, come-in-and-browse ambience is inclined to make you linger longer over the competent work — all by either Cape-based or regional artists.
578 Main St., 508-469-4020, galleryantonia.com.
Yellow Umbrella Books
Lose track of time and wander. It's a bonanza of old and new books with a hearty helping of garden and cooking tomes thrown in. To channel the Cape when you're home, comb the shelves for famous local authors like John Hay and Henry Beston.
501 Main St., 508-945-0144.
J. Todd Galleries

J. Todd Galleries
There's a wealth of beguiling paintings under this one roof and many of them contemporary. Works by the likes of David Schock, Stephen Knight, Michael Marrinan, Holly Lombardo and Beth Dacey — not to mention Sandy Moran's intricate sailors' valentines composed of seashells — could turn you into a lifelong collector.
492 Main St., 508-945-0888, jtodd.com.
Mark August
Amid cases of must-have bling (there are more than a dozen bewitching jewelry lines represented), lurks a host of irresistible and affordable tabletop treasures, soaps and scents. Our pick? A fleet of votives shaped like sailboats ($12 for the smallest version) to float across our kitchen table.
490 Main St., 508-945-4545, markaugust.com.
Artful Hand Gallery
The creations of myriad artists vie for attention. Cutting boards, pottery, mugs, coffee-table-worthy books — a single visit and it's possible to compile a year's list of birthday gifts. Choose a neat lamp, birdhouse or garden sculptures for yourself.
459 Main St., 508-945-5681, artfulhandgallery.com.
Struna Galleries
The appealing building beckons you in to see the work of local painter and printmaker Timothy Jon Struna. Among his handsome depictions — beaches, birds, boats, seashells and lighthouses as well as architecture — there'll be more than one that speaks to you.
458 Main St., 508-945-5713, strunagalleries.com.
Tale of the Cod
Once inside, the building seems to expand Alice in Wonderland fashion, with seemingly endless inventory. Cute Dash and Albert rugs and Mariposa metalware vie for room along with pottery and boat models. A posh cabinet with portholes in its doors ($1,839) was the highlight in the furniture category.
450 Main St., 508-945-0347, taleofthecod.com.
Demos Antiques Ltd.
Wedge in and do some searching. Best buy? Reproduction old fish prints and flowers — at $5 a pop — afford an opportunity to fill a wall with a generous grid.
447 Main St., 508-945-1939.
Midsummer Nights

Midsummer Nights
If you're decorating top to bottom, you've hit a mother lode. MN has everything required from bed and bath linens (Matouk, Sferra and Mia and Finn included) as well as furniture. The relaxed ambience conjures summer houses and al fresco dinners lit by candles in glass hurricanes (they have those too).
443 Main St., 508-945-5562, midsummernightschatham.com.

Found Home

Found Home
Proprietor Jennifer Runnels has a talent (ask her interior design clients) for putting things together. Her stylish stash balances antiques and vintage consignment along with new items. You'll want everything — furniture, art and artful accessories (antique barbells are just one) — to recreate her stellar look.
726 Main St., 508-945-0021, foundhome.sqsp.com.
Odell Studios/Gallery
Tom and Carol Odell, sculptor and artist respectively, show off their work together in this airy gallery. Paintings, monotypes, bronze vessels — it's all admirable. Still, we most coveted Tom's cast bronze iron bench ($11,500). We're certain if we could have bought that, we'd have also claimed a piece of his exquisite jewelry.
423 Main St., 508-945-3239, odellarts.com.
Chatham Beach Dog
Our dog, left to man the fort, deserved a treat and there were myriad options. We settled on a large fruity-type biscuit ($.50). She'd probably have preferred a pink, whale-patterned collar or a trendy Molly Mutt "duvet" bed cover.
416 Main St., 508-945-3395, chathambeachdog.com.
Sea Salt and Pepper
From fish-shaped cookie cutters to cool Himalayan salt plates, there's no way you won't find something you need or can't live without. Locally made products like the Chatham Sea Salt ($10) have "hostess gift" written all over them.
400 Main St., 508-348-1864, seasaltnpepper.com.
---
Where to Revive
Vers ("fresh" in Dutch) is actually three sophisticated eateries — patisserie, restaurant and lobby cafe for the renovated Orpheum theater (a 1916 movie house).
637 Main St., 508-945-4300, verscapecod.com.
The well-touted Impudent Oyster (thumbs up for the white bean/fennel soup and fish sandwich) is a perfect place for a leisurely sit-down.
15 Chatham Bars Ave., 508-945-3545.
Cookies from the Cottage Street Bakery remedy the afternoon slump.
483 Main St., 508-945-5200, cottagestreetbakery.com.
And so does Buffy's unbelievably good ice cream. 456 Main St., 508-945-5990.
Leaving town, grab a savory pie ($17.50 for the small seafood) at Marion's Pie Shop and you won't have to cook dinner.
2022 Main St., 508-432-9439, marionspieshopofchatham.com.