Home: College Hill Goes Modern
A repeat performance by the architects refined the home for new owners.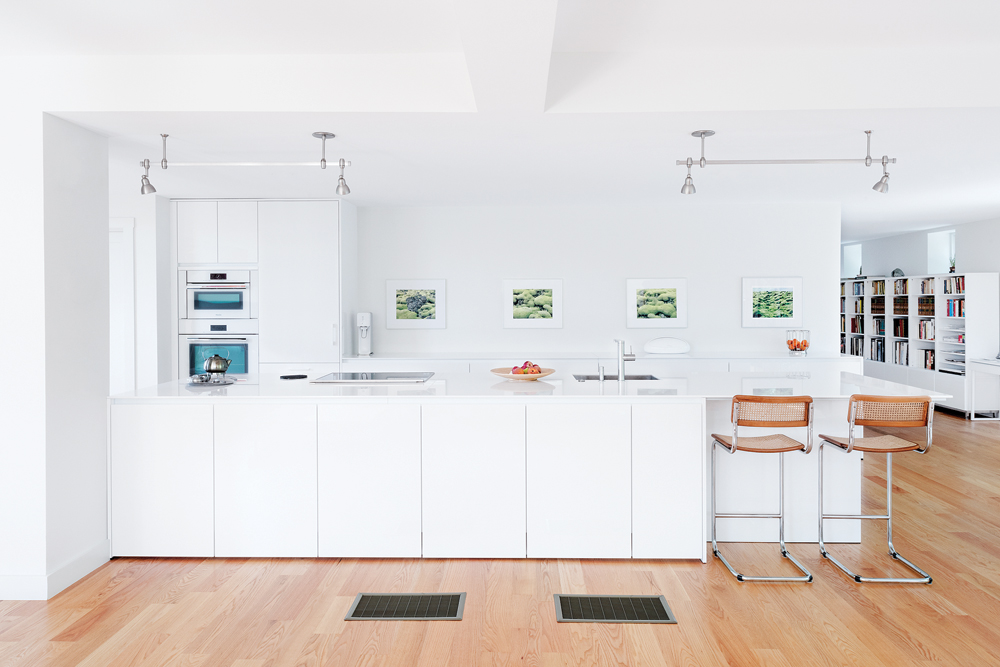 The Come Back
How it came to be so perfect, of course, warrants some explaining. Built in the '70s and then at some point left to fend for itself, the building was being gobbled up by vegetation when the previous occupant came along. Collaborating with Providence's Kite Architects, he brought the contemporary-styled house out of the dark and back to life. New windows captured views long ignored and structural modifications opened up the interior. The result resonated with today's owners. What better gallery-like setting for their art? Even their furnishings slid into place as if no other home would do. The restrained palette enhances the glorious light. On the day we visit, the interior is luminous. Only the postcard urban vistas — not rumbling traffic or neighbors (the volume of the space and exterior insulation dampen noise) — remind us we're in the city.
So well integrated is the monochromatic galley — despite its top-notch functionality — you'd hardly know it was there. "The kitchen is a play of light and shadows on surfaces," Garcia says. Anything more dramatic would have distracted the eye. In this spirit-lifting house, only the art lends color and a single object like a fruit bowl becomes a photo-worthy still-life. Note how the cook looks out to a private slice of landscape too. No coincidence there — the talented architects, leaving nothing to chance, took every opportunity to capture trees and sky. Garcia, though, credits all the parties involved. "The open and fluid exchange of ideas between multiple collaborators," he says, is what really makes this home a thing of beauty.