Holiday and Rhode Island-Themed Children's Books
Give the gift of a book written by an area author that teaches little ones about life in the Ocean State, or takes them on a journey to the North Pole.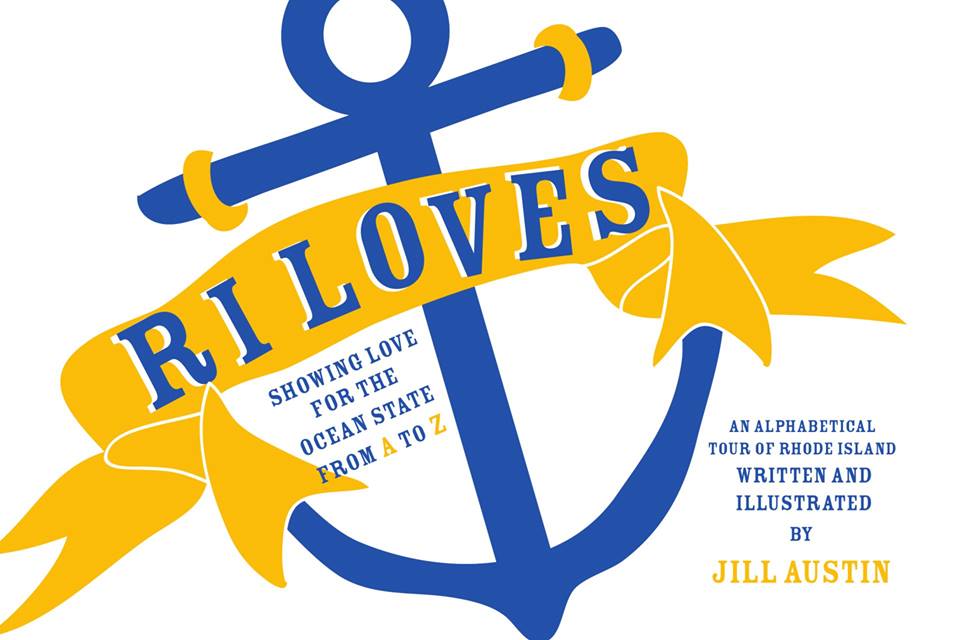 Children's books are the gifts that keep giving. Every night, I sit down to read books to my two-year-old son. Once we finish the first book, he points up at his bookshelf and says, "More!" The cycle continues four or five times, or as long as I can read aloud without getting out of breath. We have read every book we own dozens of times. So when friends and family members give books for Christmas and birthday gifts, I get excited, because it means I will finally have something new to read.
Here are a few book gift ideas from area authors, which makes purchasing them even better. Whether it's a Rhode Island or Christmas theme, you will love curling up with your little one and one of these treasures.
RI Loves: Showing Love for the Ocean State from A to Z
Written and illustrated by Jill Austin
Austin takes tin
y readers on a journey through Rhode Island, highlighting the things that make the state unique. From an Anchor that helps us go fishing to the Zoo at Roger Williams Park, this book will initiate little ones into the wonders of the Ocean State. Simple illustrated graphics and bright colors pop on every page, while words and phrases teach youngsters about Rhode Islanders' favorite foods and things to do. You will see cameos from Del's Lemonade and the Big Blue Bug, too! Author Jill Austin grew up in Smithfield and lives in North Providence with her husband and two daughters. She is a graduate from the University of Rhode Island, and worked at both the Mystic Aquarium and the Roger Williams Park Zoo. The book is $15.99 and $2 for shipping and handling at pvdparents.com. You can also purchase it at local book stores Barrington Books and Books on the Square.
Post Mark: Santa's Misfit Postman
By Mark Perry and Illustrated by Lia Marcoux
When Mark was a boy, kids at school used to make fun of him. He had dreams of traveling around the world and writing stories about his visits, but his peers told him he could never do it. As an adult, Mark proved them all wrong, landing on all seven continents as part of his career as a journalist. In this book, Mark shares what he learns in each country, and when he lands in the North Pole, something remarkable happens. He gets the chance to meet Santa, who has a very important job that he needs help with. Is Mark the right man for the job? Author Mark Perry is a former journalist who traveled around the world. He lives in North Attleboro, Massachusetts. Purchase his book for $15.95 or combine it with a real personalized letter from Santa for $19.95 at northpolepostman.com.
The Twelve Days of Christmas in New England
By Toni Buzzeo and illustrated by Liza Woodruff
A sing out loud story set to the theme of "The Twelve Days of Christmas," Buzzeo's book takes children on a journey full of lessons about New England's history, geography and landmarks. Grace spends Christmas with her cousin Camden in New England, and Camden has quite the trip in store for her: Over the span of twelve days, they'll visit different locations in each of New England's six states, including Maine, Massachusetts, New Hampshire, Vermont, Connecticut and Rhode Island. The pair travels to the Freedom Trail in Boston, up to see lighthouses in Maine and then to Providence to visit the RISD Museum and the Providence skating rink. Then it's off to the mansions of Newport. Not only will children learn fun facts about every state, but parents will get tons of ideas for activities to do with kids for winter vacation. Author Toni Buzzeo lives in two New England states, Maine and Massachusetts. Purchase the book at a local independent bookstore by searching locations on indiebound.org.