History in the Baking
An educator at the Rhode Island Historical Society is recreating historic recipes in her own kitchen.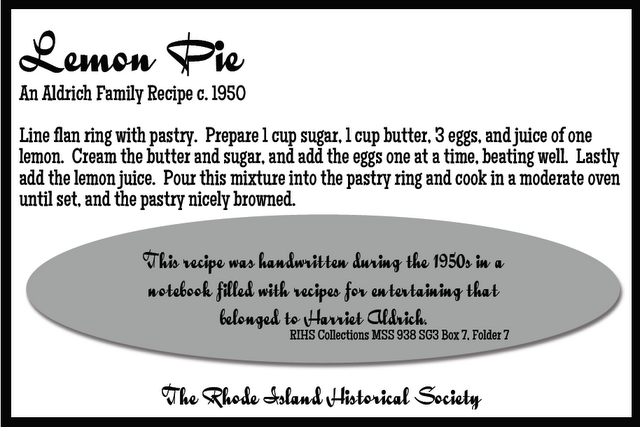 When Edgar Allen Poe's fiancee Sarah Helen Whitman had a few friends over to her Providence home for a séance, what might she have served her guests?
Elyssa Tardiff has spent more than a year researching that and other historical culinary questions on her wonderful blog, Relishing History. As director of the Newell D. Goff Center for Education and Public Programs at the Rhode Island Historical Society, Tardiff is always looking for ways to help people experience history in a sensory way.
"I want to touch the past, hear it, smell it," Tardiff writes. "What did it feel like to curl up at night on a bed supported by rope instead of springs? When Abraham Lincoln took a bite of almond cake baked for him by Mary Todd, was he struck first by its sweet scent? Was the cake spongey? Would we find it overly sweet, or not sweet enough?"
So Tardiff decided to provide attendees of the historical society's monthly Gallery Night lectures with a taste of the times, though she wasn't a professional cook. Her blog chronicles her efforts in an entertaining mix of history, photographs and old-fashioned trial and error as she researches recipes from the past and tries them out in her own kitchen. "It's history in the baking," she writes.
For the lecture on nineteenth-century spiritualism last year, Tardiff looked for recipes in the historical society's cookbook collection and settled on jumbles, a type of sugar cookie. The cookbook was written by "A Lady From Providence" who went unnamed.
Tardiff soon learned there wasn't a lot of handholding for cooks back then. No tips from Rachael Roy in how to stop apples from browning. No specific temperatures. And some ingredients weren't easy to find, like rosewater or pearl ash, a leavening agent. Tardiff has been struck by how convenient things are today, but back then, "there were a thousand things that you had to do before you got down to cooking or baking something," she says.
Her favorite adventure so far was making a New Year's Eve cake from the nineteenth century. The recipe Tardiff found in Seventy-Five Receipts for Pastry, Cakes and Sweetmeats by Miss Leslie of Philadelphia warned that "these cakes require more and harder kneading than any others, therefore it is best to have them kneaded by a man, or a very strong woman." Miss Leslie wasn't kidding, as you can see from the photographs of Tardiff's efforts on her blog.
Now Tardiff is researching recipes from colonial times to prepare for this month's Gallery Night, which will feature Janet Uhlar, the author of Freedom's Cost: The Story of General Nathanael Greene.
The lecture takes place Thursday, October 18, at 6:30 p.m. at the John Brown House Museum, 52 Power St. in Providence. It's free but reservations are requested. Come out and taste history.