History in a Bottle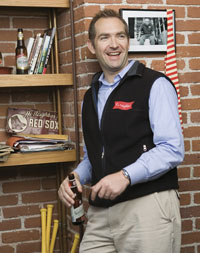 Don't be deceived by Mark Hellendrung's frat-boy lair. Bottle cap fishing lures and Yoo-hoo logo baseballs may clamor for desk space, but this is part of the "Hells" seduction.
Few people suspect the shark beneath his gum-chewing ease: the president of Narragansett beer has the business acumen without the power suit or attitude. By marketing the amber taste of nostalgia, the thirty-nine-year-old has swiftly resurrected a brand waked by New Englanders years ago. In 2002, this former president of Nantucket Nectars gambled the time was ripe for a comeback. In some cities, residents refuse to cheat on local brews despite fierce competition from major brands. New Englanders—rooted to the same soil that sprung their family trees—are passionate about history and tradition. Hellendrung suspected that Narragansett was the rightful scion for our beer heritage.
Narragansett was New England's largest-selling beer from 1955 to 1970. Its slogan of "Hi Neighbor, have a Gansett" flashed on billboards and trolley cars, in newspapers and magazines. The brewery sponsored the Red Sox with Curt Gowdy as the game announcer, and Gowdy also became the beer's spokesman.
Like an oral historian, Hellendrung collected hundreds of stories that had left a ring on New England minds. Narragansett labels are now printed with the folklore of yore, and Hellendrung wades through thirty emails a day with stories like this: The year was 1954. Albert was eight years old. Two families were going camping in New Hampshire. Everything was packed. Off they went: four adults and five kids under twelve. They set up camp and at the first meal discovered that, while the Gansett had been packed, they forgot the cups or glasses. Solution: the grownups would drink the Narragansett and let the kids use the empty cans for their Kool-Aid, milk and juice. They got some very strange looks from passersby, but Narragansett saved the day!
There's a swamp of tales Hellendrung can't market, stories about teen-agers who lost their beerginity to Narragansett. It was their first drink, bounty from a tiptoed expedition to dad's stash. "I grew up throwing up on that beer!" they exclaim when Hellendrung unveils a six-pack. But Hellendrung didn't survive the angst of high school thanks to Nasty Narry. His parents, Midwesterners misplaced in East Providence, were lacking Gansett tastebuds, and the brand wasn't very popular when Hellendrung peaked to underage drinking age.
In these parts, Narragansett nostalgia is fevered enough to melt a state trooper. Hellendrung was rushing back to Rhode Island one night and dreaming about reviving the beer when a New Hampshire cop clocked him at 85 miles per hour. "What were you thinking?" The officer demanded. "To be honest with you, I was thinking about Narragansett beer," Hellendrung said sheepishly. The trooper thawed and responded with stories about his mother listening to Red Sox games on the radio. Hellendrung left with a warning and a wave. "Good luck with Narragansett beer," the cop said. "Let me know when it's back in New Hampshire again."
A year and a half after its june 2005 resuscitation, Narragansett is a fixture among both crusty old-timers at the Legion Hall and retro-minded risd hipsters. Last year, at the International Beer Festival (held in Providence), Narragansett pocketed a bronze medal for "best lager." In 2006, the company sold $2 million of beer, and favors quirky promotions ranging from crowning a biker at the Blessing of the Gansett Man cer- emony to distributing hats and T-shirts at a "Ham-a-Rama" (a men's club meat raffle).
Most beer brands are demographically sourced as either a luxury drink for high-income, white-collar consumers or a budget brew for retirees and college students. "We're hitting on this attitudinal, psychographic thing," Hellendrung says. "Narragansett is local; it's about stories and connections. People reveal themselves in the brands they choose, and with Narragansett they're saying, 'I don't need a luxury imported beer to prove something about myself.' It's almost branding for people who don't need to be branded."
The cross-pollination of Gansett drinkers reflects Hellendrung's persona. He's a homegrown boy from East Providence who majored in business economics and was captain of the baseball team at Brown University. Towering six feet, two inches, with an intent hazel gaze, he lacks the aura of entitlement that can trail some Ivy Leaguers. "The best part of my job and this brand is meeting all walks of life," he says. "Some people aren't comfortable talking to someone outside their class or clique, but I'll talk to anyone."
A barfly was the genesis for the beer's second coming. When Nantucket Nectars was sold to Snapple, Hellendrung left because he didn't want to relocate to Snapple's New York headquarters. After consulting for Vermont-based Magic Hat Brewing Company, Hellendrung was warming a barstool, contemplating his next move when another customer mused, "Whatever happened to Narragansett beer?" That was the catalyst for eighteen months of ethnography as Hellendrung recorded the memories of good times with Gansett. When he told people he was thinking of resuscitating the label, they toasted him with, "Yeah, that's our beer, we gotta bring it back!"
Their declaration led to the slogan, "Let's take back our beer." The Narragansett Beer.net site continues the folksy call: If ever a bottle of beer could've had your back, this was the one. And now, what was once practically a public trust around here, is once again. In the locals. On ice, out back on the porch. In the dunes at Horseneck. Narragansett is always there because, of course it would be. Is it who we are? Not really. It's just a beer. But it's our beer. And starting here, starting today, we're taking it back.
Taking it back meant Hellendrung had to rescue the label. In 2003, when he approached Pabst to secure brand rights, Narragansett was the company's neglected stepchild. On an internet forum that ranks the worst beers, Pabst's version of Narragansett was described as "Massachusetts swill, tastes like Boston Harbor and green oatmeal."
After Hellendrung wrangled the rights, he collaborated on a recipe with Bill Anderson. Anderson, now seventy-six and residing in California, was the Narragansett brewmaster from 1967 until 1975. The pair tweaked the original recipe by increasing the amount of hops and alcohol to reflect current consumer taste. Customers have described it as a "crisp beer with no afterbite."
In 2005, Hellendrung secured an investment of $750,000 from Providence-based venture-capital firm Point Judith Capital Partners. The remaining $2.25 million was invested by Cherrystone Angels (a local angel investor firm), Hellendrung, his business colleagues and fellow Brown alumni. The corporate office is in Providence, but Hellendrung clocks most of his time on the road, charming customers and staties.
Urban legends about the former narragansett brewery have grown like kudzu. Housed in a renovated trolley barn in Cranston (that was demolished in the spring of 2005), the warehouse employed some 850 people by the mid-sixties. According to a Willy Wonka-ish claim, beer gushed from the water fountains and workers could drink their fill, provided they got the job done. Drinking soda was frowned upon, the urban legend continues. And employees all drank the Kool-Aid: if a worker spotted someone nursing a Heineken in a bar, he'd ask, "Why would you want to keep someone working in Holland instead of the people in your own neighborhood?" The same line was used for any other competing, and out-of-state, brand.
Rumor has it that in the sixties and seventies, cops backed their police cars up to the factory and weighed the trunks with cases of Gansett. Supposedly, asking for a draft line in Providence would automatically bring in a Narragansett line. Should a pub owner add a Budweiser line, he might find his sidewalk ripped up by the Department of Public Works. Business would suffer and Public Works would be too busy to fix the sidewalk…so long as the Bud was pumping.
According to Anderson, plant workers were allowed free beer during breaks, and they could stay half an hour after quitting time and imbibe. Cops did stop by on their Sunday shifts for quality control inspections, but those taste tests ended when one trigger-happy officer shot up the ceiling. Anderson says he understands why the Haffenreffer family sold the brewery in the sixties, but that the decision resulted in hard feelings among employees. "The Haffenreffers inspired tremendous loyalty because they were so generous," the former brewmaster says. "They gave each employee a turkey at Thanksgiving and Christmas. Then one night someone strung a bird up the flagpole—that was the end for Mr. Haffenreffer. I was a good union man, but the requests became unreasonable. In its last contract, the union demanded softer toilet paper!"
Hellendrung once vowed that Narragansett would not be sold outside New England so long as he was in control. Now he's softened that to "Never say never, but Narragansett is New England and New England is Narragansett. It's special to say you can only get it here, and it builds the mystique of the brand. There are bars in New York City that smuggle in Narragansett. It's completely illegal [for the beer to be sold outside New England], but highly complimentary because it means people are demanding our beer."
As of last year, Narragansett could be found in every New England state except Vermont and Maine. A light beer is percolating in the lab, and they're testing the response to a porter version produced by Trinity Brewhouse in Providence. The lager is currently produced in New York, but Hellendrung would like to establish a Rhode Island brewery. However, producing a lager takes more time and space than a microbrew.
Part of the local appeal of the original Narragansett was its main ingredient: Scituate water. Some considered it one of the finest waters in the world, claiming it was so pure that East Bay residents wanted their water hooked up to that reservoir. Forty years ago, water really affected a beer's flavor; that influence is less today due to more advanced water purification systems.
"We will never have enough money to compete head to head with some of the big guys," Hellendrung predicts. "But that's okay…people like an underdog." And Hellendrung is someone whose pint glass is always half-full. "I was having a crappy day recently," he says. "I was talking about it over a beer with one of my distributors, and we're like, 'As much as this sucks sometimes, we're selling beer! We're not sitting in some conference room listening to a presentation we don't care about!' " Hellendrung embodies the Gansett lifestyle of backyard burns and bonfires at Horseneck beach. And the occasional hiccup of a bad day? He washes it down with a Gansett. You know he works like a dog, but Hellendrung makes his job look like, as he would say, just good livin'.