Historic Benefit Street Residence Gets New Life
Designer Courtney Taylor made the home chic yet pet-friendly.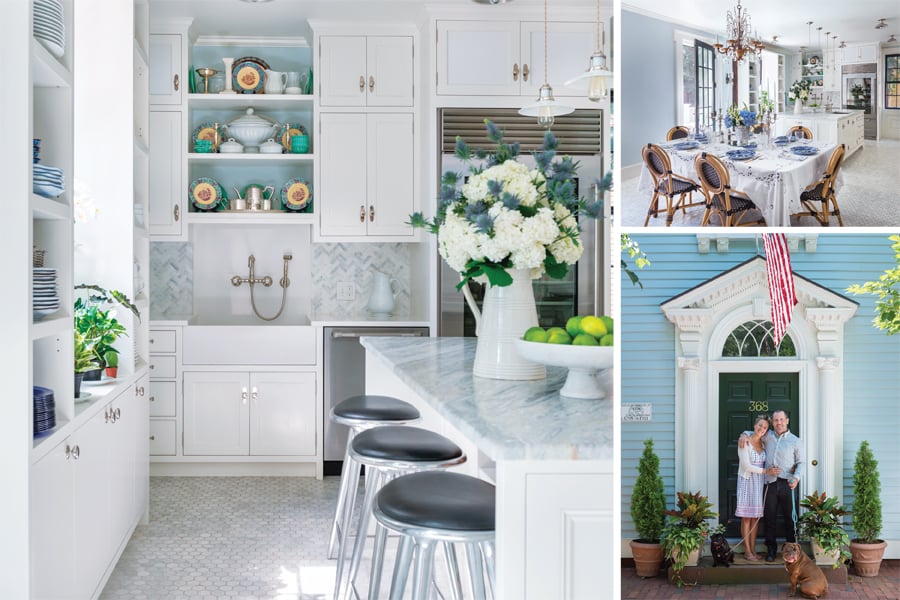 Happy endings don't always befall dwellings that are hundreds of years old. This East Side residence beat the odds.

The Stars Align
If Providence interior designer Courtney Taylor's husband, Sedge Gray, had jogged along any other street that morning he'd have missed the "Open House" sign. The couple wouldn't have attended, the place would have sold and, well, who knows how it would look? As it turned out, they went, fell in love with the eighteenth-century building and three years later, their new/old house is a thing of beauty. "It was a huge renovation," recalls Taylor. "At one point, I could stand in the basement and see clear to the roof. It was quite a responsibility having to put it all back together."
Fortunately, Taylor had never pined for a finished house. Instead, she wanted a home she could put her mark on. "One that needed love and attention," she explains. On that fateful first visit, for her, the potential was obvious. Looking at what was then a warren of tiny rooms, the designer envisioned an open, airy kitchen — exactly the sort that exists today.

Living Well
"Kids, dogs — this house sees a lot of action," Taylor (shown left, with her husband) says. The kitchen's Caesarstone counters easily weather traffic. The Calcutta bluette marble island is more of a diva. But the designer figures time's patina will just make it better. Labeling her style as eclectic, Taylor puts great store in her many collections and, best of all, uses what she loves rather than stashing it away for special occasions. Dinner is often served on her treasured Davenport china. Beneath that pretty cloth sits an antique Regency table. Only a skillful pro would think to team it with Parisian café chairs. Eschewing the fussiness of a dining room, Taylor combined kitchen and dining to everyone's delight. Swapping out a galley window for a door, she also plugged on a deck. Rimmed with mature trees, the spot is as comfortable for the family and their pets, Winnifred and Wallace, as it is private.

Lasting Values
Myriad collections find their way into the more formal front rooms too. The living room, for example, sports a wall of old photographs depicting sports teams, including one of her grandmother's 1929 basketball troupe. The room's heady eggplant color was inspired by Taylor's heirloom assemblage of purple-y slag glass. Across the hall, the family room incorporates collections of ruby bohemian glass and Rose Medallion. Grasscloth-clad walls and brick-hued trim make a perfect backdrop for both. "I love color and pattern," says Taylor, which, of course, accounts for the dreamy master suite being nighttime blue. And note the upstairs hall Taylor forged the lean space, hearth intact, when they reconfigured bedrooms. It's how the designer preserved the original moldings, shutters and paneling downstairs —almost too good to be true.

If we own pets, "…we should design around that reality," Taylor advises. She chose a durable tile floor for the kitchen where her dogs spend the bulk of their time. She also upholstered furnishings the dogs share with handsome, easy-to-maintain fabric. Embrace the well-lived-in look and don't worry, she says. "Pets are part of the family and I believe they belong where every family lives."
Taylor opened her house to visitors in June for the Providence Preservation Society's Annual Festival of Historic Houses. Keep a lookout for the next year's tour (June 11, 2016; providencehousetour.com).