'His Girl Friday' Still Resonates
John Guare's adaptation of the film His Girl Friday shows some things don't change in the news business.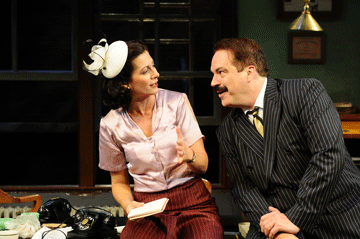 Typewriters and rotary phones may have gone the way of the Tyrannosaurus rex, but some things about the news business haven't changed. Romance occasionally blooms and journalists can't resist a good scoop.
John Guare's adaptation of the classic film His Girl Friday, now playing at Trinity Repertory Company, demonstrates that while technology may always be evolving, the stories often remains the same. The production takes us back to a Chicago press room on the eve of World War II, in a nation battered by the Great Depression.
Not that the boys in the press room are really concerned about any of that. They're busy playing cards, waiting for the hot story to come to them so they can phone it in. That story is the hanging of a factory worker named Earl Holub, who killed a police officer in self-defense. Chicago's mayor and sheriff, both facing re-election, have seized upon the shooting, linking the worker to international anarchists and pandering to the fears of a public facing war.
A hanging, the men in the press room acknowledge, is Hildy's kind of story. They're talking about Hildy Johnson (Angela Brazil), a former hotshot reporter who was married to newspaper publisher Walter Burns (Fred Sullivan Jr.). And he's desperate to get his star reporter — and his wife — back.
The play really takes off when Hildy returns to the press room to inform everyone that she's giving up reporting and marrying an insurance salesman from Albany (Stephen Thorne). She met him in Reno and has committed journalistic heresy: She hasn't read a newspaper in six weeks. Still, Hildy can't resist probing for details about the hot story. She asks the boys in the press room what they really think. "We write what our bosses tell us to write, so he's guilty," one replies.
Walter's not content with that. He's got inside knowledge of a suspicious suicide linked to the story, and he's convinced Hildy's the only one who can crack the story. "There is a god who watches over journalists," he tells her. Hildy informs him that she's finally allergic to his charm, but gradually finds herself sucked back into calling the boys at the morgues.
The production is filled with dramatic twists and turns, snappy dialogue and fun performances. Brian McEleney is great in double roles as Walter's fixer, Diamond Louie, and as a retentive, Herotodus-quoting reporter named Bensinger. Janice Duclos is fun as both Hildy's potential future mother-in-law, who loathes women writers, and as a minister who can't seem to get the right directions to the hanging. Phyllis Kay also gives a wrenching performance as the streetwalker who sympathizes with Holub and calls out the newspapermen for their callousness. You won't be surprised by the ending, but it's a lot of fun along the way.
His Girl Friday is playing at Trinity Repertory Company through Oct. 9.