High-Tech Teeth
Dentists are using a range of new technology to make your mouth healthier — and more attractive — than ever.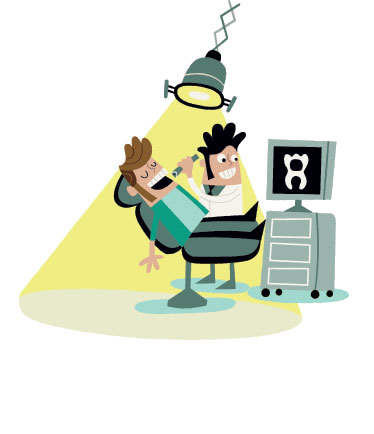 If you haven't been to the dentist in a while, you might be in for a bit of a surprise. Like many other things these days, the dentist's office has undergone a high-tech makeover, with lasers, digital X-rays and super-speedy dental work becoming the norm. Here's a peek into some of the nifty gadgets that Rhode Island dentists are using in their practices.
Lasers: Everything from removing cavities to treating gum disease to sculpting the gumline can now be done — quickly and painlessly — with laser technology. Dr. Kenneth Rawlinson, who has used a laser in his East Providence office for the past eight years, says it has revolutionized his practice. "I could never go back to not using one," he says. It's especially helpful in treating mild to moderate gum disease: The laser can be used to heal and reattach gum tissue to the teeth without having to cut away gum tissue with a scalpel. A patient can walk out of the office without bleeding or stitches, and the gums are usually healed within a day, Rawlinson says.
CEREC Technology: Gone are the days of having to make a goopy impression of your teeth and then waiting three weeks for a new crown to come in. With CEREC (CEramic REConstruction) technology, patients can now get a digital impression of their teeth, have a computer design a new crown, then see the crown made before them — right there in the dentist's office, usually in about an hour. "It's totally revolutionized our practice," says Dr. Robert A. Conte, who uses the system in his Warwick office and trains other dentists in how to use it. Patients love how quick it is, Conte says, while dentists appreciate how easy and accurate it is. "We've never seen anything like this in dentistry in 100 years."
To read more of this story please visit your nearest newsstand or click the link below.