High Society Fashion in the City By the Sea
Child and Family of Newport brought out the fashion tent at Salve Regina University's Ochre Court to showcase the latest from local designers.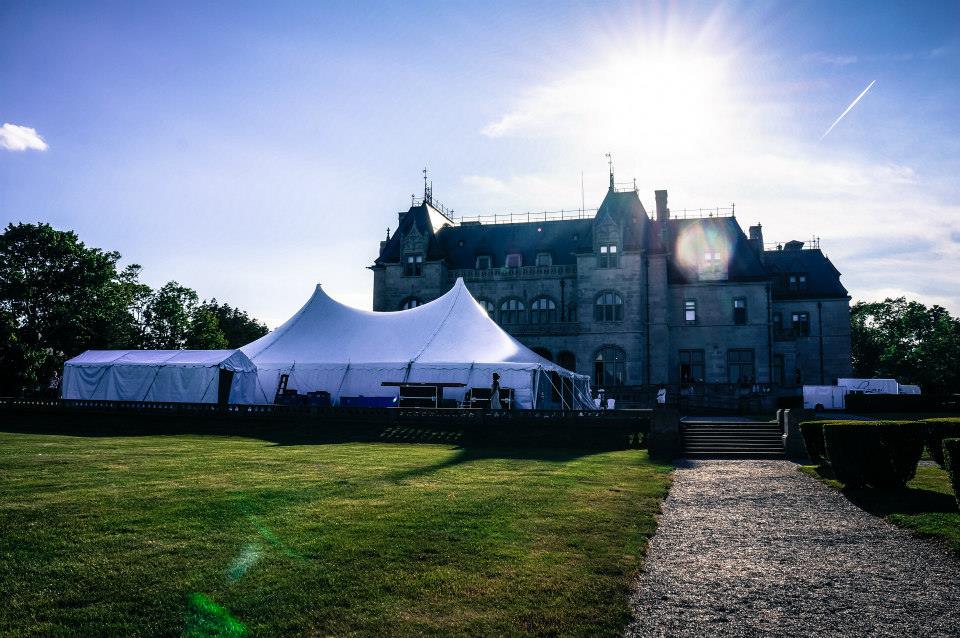 Last week, Child and Family of Newport presented Au Courant, the Golden Age of Hollywood, alongside StyleWeek Northeast. Models walked down the runway inside a beautiful tent set up on the lawn at Ochre Court mansion at Salve Regina University. Fashionable men and women from Aquidneck Island, Providence and beyond came out to support the social service provider of Newport County, which was selected by the Rhode Island Department of Children, Youth and Families to serve as one of two statewide Family Care Networks for the Rhode Island System of Care for children and families. Child and Family provides important services and programs to thousands of children, teens, families and elders each year, including this Best of Rhode Island Award-winning program.
The evening began inside the ornate waterfront mansion with gilded wood-carved walls and a ceiling painted like the Sistine Chapel. Hors d'oeuvres and a light buffet were served while guests shopped the accessories showcase. Various local craftsmen and women set up tables selling their beautiful designs, including Kent Stetson handbags, House of Cach, Athalia Originals, Flaunt Boutique, Carmen and Ginger, Archetype Vintage, Touchstone Crystal by Swarovski and others.
Photo by Victoria Lyn.
Photo by Victoria Lyn.
Photo by Nick Mele.
Then it was off to the tent – just like New York Fashion Week used to be – to view the runway show, which was proceeded by a heartfelt video showcasing the work of Child and Family. ABC6 meteorologist Steve Cascione emceed a live auction, which included generous donations of a cruise, a dinner party from Pranzi Catering and a bespoke suit from Marc Allen. Spotted in the front row were Melanie Delman of Lila Delman Real Estate, Richard Bready, philanthropist and former CEO of Nortek in Providence, and ABC6 anchors Alexandra Cowley and Doreen Scanlon.
Photo by Nick Mele.
Local designers Antwan Byrd, Artiss Akarra, Jess Abernethy, Robert Merton, Amy Stetkiewicz and Jonathan Joseph Peters sent original, handmade collections down the runway. Looks included resort wear, swimwear and even some dresses and gowns worthy of high society parties and red carpet affairs. Here are some of our favorite outfits featured that night. Any of these looks can be custom-made by the designers to fit each individual.
Classic white and black fabrics showcased gorgeous silhouettes. A down-to-there neckline on a full-length black gown is worthy of a red carpet gala, and a crisp white romper, shorts and peplum top suit the tennis and boating set.
Photos by Yury Yaroshenko.
EIGHT I United Republic Affair by Artiss Akarra
Akarra's swimsuits are designs real women can wear, showcasing alluring gold, black, white and candy-colored hues in high-waisted briefs that actually cover your bottom, and tops that show just enough skin to stay classy.
Photos by Yury Yaroshenko.
Feminine frocks ruled the runway for this collection in soft flowy sheer fabrics and satin sheen in colors like mango, aquamarine and lime green. Abernethy's expert tailoring is evident, especially in this two-piece shorts-and-top set. The stylish looks are elegant enough to wear to work or to a wedding or garden party.
Photos by Yury Yaroshenko.
Alistair Archer by Robert Merton
Sometimes you just want to be showy. Alistair Archer's latest collection — including multi-colored, sequined cocktail dresses, A-line skirts and hot pants — says if you got it, flaunt it. But for the more reserved, mermaid-like sheer tops paired with form-fitting pants and a one-shoulder handkerchief dress will give you a she-came-from-the-sea sort of vibe.
Photos by Yury Yaroshenko.
Stetkiewicz by Amy Stetkiewicz
Simplistic in silhouette but with a bit of unexpected flair, like this peplum top in slate grey, Stetkiewicz's collection predicts the future of fashion. Pick up a few of her pieces and you'll be ahead of the trends.
Photos by Yury Yaroshenko.
A show-stopping collection of tops, skirts and gowns wowed the crowd, including a draped halter with black leather accents and a stunning sheer black lace top paired with a fuchsia full-length skirt. It's romantic with an edge; kind of like the woman we all want to be.
Photos by Yury Yaroshenko.