High Priority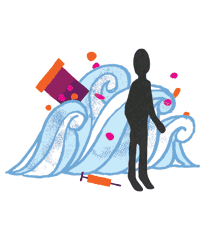 High Priority
When it comes to the war on drugs, legislators have learned that money talks with a very loud voice.

Addicts liken recovery to a wave, where the force of will meets a fleeting opportunity. David Olszewski's moment arrived on April 9, 2004. He had been a musician and an opiates addict since age fourteen. For a while, the two blended, like A and C in a half-step chord. Dope definitely made his songwriting more creative; it made playing possible.
"Oh yeah," he recalls. "Sex, drugs and rock and roll — where do I sign? But I couldn't function unless I was using. It's really an ugly, ugly life. You can be so sick and tired of being sick and tired, and I've crossed that bridge many times."
The last time, Olszewski was forty-six years old, and he had somehow dredged up his parents' last hope that their son would be returned to them. With great reluctance, they permitted him to occupy their basement and make a phone call to a treatment center. He couldn't get a detox bed right away, but he had a place to stay, and in that sense, he was better off than most.
"When the addict is ready, that's a powerful moment," he says. "And it can be as small as a phone and two quarters left in your pocket. That one phone call going wrong can dictate how things are going to go in your life for the next while."
The realization has been slow to dawn, but many state policymakers are concluding that the entire war on drugs has gone wrong. In 1972, after President Nixon declared drug abuse "public enemy number one" and announced the creation of the new agency to combat it, the federal government spent $600 million on this war. Two thirds of the funds went to treatment. In thirty-five years, the formula has been radically altered. Today, the federal government spends nearly $13 billion on the war on drugs. Two thirds goes to law enforcement and interdiction, one third to treatment and prevention.
"There's no evidence that incarcerating people alone has any impact on drug addiction. There is a lot of research that shows that drug-addicted people quickly relapse after leaving prison, and we've known that for decades," says Dr. Robert Schwartz, drug addiction treatment director for the George Soros Foundation's drug treatment project in Baltimore, considered a model program. "There is a political expediency in blaming people and showing that you are tough on crime."
The flip has produced a widening gap between people seeking treatment and its availability, and an explosion in the prison population. By the time Californians passed Proposition 36, which offered treatment instead of jail time for a first or second drug possession offense, the number of inmates convicted of drug possession had quadrupled in a dozen years. Since 2000, when the initiative passed, the number of drug possession inmates has dropped by 27 percent. The state has saved $2 to $4.50 for every dollar it has spent on Proposition 36.
For state legislatures under financial pressures, numbers like these have brought drug treatment back into fashion. Since 2004, at least nine states have reformed their sentencing practices to divert drug offenders into treatment. Rhode Island's faith in the power of recovery has been restored recently by a $360 million revenue hole and a $164 million Department of Corrections budget threatening to top $199 million next year. In the last decade, the state has seen its prison population grow by 15 percent. In the next decade, it is expected to increase by 21 percent. At the same time, the state has the nation's third highest percentage of people over the age of twelve needing, but not receiving, drug treatment.
In March, legislators began filing bills and holding hearings on ways to reduce the number of inmates. Prominent among the solutions have been proposals to increase drug treatment for nonviolent inmates and parolees.
"I believe there's been a real recognition in Rhode Island and elsewhere that we need to take a different approach to correctional policy," says A.T. Wall, director of the state Department of Corrections. "It involves more than running good prisons, because almost without exception, all of our inmates are released to the community again. We don't have to like it. We don't have to agree with it. But the fact remains: We do a better job of protecting the public if we deal with those substance abuse problems."
Rehabilitating drug-addicted inmates will require a broader rehab of the state's entire drug treatment system. It is, by all accounts, fragmented, inadequate and patched by a series of short-term grants.
The convoluted delivery system is due, in part, to the addicts themselves, who require different types of treatment, depending on their drug of choice, and who are often battling other problems, such as HIV or mental illness.
"The state is divided into five regions for drug treatment, eight regions for mental health care and fourteen different regions for hospital care and eleven federally qualified community health centers," says Lee Dalphonse of SSTAR in North Kingstown, which provides detoxification beds for the state.
"You are talking about people with multiple problems that need multiple services, so what sounds like a straightforward problem really isn't, and the likelihood of the person getting access is low when the system is fragmented like this," he adds.
On any given day, the ACI's 299 drug treatment slots are filled and about another 300 incarcerated addicts are waiting to enroll. In the average month, up to four offenders are sentenced to the ACI pending a treatment bed in the community. Addicts on the outside don't fare much better. The state has 6,549 slots for treatment; 3,381 are funded by public dollars. Some are set aside for detoxification: intensive, short-term in-patient care. Some treatment slots are dedicated to heroin users, who require chronic care. The rest are a combination of hospital beds and outpatient counseling.
"But there's such a demand," says recovering addict Mark Pulvie. "Sometimes when you'd call SSTAR, they would be all filled, especially in the winter. It took me a good year to get into VISTA."
And some of the most effective programs, such as Project VISTA, which links HIV patients and heroin users to substance abuse treatment, survive on federal grants. The Department of Justice funds the Family Life Drug Court and the Challenging Offenders to Maintain Positive Associations and Social Stability (COMPASS), which pays for drug treatment, among other prisoner re-entry services. Both funding streams will dry up on June 30. VISTA's money runs out next year. If these programs go, the cracks in the treatment system will only grow –– at a high cost to taxpayers, says project director Dr. Nickolas Zaller.
"It's a serious problem. As much money as it would cost to put ninety-seven people in methadone maintenance for a full year, we are spending just to process people in the intake center," he says. "Our correctional system is a holding block for people society doesn't want to deal with."
Americans aren't fond of complication. There isn't a problem that can't be reduced to a single element with a single solution (Eat meat; lose twenty pounds!). In that regard, addicts can be vexing. It takes multiple attempts before recovery truly takes hold.
The skills honed in their bad old days –– prostitution, burglary –– don't look good on a resume. Every tie to loved ones in the straight world has been unraveled. They need a lot of support, housing, job training. Treatment is just the beginning.
"These are all solvable problems," says Ellen R. Nelson, director of Rhode Island's department of Mental Health, Retardation and Hospitals, who, in concert with other officials and care providers, is looking at immediate solutions and a long-term strategy. "But there are no quick fixes. There's a lot of receptivity emerging. If we can put together a viable plan that people can embrace, that's the next step."
A 2006 survey showed that Rhode Islanders overwhelmingly favor treatment for drug offenders. A host of prominent politicians, including Governor Carcieri, support it. Can we catch the wave?