Hey Everyone, It's Audrey Here!
Audrey McClelland Tweeted her way to Internet Fame.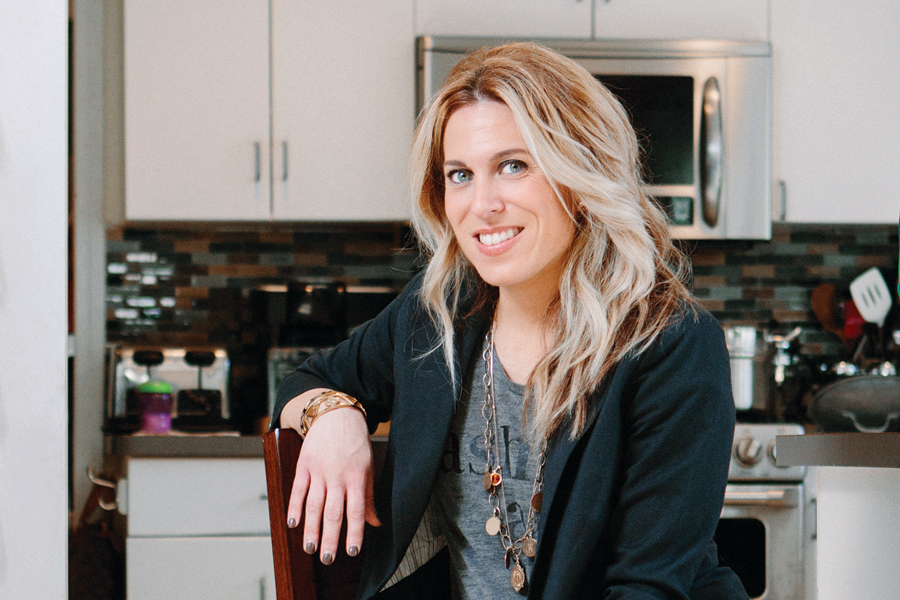 Have you met Audrey?
A great many people surfing the Internet — millions, probably — have made the acquaintance of the stay-at-home mother of five. The Warwick resident is a mom blogger, which means she shares her life with a legion of online followers, chiefly mothers like herself. Keep in mind that with the rise of social media, blogging now means a whole lot more than it did just a few years ago: In addition to a personal website, McClelland uses Facebook, YouTube, Twitter and more. Her vocation is so new, in fact, that she felt compelled to write an instruction manual, The Digital Mom Handbook, co-authored with fellow mom blogger Colleen Padilla and published by HarperBusiness.
Follow her blog (momgenerations.com) or her YouTube channel and you'll see a woman who wears many hats. She's a fashionista, dispensing advice on what to wear with leggings. She's a homemaker, pulling beets from her husband's garden and showing how they're prepared. She's a friend who shares heartfelt sentiments, telling how she sees her late grandmother in her daughter's eyes.
Don't look for Martha Stewart perfectionism here. Like every other mom blogger (again, there may be millions) McClelland is a do-it-yourselfer who juggles cyber-communication with raising a gaggle of kids. That means what you see is what you get. And sometimes she wants you to know just how busy and crazy her life can be: She might let her video camera pan across a kitchen table covered with breakfast clutter, or she'll zero in on the rising laundry pile, or she'll let you hear small-fry roughhousing in another room.
By way of introduction, let's take a peek at one of her YouTube clips, "10 Things You Need to Know About Minecraft," a typically candid vignette.
There's Audrey onscreen — blond, videogenic, mid-thirties — smiling at us from her suburban living room. Gathered around her are four young boys with cropped blond hair, her sons ages six to ten. Daughter Victoria is apparently tucked in bed for the night.
The boys seem very excited to be teaching their mom how to play their favorite video game. They fidget about and offer enthusiastic suggestions. The youngest, though, is also trying to steal the show with a repertoire of goofy grimaces.
"I'm with my sons here," Audrey says. "I have Alex. I have Benjamin. I have William. I have Henry."
Every six-year-old is certain his mother has eyes in the back of her head, and in a half-second we learn that in the McClelland house, it's true. Without a glance toward her youngest, Audrey offers a matter-of-fact aside. "Henry," she says, "stop with the tongue, okay?"
That's the Audrey McClelland trademark — the occasional glimpse of domestic disarray or kids being kids. There are never any retakes. Nothing is a disruption. She simply shrugs it off and keeps on moving.
"The biggest compliment I get on my videos is that they're not scripted and not edited," she says. "It's very difficult to tell four boys this is what you do and this is what you say when the camera's on. It would look way too rehearsed and way too fake."
Other mothers love her style. Since 2008, she's posted more than 1,000 clips on YouTube, and collectively they've garnered more than three million views. Her Mom Generations site — which she launched with her mother and her sister — sometimes draws 250,000 page views a month. Her Twitter followers number 56,000. Sorry, Ted Nesi: Rhode Island's best-known Internet personality is Audrey McClelland.
The business world has noticed her, too. PR specialists and marketing executives don't call her a mom blogger; to them, she's a "digital influencer." The mothers who read her blog and watch her videos and follow her on Twitter are the same women they strive to reach — America's number one shopping demographic.
McClelland makes money a dozen different ways. Companies now ask her to share her blogging influence outside the blogosphere. She's hired to appear at events, and on TV, to pen articles for company websites, to give away samples during crowded Twitter chats and other promotional activities. She's courted by dozens of top brands and companies, among them T.J.Maxx, Proctor and Gamble, Hanes, American Eagle, Healthy Choice, Estee Lauder, Johnson and Johnson and CVS.
For her, blogging is no mere pastime. She's an entrepreneur, and a very successful one. For the past few years, her annual income has topped an estimated $150,000.
"It's not just a blog anymore," she says. "I've built a business around being a mom."
The world first discovered Audrey McClelland, Internet Star, in early 2009. That year she launched a new feature, "365 Days of Fashion Advice for Moms," on her then still-new Mom Generations blog. One of the first posts was a YouTube clip showing women how they could tell if pants fit without ever putting them on.
She appears onscreen in a T-shirt and ponytail, again in her living room, this time alone. "There's no way on earth I can bring four boys into a store, into a dressing room, and comfortably try on anything," she tells the camera. Her solution: "the neck thing." To know if pants fit — any pants — wrap the waistline around your neck, she says. She then does a Goldilocks imitation, wrapping her own neck with pants that don't reach around, with pants that go around loosely and, lastly, with designer jeans that wrap just right. What follows are three cuts showing her wearing each pair. The designer jeans, of course, are the only perfect fit.
She closes the clip with a single caveat: "If you're eight months pregnant, the rule does not apply."
More than 1,700 viewed the clip, and the daily series soon had women flocking to the site to be counseled on how to wear sweater wraps or where to find the perfect little black dress.
It would be wrong, however, to call Audrey McClelland an overnight success. She had spent much of her young life acquiring the talents she would need to be a blogger. She honed her writing, presentation and video production skills well before techies squeezed together the words "web log" to coin "blog."
As a teen she edited the student newspaper at Barrington High School. Her mother, Sharon Couto, for thirty years an English teacher at Lincoln's Davies Career-Technical High School, was always there to coach her on communication skills. At Brown, Audrey majored in theater arts, with an emphasis on public speaking. At the time, she aspired to be a broadcast journalist. During a semester internship at Channel 6 in Providence she came to love video storytelling, but she had second thoughts after being exposed to the near-daily coverage of homicides, car wrecks and burning tenements.
"Fashion is the next best thing," she told herself when graduation rolled around in 2000. On a trip to New York City, she stuffed a copy of the Manhattan Yellow Pages into her suitcase. Back home she cold-called several dozen fashion houses, inquiring as to where she should send her resume. The first she heard from was Donna Karan. McClelland became a personal assistant to the eminent designer.
But while she loved the job, she was already making plans for something else — motherhood. And she knew she wanted more children than you'll find in the typical suburban roost. "A busy house has always been comforting to me," she says. "I used to daydream how cool it would be to be home on Christmas Eve with a large family around. Luckily I met someone who feels the same way."
That someone was Matthew McClelland, a classmate at Brown. They married and settled down in the Big Apple. He first worked in public relations, then joined her at Donna Karan, handling inventory control at the designer's holding company.
Making plans to raise a family inspired her first media venture, a how-to guide on getting pregnant, Preconception Plain and Simple: A Deliciously Smart and Sexy Guide in Preparing for Pregnancy. Her mother came onboard as co-author and copy editor.
"Audrey had decided at age twenty-five to have a child, and that got her talking to other women in her office," Sharon Couto recalls. "Many of them were career women who were having children later, and sometimes they had some issues getting pregnant. That got Audrey doing research on healthy foods and exercises that could help. I started doing research, too, but on myths and cultural ideas about fertility."
Before the two completed the project, the McClelland family had grown. First son, William, arrived in 2004. Audrey and Matt built a partition across their bedroom to create a nursery in their two-room apartment. Second son, Alexander, was born twelve months later.
With daycare costs for two babies eating up most of Audrey's paycheck, she and her husband decided she should stay home. A year later, the McClellands returned to Rhode Island. Matt went the telecommuter route, spending just two days a week in the big city.
Audrey and her mother self-published their tome at Barrington Printing, a business owned by Barry Couto, Sharon's husband and Audrey's dad. That meant the two co-authors also handled promotion. They got the book listed on the Amazon and Barnes and Noble sites. Audrey had been poking about the Internet, and in 2006 she brainstormed the notion of launching a blog — pinksandblues.com — to drum up sales.
"I was at home with my boys and I went online to these different forums on baby center.com," she says. "What I found was amazing, a community of women who were sharing thoughts and experiences. It was very helpful to me at the time. I remember thinking it was something that I would love to do, something I could do at home with my children."
Soon the Great Recession was looming. The McClellands knew the fashion industry would be hit hard, which meant Matt could be out of work. By then the family included four youngsters age four and younger. Audrey began mulling ways to make blogging a real job, one that provided a full-time income.
In 2009, Matt was laid off. By that time Audrey and her mother had re-launched their site as Mom Generations, with a focus on both parenting and grandparenting. Audrey's sister Jane Couto (now Jane Govednik) had joined them. They added more topics: Audrey talked up fashion and makeup and household items; Jane discussed pets and fitness.
"I started reaching out on my own to PR agencies and brands," Audrey says. "I was very proactive in trying to connect with people I wanted to work with — clothing companies, baby gear, the things I used every day. It wasn't me pretending I liked things. It was genuine."
With her 365 fashion tips drawing traffic to the site, she was soon earning a paycheck. In 2010, she knew she had arrived: That year Proctor and Gamble whisked her off to California to be a mom fashion correspondent, commenting on celebrities' outfits at the People's Choice Awards. The discussion was broadcast on a company website that promoted Tide detergent. Audrey sat on a panel alongside stylist-to-the-stars Gretta Monahan and Tim Gunn, the smart-set sage of "Project Runway," and glittered among the Tinsel Town luminaries.
She had reached her dream — a fabulous career and a hand that rocked the cradle.
On a Friday afternoon in August 2010, New Yorkers were surprised by the sight of two-dozen mom bloggers marching up Fifth Avenue, with workout guru Andrea Metcalf leading the parade. Their procession caught the eye of a Wall Street Journal reporter, and a story appeared the following Monday. Some of the women wore attention-grabbing outfits (one donned a red sequined skirt; another, a tutu) and all were clad in the same footwear, Skechers Shape-ups. The shoes are designed with elevated soles that allegedly help firm the wearer's butt.
What prompted the group effort at posterior reclamation? The credit goes to Audrey McClelland and Vera Sweeney, a fellow blogger from Long Island. Together they had launched a new venture, Getting Gorgeous Events, with the goal of connecting fashion and lifestyle brands with top-tier bloggers. Their kickoff conference at New York's Warwick Hotel drew 350 attendees, "the most influential women in the mommy blogosphere," according to their press release.
For six hours the ladies were pampered by a dozen companies that hoped to generate buzz on their blogs. Celebrity stylist Richard Marin primped the women using a new line of Remington curling wands and blow dryers. E.L.F. Makeup provided makeovers by cosmetics queen Kim Baker. Skechers, of course, offered the fitness walk.
That high-concept promotional happening (now repeated several times a year) is just one of the ways Audrey has monetized her blog. She's often hired by companies to contribute to their corporate websites, usually as a writer. She's penned items for Hasbro's Playskool Panel, Hanes' Comfort Crew, Pampers' Baby Board, Johnson's Baby Cares Council, Lifetime Television's LifetimeMoms, Ladies Home Journal's beauty blog and more.
In a true-life story promoting the UN Foundation's Shot@Life campaign to promote vaccinations, she wrote how her late grandmother — Nana to the family — often told Audrey she would someday have a daughter. With four boys, the McClellands were doubtful; they were thinking their family might be big enough. Nana, however, was adamant. After her death, the family found a pink sleepy-suit in her closet, with a tag reading "Baby McClelland." Four years later Audrey was pregnant again; during the ultrasound, the technician told her Nana's prediction had come true — a baby girl was on the way.
Another moneymaker used by many bloggers is "sponsored content," items posted on web pages in exchange for cash. Bloggers insist there's nothing deceptive about the practice, because the Federal Trade Commission requires them to post a disclosure notice any time a company provides compensation. And the disclosure requirement also covers swag, free merchandise companies send bloggers to encourage online reviews and demonstrations. A freebie could be something worth a few bucks, or sometimes a big-ticket item. Audrey has received everything from plastic sippy cups to carpeting, Frigidaire appliances and Disney World family vacations.
McClelland has set her own ground rules to keep her hands clean: She'll accept payment only if she genuinely likes the product. If she knows she'd never use it, she simply tells the company no. "But I'm not going to post that publicly," she says. "I'm not out to cause a firestorm. The purpose of the blog is to connect with moms in a fun, easy and entertaining way."
Frequently she'll head to New York City for a satellite media tour, six hours of whirlwind linkups with local TV news shows around the country. A media company lines up several sponsors, comes up with a theme and shoots the video. Audrey is the on-air talent, telling news anchors in Las Vegas and Omaha why every house should have Campbell's Soup or Listerine on hand as winter weather approaches. By noon she'll do twenty or thirty three-minute segments.
Three or four times a month Audrey and her part-time partner, Vera Sweeney, will host something called a Twitter party. That's a solid hour of tweets, mostly concerning a sponsor's product. As many as 500 people might participate, tapping out responses on their keyboards.
"A company will come to us and say we have a new product, and we'd love to get out the message on Twitter," Audrey explains. "A party could pull in anyone who's on Twitter at that time. We'll ask some fun questions to get people engaged, and every ten minutes we'll do a giveaway. And not just inexpensive items. Once we gave away an iPad, and recently we gave away a Dyson vacuum."
It's not always about money. In 2010, for example, the Mom Generations team was recruited for the Estee Lauder Companies Breast Cancer Awareness Campaign. The cosmetics brand hired renowned celebrity photographer John Midgley to produce nine portraits of Internet bloggers, all geared toward the spread-awareness theme. The pictures would be displayed in fashion magazines, on Facebook, on blogs, in Bloomingdale's 59th Street store in New York City and on a traffic-stopping billboard in Times Square. The hitch: All the models were asked to pose topless, with just their hands covering their breasts.
"Going topless wasn't easy, but it was meaningful," Audrey says of the experience. "Our cousin passed away from breast cancer. We were doing it for her. The beauty of it was that they wanted the three of us. The picture was all about a mother and her daughters, and I loved that."
As with every freelance career, the effort to pull in fresh assignments never stops. With that in mind, Audrey has signed on with a New York agent, Adam Kirschner of ALK Talent. He formerly handled broadcasters only, but has now switched to folks he calls "social influencers." That means they're experts in their fields, can leap from one medium to another and are adept at Internet communication.
"At the end of the day, Audrey is just an awesome person who's super sweet," Kirschner says of his mom blog client. "She's someone companies want to align themselves with. And she could be a hero to any woman who's thinking about starting a business by following her passions."
While Audrey works at home, and without a boss, that hardly means short hours and no deadlines.
Her days can last twelve to fourteen hours. "I'm able to be home with my kids, but I log in a lot of hours," she says. "It's not a nine-to-five job; it's non-stop full-time. I'm up at the crack of dawn."
What's more, once a week she travels to New York City. She boards the train at the Providence station, and works for most of the three-hour trip. After a day jam-packed with meetings, she heads back to Rhode Island around 7 p.m.
"What maintains traffic is the consistency," Audrey says. "Log into Mom Generations almost any given day and there's going to be new content. I never take a vacation. I never take a day off."
"She works non-stop," adds Matt McClelland. "Not many people can do what she does."
And as with every family, there are also setbacks. In early 2012, Matt went to a hospital emergency room, fearing he'd suffered a ruptured appendix. The doctors found a large tumor growing in his abdomen, and scheduled surgery the next day to remove it. As it turned out, he had a very rare but treatable cancer known as GIST. He spent the next few months undergoing treatment and recovering.
Most of the time, though, the McClelland family is enjoying life, and they've all adapted to living on the Internet.
The setting for this story is a leafy-green Warwick subdivision, where the "Leave It to Beaver" ambience almost makes you forget the occasional roar of jet planes circling the nearby airport. Step through the kitchen door of a certain Colonial, and you enter an even more kid-friendly space.
There's a scribble-covered blackboard attached to a closet door, along with a mini-basketball hoop set high enough to challenge an eight-year-old. A Mac computer fills a space between cabinets. In one corner hangs a realistic-looking plastic skeleton. It's a 3D Halloween decoration, and though the holiday passed months ago, the boys have come to see the thing as a mascot (they've even named it "Larry") so it stays put.
Matt never returned to the corporate world. Instead, he's assumed many of the household chores and takes care of the kids. In summer months, he tends to a sprawling vegetable garden — thirty by sixty feet — that's taken over the side yard. He also launched his own home business, the Backyard Food Company.
He and a friend developed recipes for several new products including sweet tomato jam and a jalapeño relish. They purchase extra produce from local farmers, can the stuff at Hope and Main, a culinary business incubator in Warren, and the condiments are now available at stores like Dave's Marketplace and Whole Foods.
"I'm a private person," Matt says. "When Audrey started blogging, I was leery. But it is what it is. I can stay home with the boys now, I help her out and have my own business, all because of what she does."
Her sons are enjoying the experience, too. The whole family sometimes travels with her. Most recently they were at a Johnson and Johnson event promoting shampoo products, and the boys got their hair styled.
They're all willing stars. "Usually I think I do a pretty good job," says William, now ten. "It makes me proud."
One key to being a successful blogger, according to Audrey, is knowing when to unplug. In the McClelland house that means chilling on the couch, watching TV, going on daytrips together. When her boys return home from school, she shuts off the laptop until after dinner.
"I love what I do," Audrey says. "Now my children have become involved; it's engrained in who I am and what I do. My two worlds collide so much that it doesn't feel like work."
For 2015, she and partner, Vera Sweeney, plan to appear at more events and Audrey's co-starring in TLC's new mom-centric reality show "What She Said."
Audrey says she's certain blogging won't go away. She's hoping more women launch similar businesses, full-time or part-time, so they too will be able to work flexible hours and spend more time with their families.
It worked for her. She has blogged, YouTubed and tweeted her way to happily ever after.