He's Got Game
For thirty years, ProJo columnist Bill Reynolds has followed his own path, discovering small gems in sports stories that celebrate the underdog.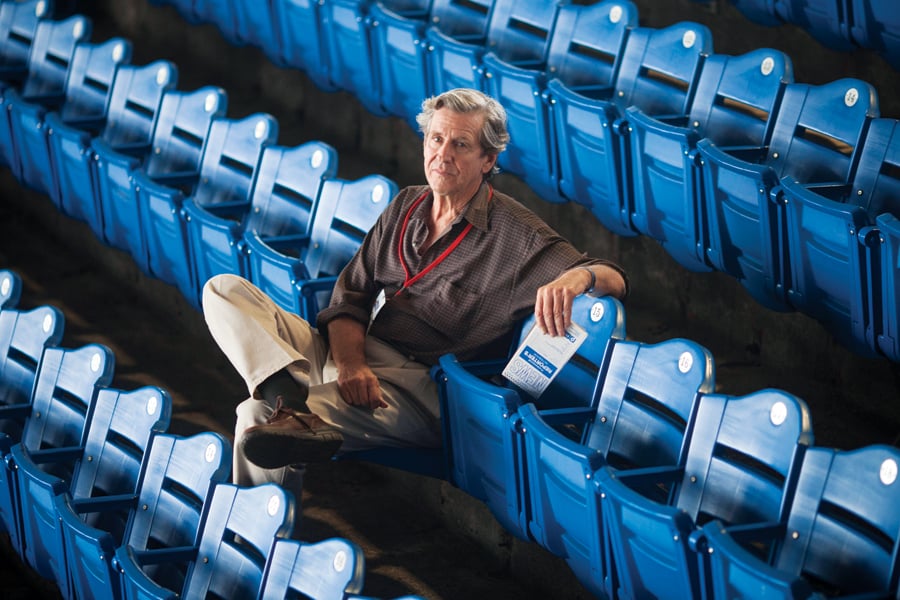 If you're at a Rhode Island sporting event and you want to find Bill Reynolds, look for the gravedigger.
"Jimmy Breslin was a young columnist and got sent to the JFK funeral, and on the train down was trying to figure out what to do that would be different from what everyone else was going to do," says Reynolds, a longtime sports columnist for the Providence Journal and long-ago hotshot Brown basketball player. "So he goes to the graveyard, sees the guy digging JFK's grave, and does a column on him."
Reynolds smiles. He spreads his big hands that can still grip a basketball as well as bang out copy as he sits in the cemetery quiet of his paper's newsroom one afternoon, a far noisier place in days long gone.
"Breslin said, 'If everyone's going one way, go the other way,' " Reynolds says, motioning with those hands. "So that's always been my thing. Go to the gravedigger."
For more than thirty years at the Journal, Reynolds has been going the other way, finding interesting stories to tell about people, his favorite type of column. He does it quietly, unobtrusively, asking questions and listening, never taking shots at subjects in print, earning a reputation as a nice guy from colleagues and friends.
In addition to his column-writing duties, Reynolds, who's sixty-nine, has authored and co-authored a dozen books. Among them, one on Boston Celtics legend Bob Cousy and a memoir, Glory Days, about his own fleeting career with hoop greatness decades ago and its lasting effect on him.
He is one very laidback, self-effacing guy, not typical for a sportswriter. With all the awards and accolades he's earned over the years, is he the dean of Rhode Island sportswriters? He winces.
"I've no illusions about any of it," he says of praise coming his way. "I was just very, very lucky. My journey could never happen today, it would be almost impossible to have the same journey."
And certainly, it's a tough time to be a print journalist, as anyone who follows the news is aware. In early September, many of Reynolds's ProJo colleagues were laid off by new owners, New Media Investment Group, including longtime friend and columnist Bob Kerr. "I really don't know what to say," about the firings, Reynolds says. "It's a very sad day."
"For now, I've survived. But I don't know for how long. Who knows what will happen in the next year or so."
Swish.
The sweetest sound a basketball player can hear, the sound of a ball catching nothing but net on the way through the hoop.
Reynolds heard it plenty growing up on a quiet side street in Barrington in the '50s and '60s. The tall, lanky kid would shoot endless baskets in his driveway, perfecting his shot, fueling his passion for the sport he loved. Jimmy Walker, Providence College star, would years later dub him "shooter," a nickname that stuck.
"Everyone in the neighborhood heard the bounce of that basketball way more than they wanted to," says his sister, Polly Reynolds, who's eight years younger. "We all said he cared for that more than anything, he took that for success. He was absolutely myopic about basketball."
Reynolds admits his whole life was defined by sports. "And I was obsessed with basketball."
He played other sports in Barrington, including Little League baseball and junior high football. Baseball was the worst.
"We played once at Cardine's Field [in Newport], it's like thirty-three degrees, I'm 100 pounds, I couldn't hit the wall with five shots at it," he says, laughing. "Plus, there were no cheerleaders, and we'd get home at eight o'clock at night."
He focused on basketball after that. And worked, including as a caddy at the Rhode Island Country Club in Barrington. Where something happened that set the tone for his working life to follow, one that instinctively insists on being nice to people he writes about, particularly the disadvantaged.
"I was ten or eleven, and 90 percent of the other caddies were Italians from Maple Avenue," he says. "There was a snack bar maybe fifty yards away from where the caddies were, but they couldn't go there. They had to sit on their bench. I didn't like that, I didn't like that at all."
At the time, Reynolds's mother was a hotshot golfer at the club. When the wealthy golfers found out about it, they treated the boy differently from the other caddies.
"When they didn't know who I was, I was treated like shit," he says. "Then they found out I was so and so's son and they treated me differently."
That, he says, "gave me a visceral reaction. I didn't like injustice, I didn't like privilege and discrimination. That was at a formative time in my life and very defining."
Marion Coleman, his mother, is ninety-five and lives in Florida, where she gets daily calls from her Billy, she says. I ask if he was a modest kid.
"Absolutely, he was very much that way," says Coleman, who up until a year ago still played golf. "He made friends with a lot of coaches and people. He still has a wonderful rapport with everyone, he gets along with everybody. He's very non-critical, and has mentored a lot of kids who've come through Brown."
Brown University is where the six-foot-three Reynolds hit his hoops stride. His 909 career points ranked seventh at the time, and he was elected to the all-decade team for Brown's 100 Seasons of Brown Basketball celebration. He came from basketball blood. His father, William D. Reynolds, and grandfather, William W. Reynolds, played there.
Bill Reynolds came to Brown via Worcester Academy, a big-time basketball prep school that he says got him to college. Where he didn't do particularly well. Not counting basketball.
"I was a very indifferent student," he says. "Basketball at Brown gave me an identity, something to care about. To be good, you had to work at it, had to lust after it."

The negative of all that was "basketball was an obsession to the point of ignoring everything else."
Reynolds still plays pick-up ball with friends. But back then, unlike most kids with top athletic skills, he was smart enough to know it wouldn't take him beyond college.
"I wasn't good enough, so it was never in my head to go pro," he says without regret, just realistic acceptance. "I was much more present-tense oriented. I played against guys who went pro, so I knew where I fit in."
He graduated from Brown, bounced around, uncertain of life's path. He started writing a novel, which was odd, he says with a laugh, because "I'd never written except to plagiarize term papers."
He taught school for a while, but quit when he was twenty-seven. "Being totally clueless six months later with no money and no job, I figured I'd be a freelance writer. I also substitute taught, picked apples, continued to try writing the novel."
His sister called and said she was in a writing class at URI, suggesting he come down. It was taught by Carol McCabe of the Providence Journal.
"It was twenty women and me," Reynolds says. "One day, she said 'Oh, class, we have our first sale!' and everyone went 'Who?' "
It was Reynolds. Unbeknownst to him, McCabe had submitted one of his pieces to the Journal's Sunday magazine.
"I ended up freelancing there seven years, probably wrote 100 stories, but never sports," he says. "It taught me to write on anything. They'd send me to do arts and leisure stories, bad summer theater, anything that paid. In retrospect, it was a tremendous training ground."
He liked freelancing but had a hard time paying bills — a sheriff once knocked at his door for lack of payments — and he couldn't get hired full time at the ProJo. He had no news background or journalism degree, just one in English.
"I was sitting upstairs one day with some editor familiar with my stuff," Reynolds recalls. "He said 'I have an in with The Berkshire Eagle, maybe go there a couple of years.' I wanted to say, 'I don't even know where that is.' "
The ProJo eventually hired him, starting in the Newport bureau.
"They had me covering town meetings and stuff, but it was a job," he says of his early career. "I thought it would be great. It wasn't."
One day a top editor walked by and Reynolds told him he'd heard there was an opening in sports. The editor blinked in disbelief.
"He said 'You'd have to leave news to do sports,' and I said 'I know,' " Reynolds says. "He looked at me like I was an idiot."
He made the switch. And never looked back.
Greg Donaldson played ball with Reynolds at Brown, and was there for the "shooter" story.
"We were playing two-on-two at a local gym in Providence," Donaldson recalls. "There was Walker and Mike Riordan, who'd later play for the Knicks. We were pretty good, but not in their league. Riordan was guarding Reynolds, and Billy hit four or five in a row."
Walker watched, then pointed to Reynolds and said, "I'll take the shooter."
"The name stuck," Donaldson says. "Billy can shoot the ball as well as anyone who ever was. One time he shot against our coach, who hit seven out of ten from the back of the key. Billy was still swishing shots as everyone walked out of the gym."
Donaldson went onto a career teaching and also forged a career in writing, always with his friend's support.
"He directed me toward projects, like my first article for the Village Voice," Donaldson says. "I used to play basketball in Greenwich Village where a lot of African-Americans played. They called it the cage. There were a lot of fights and stuff."
Reynolds thought about writing about it. But then told his friend to do it. He did.
"He's the most modest person I've ever met," Donaldson says. "Billy has a sweetness about him, the way he carries himself. It's very unusual, to be that good and accomplished and self effacing."
Few know Reynolds better than Mike Raffa, a friend since 1956. They were on the same Barrington sports teams through high school and remain close.
"I always told him to become a sportswriter," says Raffa, a career educator. "In high school journalism, it was our job to write a summary of the basketball season. He wrote 99 percent of it and it sounded professional. And he still wasn't sure what he wanted to do.
"Billy was a smart kid, but didn't spend a lot of time studying," Raffa adds. "He said after Brown, he educated himself. He's not a nine-to-five suit guy. Over time, he turned to writing and we're all better off for it."
He's also a fiercely loyal friend. When Raffa was going through a divorce and needed support, Reynolds, himself divorced, helped him work through it.
"He's a good listener," Raffa says. "And when it comes time to write, he gets to the topic quickly. He understands people well, he knows who's bullshitting him and who's honest."
"Billy's got a great sense of humor, and he knows about 1,000 stories because he knows about 10,000 people," says fellow long-time ProJo sports scribe Jim Donaldson. "Everybody knows Bill Reynolds." And he's still "shooter."
"I've told him many times, 'Michael Jordan's clearly not the same at fifty as he was as a young man, but let's think,' " Donaldson says. " 'You couldn't play defense then, you can't now. You couldn't jump then, you can't now. You stand there, wait for the ball and shoot. You haven't changed, you're the same guy.' "
He also spoke of Reynolds's basketball addiction.
"When [hockey superstar] Wayne Gretzky was in his prime in Edmonton, Billy went to Boston Garden when they were playing the Bruins to do a column on him," Donaldson says. "Billy does the interview in the morning skate, and you'd figure he'd stick around for the game. I mean, it's Wayne Gretzky."
He figured wrong. Reynolds got in his car and drove home. To catch the PC-Assumption game.
"Assumption," Donaldson says with a sigh. "Not Georgetown, not a big power team, but Assumption.
"And," he adds, "it was a good column on Gretzky."
Dee Rowe coached Reynolds at Worcester Academy in 1964 when the school won a state title and Reynolds sank twenty-eight points.
"In all honesty, I don't know many like Billy," says Rowe, in the basketball business for sixty years and now special adviser for athletics at UConn. "He was an incredible shooter."
And not one to take credit gladly.
"Sometimes I think you can't praise him," Rowe says. "He doesn't want the praise. He's proud to be recognized but doesn't take praise easily. He's a most humble giant, and I cherish his friendship."
One thing you will notice about Reynolds is how he always looks the same: Tall, lean and a full head of hair with an athlete's gait and no noticeable sense of style.
"He's not a super polished guy," says ProJo sportswriter Kevin McNamara, who calls Reynolds his best friend at the paper. "I swear he wears the same four shirts all the time. And he couldn't care less. Which is a big part of his charm."
He's also tech unsavvy, McNamara says, something Reynolds freely admits.
"Because he couldn't figure out how to get online at home in South Kingstown, he'd come all the way to Providence to file a story," McNamara says. "That's happened a few times."
Reynolds is as Rhode Island, McNamara says, "as Del's, beach traffic, the Dunkin' Donuts Center, Barrington, Brown and the Journal."
And as old-fashioned as a home phone. Which Reynolds has. And uses instead of a cell.
"We tried like four cell phones," says journalist Liz Abbott, who has been with Reynolds since 1986 and met him when she was working at the Journal. "He has one, but I don't ever remember him using it."
Ask Reynolds for a phone number, he'll thumb through a wallet thick not with money but dog-eared paper scraps with numbers on them. He says he also scrawls them on the wall at home near the phone. Abbott admits that's partially true.
"He writes them on slips of paper and then I tape them to the wall," she says. "I tried a Rolodex for him once, but that didn't work. He had all these slips of paper falling out of his pocket, so I just started the wall."
Does he have any non-work interests? She laughs.
"All his interests feed each other," she says. "When he's not writing, he's reading, and if he's not doing that he's watching a game or being with people he's working with. So he's got a very active life. But there's no clear delineation between work and his other life."
His home workspace is "not very tidy," she says diplomatically. "He has a book issue, he loves buying books, he considers it supporting fellow authors. My only concern is we have a cat, and I tell him, 'If those books fall and hurt the cat, you're history.' "
His ease of conversation makes him a great writer, she says. "That's why he's good at his job. He puts people at ease, he doesn't screw people. His reputation precedes him."
Plus, Abbott says of Reynolds — who's not a parent — "Kids break his heart."
Chris Herren was a high school basketball player in Fall River and later Boston College and the pros, battling drug addiction for much of it. He was part of the book Fall River Dreams Reynolds wrote in 1995 and, years later, the pair co-authored Basketball Junkie, about Herren's struggles.
"I've given a lot of quotes in my life but not one can explain the importance he's played in my life since I was sixteen," says Herren, now thirty-eight and a motivational speaker.
"He's been a friend, a coach, a journalist, a father, uncle, brother. He's been all of the above to me."
Of Reynolds's style, he says, "there's not many left like him. He's honest and pure and writes for the right reason. He's not looking to sensationalize or cause controversy. He tells a story and you have to respect him for that."
And for sticking by Herren through hard times, including alerting him to the demons within.
"He'll make you feel you need to be honest," he says. "He's not the guy to confront you. He only came at me during my struggles in a way that made me think I needed to do something about it.
"At the end of the day, he's a friend," Herren says. "And I'm glad we're back to that point. He doesn't have to play protector anymore."
Reynolds sits in a booth at Murphy's across from the ProJo with a sharp young black kid who came up hard in the Pawtucket projects, went to St. Raphael Academy and now plays pro basketball in Spain, and has a wife and baby. Reynolds had done a piece on him five years ago and is now researching another, settling down with an old reporter's notebook and a glass of water.
His style is conversational, fluid, easy, and the affable young man talks about a shocking youth, including seeing his father shoot his mother. He recalls being in Spiderman underpants at the time.
Reynolds soaks it in, not so much with journalistic eagerness for a good column but compassion for a human being's travails and triumphs. He asks all the right questions: That's a world you escape, and you knew you escaped it? What did St. Ray's do for you? You got lucky?
It flows, Reynolds occasionally scribbling notes indecipherable to anyone but him, asking more questions.
"You told me once that if not for basketball…." Reynolds says, waiting for the young man to fill the blank.
"I'd be dead or in jail," comes the reply.
"That was the path?"
"That was the path."
Reynolds has taken his own road for years, and will continue. Asked if he'll retire, he shrugs. "I don't think of that…who knows?"
What he does know is he'll continue to seek out the gravedigger, the subject of columns perhaps no one else would seek out, telling the stories of human beings that pique his interest and fulfill his desire and need to tell them.
"You ask what kind of stories I like to do?" he says after the young man leaves, pointing to the now-empty seat with a large hand that once gripped a basketball as hard as basketball still grips him. "Those are the stories I like to do."