Heaven Sent
Forget a wing and a prayer. Transforming this supersize building entailed a serious devotion to artful living.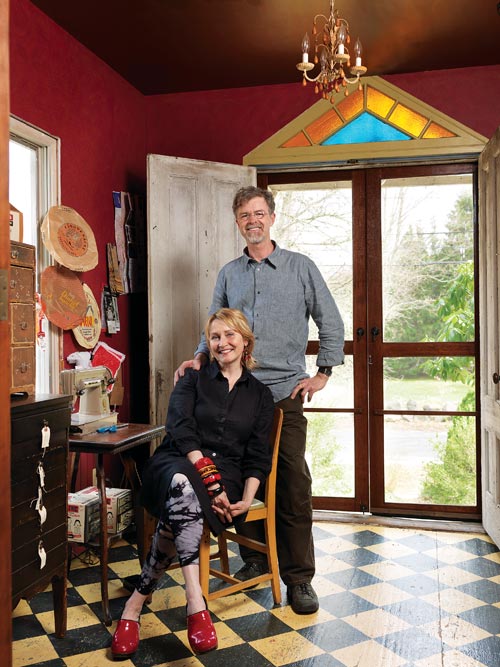 The Westport, Massachusetts, church that artist/designer Alyn Carlson worships wouldn't be the same without her. With her savvy guidance, the aged structure has morphed into a livable home — character intact. Birthday soirees, poetry readings, family dinners — the 1900 architecture is an ideal backdrop for Carlson's life, as well as her work and that of her partner, fine and commercial artist and photographer, Paul Clancy. "It's been quite a journey," she admits. "I have a blind passion for the place. But many people have helped."
Carlson arrived here with her now ex-husband and three young children twenty-nine years ago. Back then, the non-denominational church was just that. Times changed and the couple, who were ensconced in an attached apartment, eventually purchased the building and began renovating. Later, daring Carlson assumed sole ownership.
Her keen color sense and quirkiness meld with Clancy's industrial preferences to glorify the church's ridiculous proportions (twenty-two-foot high ceilings!) and idiosyncrasies (raked floors). Drawbacks like zero closets and structural beams are charm-makers. Befittingly, the tone is celebratory. Art, music, nature — the pair (shown left in the entry) pull it all together in an ever-changing panorama.
Empty surfaces don't exist. Keepsakes, antiques and art jostle for attention. The nine-and-a-half-foot-long mahogany file (right) once belonged to a physician. Carlson's chic hat was created with recycled papers. The photos are Clancy's. There's even a lush backyard, formerly a parking lot, and a meadow that's rented out for weddings. "Being able to step out on grass makes a huge difference in my life," Carlson says.
The Art of the Matter
Still, the sanctuary at the church's heart is the prize. A lightweight boat built by a friend sails aloft. The cheery hearth is a primary heat source. To its left, Clancy's photos from the AS220 "Describing Dreyfus" show float atop an Ikea console. The sculpture was made by Carlson's son Cameron Webster (he also crafted the mobile) and Anna Kocon for Providence's Wooly Fair. Brin Webster did the painting.
Seating translates dual beefy sofas — a perk from one of Carlson's past styling projects — and a Jens Risom stay-and-linger arm chair. A daintier Kofod-Larsen seat provides contrast. Complete with a snazzy CB2 rug, the sitting area generates a pool of coziness.
Books line the library wall thanks to her daughter, Hillary. Citrus-colored Krueger chairs were yard sale take-aways, and the firemen's pole hails from the New Bedford Firehouse Museum. The swing is grandson Levi's joy, although adults are welcome to share.
Gathering the Flock
An open plan fosters communal warmth, so the thirteen-foot-long cherry dining table, crafted by a friend, parks on the sanctuary's edge. Mid-century chairs and starry Mexican tin lights are in sync with the owner's no-ho-hum-accoutrements-allowed decor. Note the checkerboard latex-stained plywood wall in the background and the salvaged neon clock marking hours. The framed silhouettes have been amassed over time. The see-through cherry cabinets arrived via another buddy; between them hangs Clancy's photo collage and his photo of Carlson's mural drawing (buried later inside of AS220's Mercantile Building). A host of multi-tasking furnishings beef up the resourceful renovation. One, a hefty mercantile counter (open the cash drawer and the bell still dings) nabbed from the Barrington Stock Exchange, stands in as a kitchen work space (facing page, below). A stash of Arabia kitchenware from Finland is arranged still life-fashion on top. Buttery-colored Roseberry Winn tile backs a mantel by Tiverton's 16 on Center. Rebuilt windows with the original stained glass design (the decorative rooster was made by Carlson's father, Alan Carlson) hark to the building's history.
Work Zone
"We love blue in our studio to wake us up," says Carlson. The pair maintains side by side desks (right) in what used to be Sunday school rooms. Carlson devised the whimsical mobile using a medley of favorite objects. Her cool drawings — done with Benjamin Moore pearlescent paint on flat white — add texture to the walls in the foreground as well as numerous walls throughout.
Infinitely more complex than it looks, the church's rebirth also called for a series of second level bedrooms and baths (the master bath resides in the steeple). "When we first started out it was tricky. A church is built for people to be insulated and quiet. We needed to design big spaces for larger numbers along with little cozy spaces where individuals could rest and reflect," Carlson explains. Her bible, she insists, was Christopher Alexander's book Pattern Language. But obviously the real key to this project is an unerring style sense and a long-term vision. There's far more to come, too. All kinds of new plans are afoot for the serendipitous church, Carlson tells us.