Have It Your Way
Convenient, customized and (relatively) cheap, meal assembly places are sprouting up everywhere—and redefining the way we cook.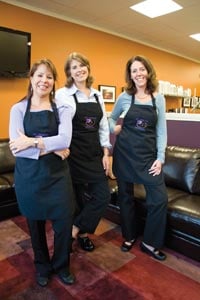 ON THE FORTY-MINUTE drive from my kitchen table to The Mixing Table, a meal-assembly business in Seekonk, Massachusetts, questions kept running through my head.
Is this really cooking? Is it any better than the Swanson TV dinners or boil-in-bag meals my mother used to serve on the days she was running late at work? What kind of person would eschew real cooking for frozen dinners? And, anyway, isn't it expensive?
Yes, I was skeptical. But after talking with a mom and her teenage daughter who love to cook, a dad and his young son, a former crime scene investigator, and another mom and her adult son, all of whom created up to ten family-size, gourmet, healthy, ready-to-cook entrees in ninety minutes or less, I have to tell you: I get it now.
WHAT'S THE IDEA behind meal assembly? It's simple.
Order your meals ahead of time, online, by phone or at the store, and reserve a time to come and assemble. You can check each recipe's nutrition information and the skill level required to complete the meal at home.
When you arrive at the stylishly designed storefront with a coffee bar and comfy couches and aprons and artwork by the talented kids at City Arts, your menu is waiting for you. At each of six food stations, follow easy step-by-step assembly instructions; the stainless steel work station contains all of the ingredients for two of the twelve monthly recipes, along with all of the packing materials (storage bags, containers and freezer-to-oven aluminum baking pans) required. Tailor the dish to your own taste. Want more pepper? Less salt? No onions? Have it your way, just as you'd do at home.
Then, pack the dishes into convenient portion sizes for your family; a large entree can be broken down into individual or two-person packets. At the finishing station, add stick-on labels with cooking instructions. Place the finished dish on your assigned shelf in the refrigerator, and move on to the next item on your list. When you've prepared each of your entrees, you can select side dishes from the ready-to-go freezer. Pack everything into your laundry basket or cooler, and voila! You're done. Your less-than-thirty-minute meals can go directly into your home freezer, or can be stored in the refrigerator for a couple of days.
EVER SINCE THE first meal-assembly business opened in Seattle in 2002, the industry has enjoyed astronomical growth all across the country. As of October, there were more than 1,400 locations nationwide, including three in Rhode Island and more than a dozen in nearby Massachusetts and Connecticut. Most locations are franchises of companies like Super Suppers, Let's Dish, Pass Your Plate and Dream Dinners, the company that started it all.
Bucking the franchise trend, three local moms pooled their professional expertise and opened The Mixing Table in November, 2006. Tracy Edes has a background in the hospitality industry, including catering, sales and marketing, project management and accounting. Vanessa Weiner, a certified personal trainer, has a master's degree in Internet strategy management. Susan Casper still works part-time as a physician assistant at a hospital and is a registered dietician. All three are married with young children. As Susan says, "We are all busy working parents who want to provide healthy meals for our families. We create our own recipes, we use fresh food, much of it locally sourced, and we're very conscious of good nutrition. We are our customers."
True, busy working parents are a target audience, but, as the owners have learned in their first year, the women—and men—who came to The Mixing Table on the typical Saturday morning when I visited represent a much broader spectrum, and the reasons they love meal assembly might surprise you.
Ginny Viens and her husband planned to celebrate their twentieth anniversary with a week's vacation in Las Vegas. With help from her daughter, Rebecca, who loves to cook and has taken teen classes at Johnson & Wales, Ginny came to assemble a week's worth of meals to deliver to her mother-in-law along with her three children while she was on vacation.
For Mark Chaffee and his eight-year-old son, Tyler, meal assembly is another activity to fit into a busy Saturday morning of soccer and hockey. "My wife and I both like to cook," Mark explains, "and we sit down for a family dinner every night, so when it's hectic, instead of eating junk, we can eat really good food." "And you can make it yourself!" says Tyler. As they work their way from station to station, Mark intersperses a bit of math here and there (What's half of a quarter teaspoon? ) while Tyler reads out the recipes and does most of the measuring. "I gave a gift certificate to my wife to come here," Mark tells me, "but now she's getting the best of both worlds. She got the gift certificate, and I'm here doing the cooking."
Jocelyn Knight, a former crime-scene-investigator-turned-teacher, says, "I'm here all the time, once a week or every two weeks. My husband loves the food. A couple of weeks ago, my in-laws were visiting. I'm not much of a cook, so for breakfast I pulled out this amazing apple puff pastry dish I'd made here and popped it into the oven. It was delicious, and my in-laws were really impressed."
When Theresa Sylvia comes to The Mixing Table every three weeks, she brings her own sous chef, her adult disabled son, Henry. "I love to cook, but I just don't always have time," Theresa explains, "and the recipes here are more adventurous than what I usually cook at home." While we chat, she begins to cover a large dish of shepherd's pie with aluminum foil when Henry interjects, "Not done!" He's right; she realizes she's forgotten a step in the instructions. In less than an hour and a half, Theresa and Henry complete six large family-size meals, or about thirty-six portions.
All of this good, healthy food and fun sounds like it should be expensive, but compared to the cost of takeout or eating out, The Mixing Table averages a reasonable $3.75 per serving for entrees you assemble, and a bit more when you buy pre-assembled entrees (which can be customized to your family's taste, just as you'd do yourself). All of the meals are trans-fat free; meats and poultry, whenever possible, are free of hormones and antibiotics. You can order organic, vegetarian and lower-fat entrees, too. Purchase a variety of side dishes to complete the meal, or add your own fresh salads and vegetables.
While meal assembly helps many busy families get through the everyday, it's also a boon for entertaining. Put together multiples of the same dish to yield enough portions for the number of guests you're serving, or order ahead and have your meals assembled and ready for pick-up. You finish the cooking at home, but The Mixing Table does the prep. As co-owner Susan Casper's husband observed, "You're really doing all the stuff I don't want to do."
For the ultimate in entertaining, consider hosting a Mix'r—a private meal-assembly party. No kidding. Invite a minimum of eight people for a fundraiser, a bridal shower, a corporate team-building activity, a family gathering. Bring your own music or DVD to enjoy while you and your guests assemble three or so entrees each.
AFTER NINETY MINUTES at The Mixing Table, Ginny, Mark, Theresa and Jocelyn headed home with laundry baskets and cooler bags and cartons filled with enough meals prepped for two or three weeks.
I headed for the grocery store, where I tossed enough things into my shopping cart to make a couple of meals, assuming I hadn't forgotten an ingredient or run out of some pantry item that would necessitate yet another trip to the market. Then, back in my kitchen, I started slicing and measuring, and cleaning up my prep mess. All of that took a couple of hours, and at the end, I had one dinner on the table.
I get it now. I really do.
The Mixing Table, 1165 Fall River Ave., Seekonk, MA; 508-336-3369, www.themixingtable.com. To contact Lydia Walshin directly, email lydia@ninecooks.com.
ON THE MENU
The Mixing Table's recipes, developed by the owners and tailored for easy assembly, include vegetarian, organic, kid-friendly
and family-favorite options. Each month the menu changes; twelve recipes are available, including a Chef's Series entree designed
by a local guest chef. As much as possible, ingredients from area farms and fisheries
go into entrees like these:
Baked manicotti with homemade marinara sauce
Cornmeal-crusted trout fillets with a warm tomato tarragon compote
Lemon chicken piccata over penne
Pan-seared flounder with fresh corn and peach vinaigrette, served with a baby green salad
Noodle bowls with gingered beef, udon noodles, and carrots
Overnight blueberry french toast topped with pecans
Pan-seared pork chops with andouille sausage, apples and sweet potatoes
Shepherd's pie made with lean ground beef and vegetables, topped with mashed potatoes
The Mixing Table, 1165 Fall River Ave., Seekonk, MA; 508-336-3369, www.themixingtable.com. To contact Lydia Walshin directly, email lydia@ninecooks.com.