Hasbro Helps With Summer Learning in Rhode Island
The program aims to address the academic slide during the summer months with activities that are a cross between school and camp.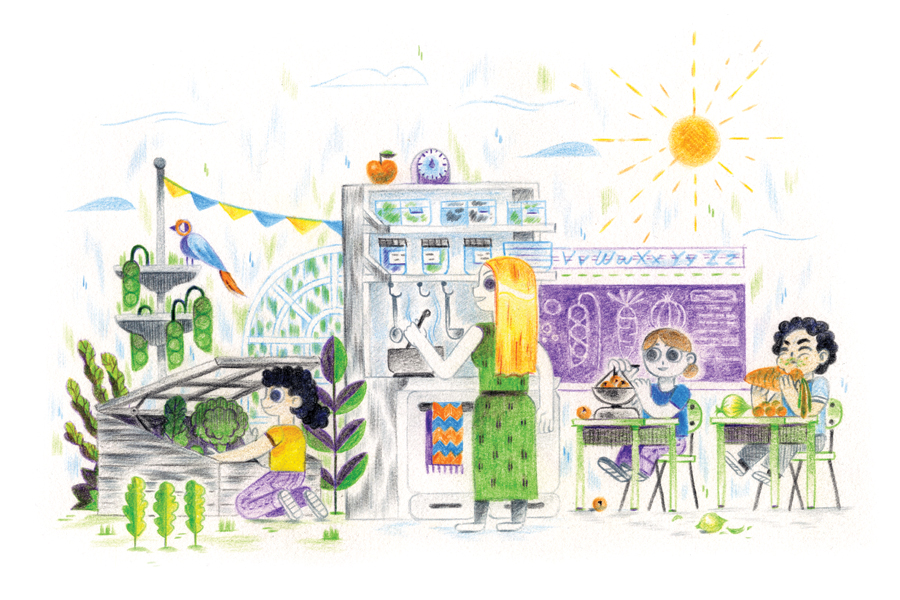 Hands-on programs around the state are bridging the achievement gap, making sure students keep up their skills over summer break and have fun exploring outside the classroom.
Patrick and Eammon Ferry furl the heavy plastic covering over the ribs of the hoop house, where tender leaves of baby kale and broccoli poke through the black landscape fabric.
The Ferry brothers, at ages seven and nine, are already practiced farmers. Educated at Tower Street School Community Center's summer program in agriculture's unending cycle — from planting to harvest to market to compost — they are, nonetheless, still excited by germination.
"Ooh look at that! That one's mine!" Patrick cries.
Summer has not been thought of as a learning season since the late nineteenth century, when school reformers standardized the modern school calendar for a host of reasons, including reconciling urban and rural school schedules.
Research has been slowly changing educators' thinking about those long weeks of late risings and lazy afternoons in between academic years. Hasbro's Summer Learning Initiative — now reaching 1,600 children in eighteen Rhode Island communities — is rapidly changing the perception of how to tuck math and literacy lessons into six weeks of new experiences and field trips that produce academic gains, long waiting lists and a near-religious enthusiasm.
Colleen Murray raves about the way Westerly's Tower Street summer program keeps her eight-year-old son Riley "in the flow. He came home happy every single day. My only problem was that he wasn't eating his lunch. He was eating too many vegetables out of the garden," she says with a laugh.
Karen Davis, Hasbro's senior vice president of global philanthropy, describes it as "the intersection between summer school and summer camp. Learning doesn't take a vacation."
That may be true for middle and upper class children, who might spend vacation building robots, exploring nature or taking an SAT prep course. But studies have shown that all children lose about two months of math computational skills over summer vacation and that low-income children also lose two months of literacy skills.
According to the National Summer Learning Association's Katie Willse, during the school year students — regardless of income — acquire skills at the same rate. But they don't all start in the same place.
"Studies show that the size of the achievement gap remains constant for the length of the school year, but it's widening during the summer and it's accumulative," Willse says. "If we don't address what is happening in the summer months, we won't address the larger issue of the achievement gap. Those kids will never have the opportunity to catch up."
In 2006, Hasbro launched its first summer learning program in Springfield, Massachusetts, near the home of its board games plant. It migrated to eight Rhode Island communities in 2012, when it found a partner in the United Way of Rhode Island.
"Our model is to identify an important community problem, find or create a model to address it, keep score and get it to go to scale," says United Way's President and CEO, Tony Maione. "We were aware of the 'summer slide,' and we thought that if we could just put up a program that held them even, that would be a good thing."
United Way donates $100,000 each summer. The General Assembly has added another $250,000 annually since 2012. Hasbro contributes $200,000 and imposes a few conditions: The program would have a service-learning component, certified teachers would plan the math and literacy lessons and the program would be thirty-five hours a week for six weeks. All students are tested before and after the program for skills retention. On average, students not only arrest the summer slide, they make significant gains: 35 percent in literacy and 47 percent in math.
"Each site serves a different population," says Joseph Morra, United Way's senior project manager for summer learning. "Small gains have been seen across all sites; we see dramatic gains in others."
Each summer learning site designs its own program around elementary, middle or high school-age populations who are recommended for it or sign up voluntarily. Many attend on scholarships. Woonsocket's Connecting for Children and Families social service nonprofit runs Chillin' and Skillin,' which serves 110 children in grades three through five.
Over the six weeks, kids will do a wide range of activities — science investigations, art, theater, drumming, cooking — with partners like Save The Bay and the Audubon Society. Each Friday, they take an out-of-town field trip to destinations such as Mystic Seaport or Plimoth Plantation.
"Many of our children don't have the same opportunities as other kids," director Charlotte Boudreau says, a point that was made crystal clear on a field trip to Newport. What was the object of fascination that had glued so many noses to the glass as the bus crossed the bridge?
"The ocean," she says. "Close to 85 percent had never seen the ocean. We live in the Ocean State! We realized that most of the kids in Woonsocket don't get out of Woonsocket."
The kids at the Tower Street program, which is organized around sustainability and healthy living, have transformed the former elementary school playground into gardens dotted with handmade birdbaths, raised beds and cold frames. Each summer, among other activities, their students grow vegetables, research and create recipes for their harvest, prepare the food for themselves and donate the excess to the Women Infants and Children (WIC) federal supplemental nutrition program.
"We are passionate about having kids that don't thrive in the traditional classroom," says family education coordinator Donna Nabb. "And they didn't realize how much math and literacy they were learning. If they found a good salsa recipe, they would have to quadruple it. They did a lot of weighing and measuring. Each kid had their own tape measure."
Participants describe the experience as transformative. Those six weeks have changed relationships between teachers and students and students and school ; they have also improved classroom practices.
"Teachers will come back and do the reverse: embed activity-based learning in their classrooms. It's just phenomenal," says Angie Holt, now the principal of Kevin K. Coleman Elementary School, Chillin' and Skillin's home base. "Many students, who, in a regular classroom are distracted and distractible, were highly engaged in the activities. In fact, some of the students who weren't able to perform in school were our best performers in the summer program, and it helped us to see the kids in a different light."
Ilanna Ball Coulbourn watched the program turn around her stepson, who was struggling academically and socially. In a tear-worthy letter, she thanked the Chillin' and Skillin' staff for showing him that he could learn and be liked.
"They were able to zero in on the problem and work with us to create a fabulous solution," Ball Coulbourn says. "Woonsocket is really lucky to have a program like that."
Hasbro and the United Way think every community should be so lucky. (There are similar programs available. Notably, the Providence After School Alliance, funded by the school department and several nonprofits, serves 500 middle school students and focuses on hands-on learning in the areas of science, technology, engineering and math.) With their support at its maximum level, the organizations want to partner directly with school districts statewide.
"We look at this as a model," Hasbro's Davis says. "When you see how much is spent on summer school, I think it's an opportunity to have a larger conversation about how we are spending those dollars and how we could spend them."
United Way has begun to make presentations to educational policymakers, and they've got some good stories to tell — like the little girl too busy dissecting squid to answer a governor's question.
"The girl put her hand up," Holt recalls. 'I'm sorry,' she said. 'I can't talk to you right now. I'm learning.' "
Ellen Liberman is an award-winning journalist who has commented on politics and reported on government affairs for more than two decades.
Ellen Liberman is an award-winning journalist who has commented on politics and reported on government affairs for more than two decades.