Harvest Lunch
Getting locally grown food into school cafeterias means paydirt for kids and farmers alike.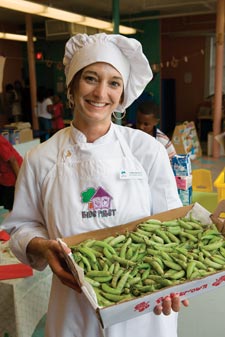 It's a bright, steamy midday in early July, and farmer Vinny Confreda Sr., seventy-nine, and his sixteen-year-old grandson Corey are ready for a break from their tractors. They've spent the morning plowing two wide, brown fields in front of Orchard Farms Elementary School, right off busy Route 12 in Cranston, where they will soon plant a late crop of sweet corn. "By the time the kids come to school in September, the corn will be about as tall as Corey there," says Vinny Sr.
The green fields will remind those kids that food comes from the land, not from supermarket shelves. And at harvest time, the corn won't have to travel far—it's destined for the school lunch room, where students will learn how fresh, local produce tastes, compared to the canned vegetables the cafeteria usually dishes up.
The movement to bring locally grown food into Rhode Island schools, which has been quietly sprouting for the last five years or so, is now in the midst of an "explosion," says Ken Ayars, chief of agriculture for the state Department of Environmental Management. "Over the last year there has been a really strong demand for local products," he says. It's driven by many factors: parental concerns about food safety and nutrition, a recognition that local food is a better choice for the environment, and a desire to support small businesses and preserve open space and farmland. But whatever the motivation, says Ayars, "It's great for local agriculture. The demand from schools, from elementary to college, will help keep family farms in Rhode Island."
Getting fresh, local produce into our school cafeterias may seem a simple enough idea, but it's not easy to implement. Schools get their food from a variety of service providers. Cost is always a concern, and kitchen staffs aren't accustomed to handling and preparing produce straight from the garden. Finally, the school year and the harvest season don't ideally coincide. Dorothy Brayley, executive director of Kids First, whose goal is to provide better nutrition for kids, has been working to solve all of those problems.
She introduced food-service companies to farmers, and found that with a little effort the complexities of distribution and delivery could be worked out. As for cost, in some cases it is lower—fresh potatoes are cheaper than frozen french fries, Brayley says. Preparation can be simplified; those potatoes, for example, can be oven-roasted skin and all, no peeling required. Farmers, if they are sure the market is there, can plant some crops earlier—such as lettuce and spinach—and some later—like that Confreda corn—for a bigger harvest during the school year.
The work has paid off. "By the 2007 harvest, we had twenty-eight districts participating," Brayley says. "Our goal is to have all thirty-six this year." She hopes the program will continue to expand, adding more local produce and Rhody Fresh milk to school menus.
Barbara Cohen, district manager for Chartwells, the food-service provider for a dozen Rhode Island school districts, says her company is committed to the local-food project. "We tried it out in 2006 with six districts, and last year expanded to all of our schools," she says. In November, the company hosted a Harvest Day event in the East Providence schools, serving local squash, potatoes and apple cider. "Serving fresh, locally grown fruits and vegetables to our customers is a win-win," says Cohen. "Farmers have a new source of revenue, while Chartwells demonstrates commitment to being a socially responsible company. And most importantly, nutrition and wellness goals for our students are met."
The farm-to-school concept is not just for grade-school kids. Imagine a menu of Point Judith squid, poached Little Rhody eggs, wild nettle soup, Macomber turnip puree and braised rhubarb. Those items were part of a locavore dinner hosted by the Rhode Island School of Design dining services last May. In the fall, the school offered students a 100-mile Thanksgiving meal, with every ingredient, including turkeys, vegetables, and potatoes, grown within a 100-mile radius. Cafes at RISD's Westminster Street building and on South Main Street feature local vegetables, Rhody Fresh milk, fish and shellfish from Narragansett Bay, and artisan bread and cheeses from local companies.
"Our surveys show that local food is important to students," says Ginnie Dunleavy, RISD's director of dining services. "If we don't feature it, they will leave the meal plan and get their food someplace else." Plus, she says, thanks to rising gas prices, "local food is becoming a better buy. Prices are going up at the major suppliers, while local farms are more stable."
Dunleavy adds that she also keeps farmers in mind when it's time to dispose of waste. "We give away our leftovers to a local farm to feed the pigs and chickens," she says, helping to keep the green cycle going.
Dunleavy says she met some of her local suppliers at networking events organized by Farm Fresh Rhode Island, a nonprofit group that has worked to facilitate relationships between farmers, schools and restaurants. Farm Fresh maintains a comprehensive website that provides detailed, up-to-date information about what is available from each farm. "The website has enabled a lot of the farm-to-school relationships to blossom," says Noah Fulmer, Farm Fresh executive director. He also works with Chartwells, providing outreach and education to parents and kids to be sure they know about the local food in their schools.
The outreach is an important part of the project because besides enticing children to eat healthier foods, advocates hope to encourage them to appreciate their local farms. For example, fifth-grader Emily Kallfelz of Jamestown says she loves to get fresh fruit in the school cafeteria because "it tastes very good!" The apples that come from local farms are fresher and juicier, she notes.
Some schools also are starting to grow their own food, right on school property. The Children's Garden Network, a project of the Rhode Island Center for Agriculture Promotion and Education, aims to have a garden at every school in the state by 2010, and is well on its way to meeting that goal. Stu Nunnery, director of RICAPE, says students at Ponaganset Middle School, in North Scituate, planted a grove of thirty-six apple trees last spring. On Block Island, students are growing their own carrots, pumpkins and Brussels sprouts, and raising money for a greenhouse where they plan to grow salad greens year-round.
The farm-to-school projects are possible only because we still have working farms in Rhode Island. That is not an accident; their preservation has required an ongoing effort, not only by farmers and their families, but by advocates and regulators. Vinny Confreda Jr., who now runs the family business, recalls that twenty-five years ago, he would drive along Route 12 in Cranston and Scituate with his dad, and see nothing but farms. "Now, it's all houses and asphalt," he says. But he adds that if farmers back then had the kind of support he has today, they might still be around. That includes open-space programs and selling value-added products on site keeping profits on the farm. Confreda sells pies and jams, and in the fall offers pick-your-own pumpkin patches and corn mazes. "We need all of it to keep the farm viable," he says.
A lot of work remains to be done. Ayars, of the DEM, acknowledges that due to the complexities of farm economics, some local produce is actually shipped to Boston before it's re-routed and delivered to Rhode Island schools. "We're hoping that can be worked out soon; it just doesn't make sense to do it that way," he says. A $2.5-million bond issue that will help provide funds to preserve farms and open space is also on the state ballot this November. And this fall, Cranston parents will once again volunteer to help shuck bushels of corn donated to their kids' lunch program by Confreda Farms. Confreda says it's one way to ensure the next generation will know about the food choices available to them. "Every year, groups of school kids come to tour our farm, and we ask them where their food comes from, and they say 'The supermarket!' But last year when I asked that, one of the kids said, 'From your farm! We just had corn from your farm!' And that was a great moment. That's what it's all about."