Happy Hour Gets Crafty in Providence
A group of knitters, embroiderers and people who like to color have been meeting up at local bars.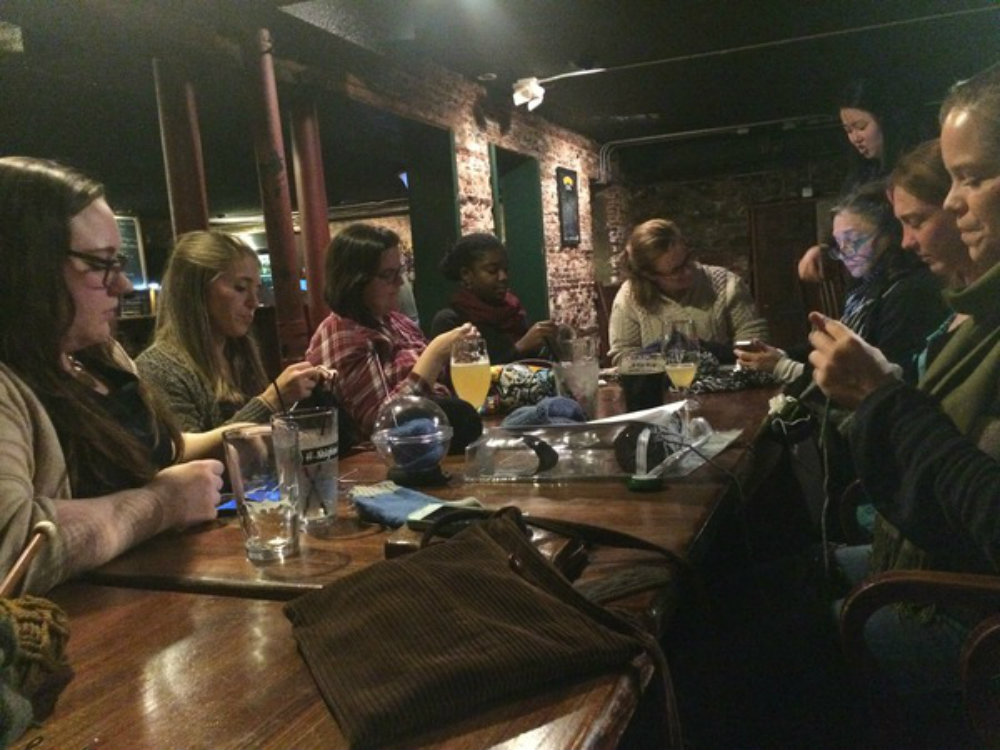 When you think "craft" and "beer" you're probably picturing the latest IPA from one of Rhode Island's breweries. But for a new group in Providence, the craft could be a sweater, some embroidery, even a coloring book — accompanied by a craft beer.
Crafty Hour, also known as "happy hour with a crafting problem," is the brainchild of Lauren VanDenBerg, who moved to Providence from Colorado in September and now works at the Providence Athenaeum. As a knitter, VanDenBerg had enjoyed craft nights at a store when she lived in Denver. And when she moved to Providence, she was looking to meet new people.
VanDenBerg found some knitting circles at libraries, but many take place in the afternoon. She tried to go to one at night, only to find out it had been canceled. Frustrated, she went home.
"I ended up putting together the Meetup group that night in the middle of the night because I was having a bad day," she says. "And I was kind of amazed that other people thought it seemed like a good idea."
Crafty Hour has since grown from a group of about five people to more than 110 members. They've held nine events so far, at the Bar at AS220, the Wild Colonial, New Harvest Roasters in the Arcade, and Seven Stars Bakery on the West Side. Gatherings are generally held on Wednesday nights, except during football season, when the group switches to coffee shops, where they pique the interest of little kids who interview them about what they're working on.
Participants can bring whatever project they want and should bring their own materials. The group has attracted a range of people ranging from mid-20s to mid-40s who enjoy a variety of crafts. Many are new to Rhode Island or have moved back.
"It comes in waves: one night we'll have all knitters and the next night it will be almost all people crocheting," VanDenBerg says. "We'll have one day where everyone's doing embroidery and needlepoint, and just me sitting there working on a sweater."
She does suggest, however, that people bring projects they can work on while talking to others, because she's gotten caught up in conversation before and had to redo her work.
VanDenBerg asks participants to order something from the establishment — it doesn't have to be alcoholic — and there's a suggested $2 donation as the group grows. You can join the group here or email craftypvd@gmail.com for more information.