Guns Drawn On Campus Safety
URI is arming its campus police this spring in the wake of a false alarm. It's the last large, four-year state public university to do so, but will it make the campus safer?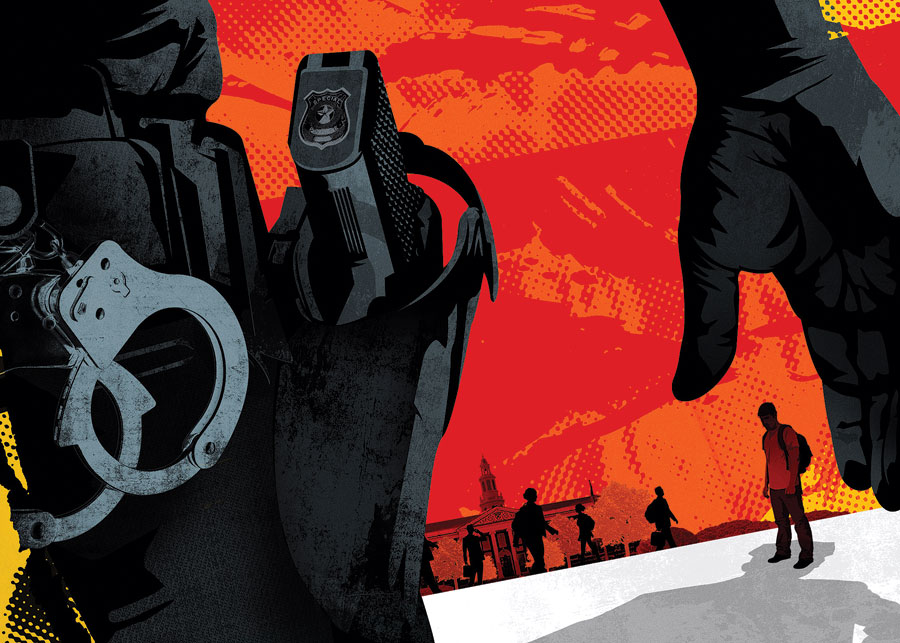 There were 350 witnesses to the events of April 4, 2013, but nobody knows what happened. According to news accounts, at 11:19, in Room 217 of the Chafee Social Science Center, a man standing outside the door, or perhaps somewhere in the lecture hall, said:
"I'm a good guy and I have a gun," or
"You're a nice guy! You're a nice guy!" or
"Let me in. I have a gun," or
"I'm a nice guy. I'm a nice guy," or
"I'm done being a nice guy."
Never has a nice guy caused so much consternation. Whatever was said — by someone, somewhere in the vicinity — touched off a panic. Biology lecturer Barbara Van Sciver told her students to go, and they did, pushing and shoving their way out of the classroom. The campus was on lock-down for two-and-a-half hours while the campus police, the South Kingstown Police and the state police scoured the area for a gunman. Classes were cancelled.
Police officials interviewed hundreds of students. But no one ever owned up to being the guy or the person who noticed the guy. The only gun ever recovered from the scene was a Nerf gun.
But campus police did not come away empty-handed. That momentary scare — after years of discussion — became the catalyst for the arming of the University of Rhode Island police department.
One month after the incident, the Rhode Island Board of Education voted to allow public universities and colleges to arm campus police if they chose. This spring, URI's twenty-nine-member force is scheduled to have completed firearms training and will resume their law enforcement careers as sworn officers who also carry guns.
"One of the things the Chafee incident taught us is that without the police having all the tools necessary, we can't respond to a call like that," says URI's Director of Public Safety Stephen N. Baker. "Our police are put at risk by wearing a uniform and not having the proper tools. We know that there will be firearms on the campus just by the nature of our society."
URI had been the sole holdout among public four-year institutions with 15,000 students or more. In January, the Bureau of Justice Statistics released campus law enforcement figures, based on surveys sent to 900 four-year institutions and two-year colleges. It found that the number of campuses using armed officers rose from 68 percent in 2004 to 75 percent in 2012. About 92 percent of public campuses used sworn police officers — meaning officers who are screened and trained like municipal or state police — and 38 percent of private campuses. The vast majority of the sworn campus police officers were armed.
The percentages have been nudging up since data collection began in 1995. Twenty years ago, with 600 institutions surveyed, 81 percent of large public campuses had armed officers, 34 percent of private campuses.
From law enforcement's point of view, it's a matter of deploying its trained and sworn officers to their highest and best use, says Lt. Charles P. Wilson of the Rhode Island College Campus Police and chairman of the National Association of Black Law Enforcement Officers. Wilson is an advocate, who, with his wife, Bryant University Associate Professor Shirley A. Wilson, writes scholarly papers on the subject. Leaving campus police unarmed can have negative effects on a department's daily performance and at the height of a crisis, he says.
"If you require campus police to be trained in the same manner as municipal police, and obligate them in the same manner, then you should equip them in the same manner," he says. "If the sense of legitimacy is low, you also have to consider the level of commitment and performance provided by the officers. A timely response is paramount in minimizing the loss of life."
In 2007, Virginia Tech senior Seung-Hui Cho killed thirty-two people and wounded seventeen on the campus, prompting many colleges and universities to beef up security, says Robin Hattersley Gray, executive editor of Campus Safety Magazine.
"Whenever there is a mass shooting, the push for more armed police officers goes up," she says. "People are making that connection that an armed officer would help prevent a shooting, although we haven't seen the research supporting it."
It's a question each campus has to answer for itself, says Anita Ingram, the University of Cincinnati's chief risk officer and past president of the University Risk Management and Insurance Association. "It depends on the environment. Some rural campuses don't have the same level of concern as an urban campus smack dab in the middle of an area with a high crime rate."
Seven states allow registered gun owners to carry concealed weapons on college campuses, and in those situations, police have legitimate concerns about being properly equipped.
"It's not the be-all and end-all," she cautions. "The other side of the coin is there are risks when you have armed police, even though they are trained."
Opponents agree. Frank R. Annunziato, executive director of URI's chapter of the American Association of University Professors, scoffs that the university's need was fashioned from "a phantom."
"We know nationally that crime is going down and that violent crime is decreasing, but the number of armed and sworn officers is going up," he says. "The [Kingston] campus is virtually crime-free, but the president wanted it. There's no rational reason to arm this police force."
According to a 2001 study by the Wilsons, a survey of firearm use among twenty-seven campus police departments found that three-quarters had no weapons-related incidents. Of those who did, two were accidental; six were for shooting vicious or seriously wounded animals; one reported firing at a criminal suspect.
The American Civil Liberties Union of Rhode Island, which had successfully testified against measures, argues that arming campus police makes students less safe.
"What would have happened [at URI] if the first responder had a gun out first; questions asked later? Public safety is a complex issue," says Hillary Davis, the group's policy associate. "It's not simply solved by the good guy with the gun. Schools should focus on robust ways to improve their security."
In 2006, Brown University became the first Rhode Island institution to arm its police officers after several years of dialogue and preparation. The debate was lively, although not new, recalls Russell Carey, Brown's executive vice president for planning and policy. September 11 and other campus tragedies "changed the calculus." Robberies — some armed — had been a worry. Brown students, carrying personal electronics, walking late at night, sometimes alone, made attractive targets.
"When President [Ruth] Simmons made the decision, it was widely supported," Carey says. "Now it's just an accepted part of our environment. Our police have never discharged their weapons, although there have been situations where they have unholstered a weapon. It's very rare."
URI took its cue from Brown and, with its guidance, embarked on a two-year decision-making and implementation process with multiple public meetings, reports, plans and regular updates, all organized on its own webpage. But no matter how many forums you hold, or contingencies you consider, the most critical question — will the campus be safer? — can't be answered.
"We know that the number of campus shootings is increasing," Ingram says. "But the thing you can't measure is what you avoided."
That doesn't mean someone won't try. In January 2013, a student at Taft Union High School in California, who reportedly was bullied, shot at two of his alleged tormentors, critically injuring one. The school resource officer had been snowed in and didn't report to work that day. The shooter has sued the school district charging that it failed to stop the bullying. The district sued the city for failing to provide an officer who could have stopped the shooting.
Ellen Liberman is an award-winning journalist who has commented on politics and reported on government affairs for more than two decades.