Guide to a Day of Shopping in Portland
Great shops? Seaside location? Yummy food? Let's drive up.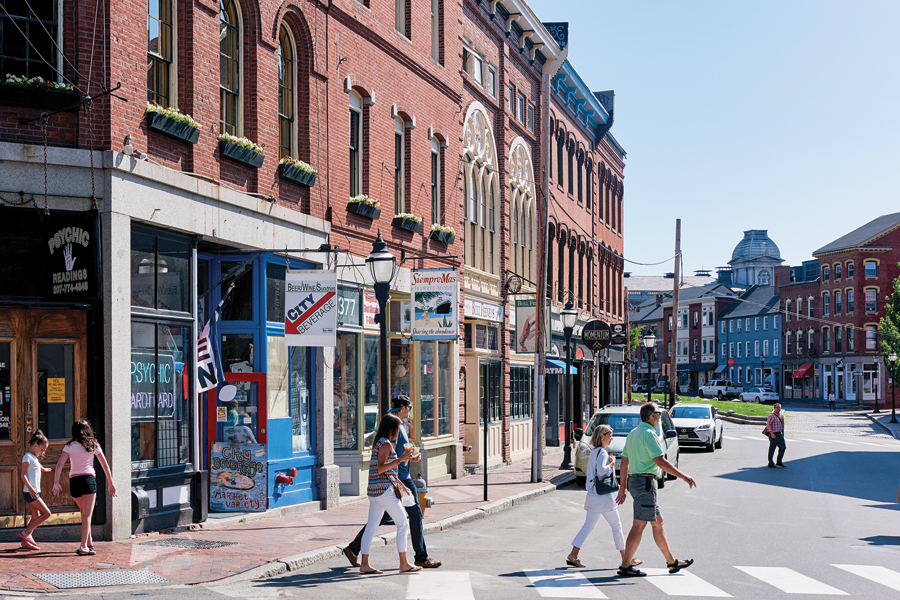 Portland has long had a reputation for being one of New England's foodiest cities, a destination where chefs across the country set up shop, much to the delight of residents and tourists. But those in the know have recognized that great food isn't the only reason to make the journey up I-95. From high-end handmade furniture to vintage finds, Portland knows what's up when it comes to home shopping. While a whole day could be spent checking out the Portland Flea-For-All and adjacent Architectural Salvage, make time to roam around downtown as well. There, a day's (or weekend's) worth of boutiques, galleries, eateries and breweries await, all set against the backdrop of this scenic waterfront city.

Portland Flea-For-All
The name says it all: There really is something for everyone at this three-floor vintage extravaganza. Comb through the stalls of more than fifty-plus vendors for everything from retro kitchen gadgets to farmhouse dining tables and funky concert posters. The thrill of the hunt is half the fun, but the best part is finding that perfect, one-of-a-kind piece that will make the rest of the room sing.
125 Kennebec St., 207-370-7570, portlandfleaforall.com

From vintage signs to sinks galore and quirky little gifts, Portland Architectural Salvage is full of finds that you didn't know you needed, but can't live without.

Portland Architectural Salvage
Working on a renovation? Don't go any further until you've visited this multi-story warehouse adjacent to the Flea-For-All. It's a treasure trove of all those authentically aged finishes you've been scouring eBay for. Need a faucet? There's a wall full. A door with the perfect patina? There are scores of them. Even if you don't have a current project, you may be inspired to start one just to do some picking here.
131 Preble St., 207-780-0634, portlandsalvage.com

Simple lines are the signature look of Furniturea's pieces.

Furniturea
The whimsical, colorful pieces found on the floor of this downtown store look as if they're straight out of Scandinavia. But don't let the clean lines and blond wood accents fool you. They're all made right in Maine and designed to be customizable. The modern cottage-style furniture comes in an array of Earth-friendly finishes, so it's a cinch to find just the right piece, no matter your color scheme or theme.
75 Market St., 207-774-7472, furniturea.com

Asia West
Every home needs a touch of Zen, and Asia West has it. Tables, hutches and stools have an aged look that could ground even the most modern of rooms, and smaller touches, like recycled Sari cloth throws and stone Buddha heads, make for ideal accents. Even better, the prices are just right, so you can stay centered, even at checkout.
219 Commercial St., 207-775-0066, asiawest.net

At Angela Adams, the textiles are sure to become the centerpiece of any room they inhabit.

Angela Adams
Adams and furniture maker Sherwood Hamill craft sleek and simple furniture and intricate rugs and textiles that are truly worthy of display. And while the prices make each unique piece an investment, one glance at the craftsmanship and creativity that goes into each, and the ROI is obvious.
131 Middle St., 207-774-3523, angelaadams.com

Blanche and Mimi
This surely must be the go-to gift shopping spot for the people of Portland. There's fun barware, pretty organic linens and baby clothes and accessories in not-too-cutesy patterns — and that's just scratching the surface. Every nook is filled with unique items, both new and vintage, that would bring delight to any hostess, parent-to-be or birthday gal.
184 Middle St., 207-774-3900, blancheandmimi.com

Folly 101
You'll be dreaming about all of the fun dinner parties that you could throw after a stop at this well-edited store. The shelves are loaded with cocktail napkins, candles, placemats and serving dishes, along with just about anything else you could want to throw a unique fete. But perhaps the best part? Everything is organized by color, making a perfectly coordinated selection a snap.
101 Exchange St., 207-773-5227

Throw pillows and delicate dishes at K Colette make for colorful accents.

K Colette
Most items are handmade, with featured artisans handpicked by the owner herself. The selection runs the gamut from furniture to candles and bedding to barware, and each piece is made with creativity and care.
100 Commercial St., 207-775-9099, kcolette.com

Where to Refuel
Get your sugar and caffeine fix with an a.m. stop at the Holy Donut, where the fried treats are made with Maine potatoes. The dark chocolate with sea salt is a must-try, but you can't go wrong with any flavor.
7 Exchange St. and 194 Park Ave., theholydonut.com.
Tandem Coffee and Bakery, housed in an old gas station, is another morning option. Go for the house roasted coffee and stay for the artful baked goods.
742 Congress St., 207-805-1887, tandemcoffee.com/bakery.
For a quick lunch pit-stop, try Figgy's Takeout for fried chicken with all the fixings, plus sandwiches, salads and soups.
722B Congress St., 207-805-0085, figgystakeoutandcatering.com.

For a more leisurely lunch (or brunch, or dinner), Central Provisions is a favorite among locals. The menu includes bone marrow toast and hush puppies and the drink selection is equally as interesting.
414 Fore St., 207-805-1085, central-provisions.com.
Finish out the day with a scoop from Gorgeous Gelato. The "best gelato west of Italy" includes a traditional menu of flavors like pistachio and stracciatella.
434 Fore St., 207-699-4309, gorgeousgelato.com.

Sights to See
With its extensive collection of American, European and contemporary works, the Portland Museum of Art is worth a visit. Along with the permanent collection is a constantly changing lineup of exhibitions to ensure that no two trips are the same. Those currently on display include pieces by Georgia O'Keeffe and Georges Braque.
7 Congress Sq., 207-775-6148, portlandmuseum.org.
Beer and food go hand in hand, so it's no surprise that Portland has seen an explosion of breweries in recent years. Explore a few with Maine Beer Tours, which run throughout the weekend. Tickets include bus transportation and tastings.
180 Commercial St., 207-553-0898, mainebeertours.com.
Take a short drive out of the city to the Portland Head Light. Located in Fort Williams Park, it's a scenic spot to take in Maine's coast.
1000 Shore Rd., Cape Elizabeth, 207-799-2661, portlandheadlight.com.