A Guide to Local Islands
Think: Block Island, Prudence Island, Martha's Vineyard and Nantucket.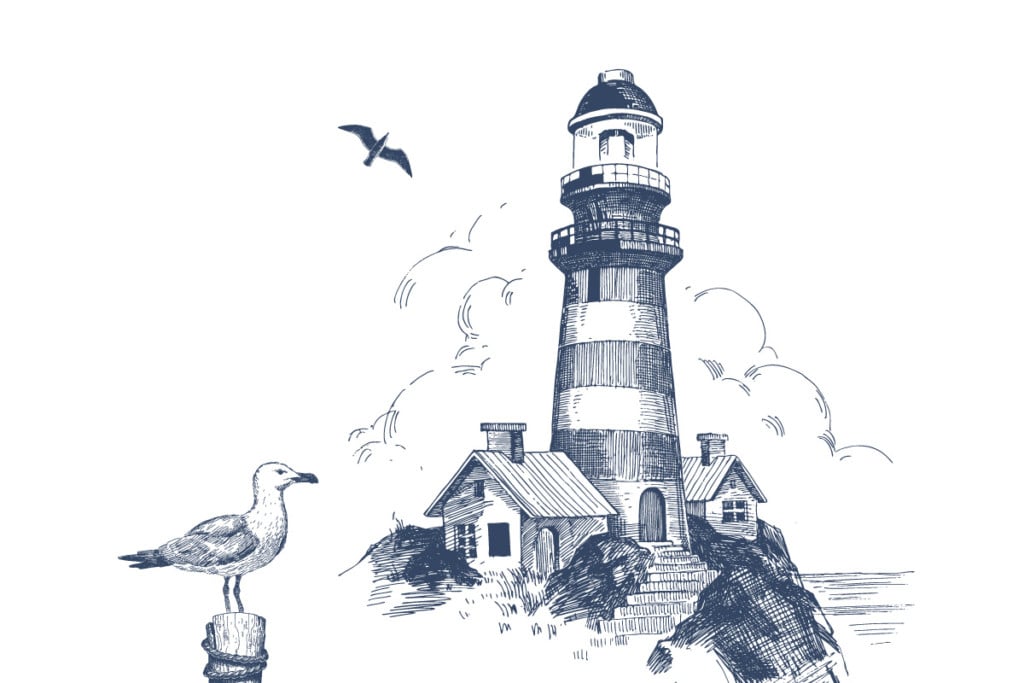 In Rhode Island waters:
There's two ways to get to Block Island, a pork chop-shaped island about thirty miles from the main shore, and that's via water or air. Either grab a ferry in Narragansett, North Kingstown (learn more here) or Newport, or book a $99 round trip flight out of Westerly. Once there, there are lots of physical activities for visitors like hiking the Mohegan Bluffs, checking out the numerous gorgeous lighthouses, biking or mopeding around the island, or fishing, parasailing and kayaking in the surrounding waters. But then there's also leisurly tourist activities including shopping, strolling through the Old Harbor historic district, visiting the animal farm and garden, or digging your toes into the sand at one of the island's pristine beaches.
Before you enjoy a night out in beautiful Bristol, sail on over to Prudence Island where you can sightsee, take pictures of the lighthouses and thumb through a guilty-pleasure read as you lounge the day away in your beach chair.
In Massachusetts waters:
Hop on the luxurious fast ferry in North Kingstown (learn more here) that will bring you to New England's summer vacation hotspot, Martha's Vineyard, where there's plenty of things to do with the whole family. If you don't want to spend the entire day on the beach, be a little adventurous and bike the Aquinnah Cliffs or walk through the relaxing Chappaquiddick Japanese garden. Also be sure to stroll through shopping areas on the island, visit Island Alpaca and make some furry friends or ride the oldest carousel in the world. There are endless possibilities for a good time at "the Vineyard," as locals and frequenters call it.
Meanwhile, a ferry company out of New Bedford offers rides to Nantucket, a small isolated island off the coast of Cape Cod. When you're not sunbathing on the beach, visit the two museums Nantucket has to offer: the Whaling Museum and the Shipwreck and Lifesaving Museum. Nantucket's historical sites will excite history buffs as they check out the Old Mill or climb to the steeple tower of the First Congregational Church. For a night out on the town, check out Cisco Breweries and the boardwalk-like setup.
Don't have time for long sea voyages?
A shorter trip-by-ferry from New Bedford to Cuttyhunk Island is another perfect getaway. What's there to do on Cuttyhunk? Absolutely nothing. Just escape and enjoy the peace and quiet for the day.
Going Around the Block?
Here's where to dine, wine and recline in New Shoreham.
Breakfast
Appropriately situated in the Block Island State Airport complex, Bethany's Airport Diner has kitschy decor, a spacious outdoor patio and steaming stacks of pancakes — what more do you need?
Lunch
The Oar shows off the 1661 Inn's (a family-run boutique hotel) more casual and fun side with a full sushi bar, unrivalled views of Great Salt Pond and a mean mudslide recipe.
Dinner
Set high on a hill outside of the main downtown area, the historic Atlantic Inn offers a scenic, relaxing retreat to visitors of the island. Enjoy the sunset from the wraparound veranda as you pick at some tasty tapas and sip on an artisan cocktail.
Snack
Not one to break tradition? Then stop by Payne's Killer Donuts (an island business staple for more than fifty years) food truck for a hot, fresh circle of fried dough rolled in sugar.