Groundhog Day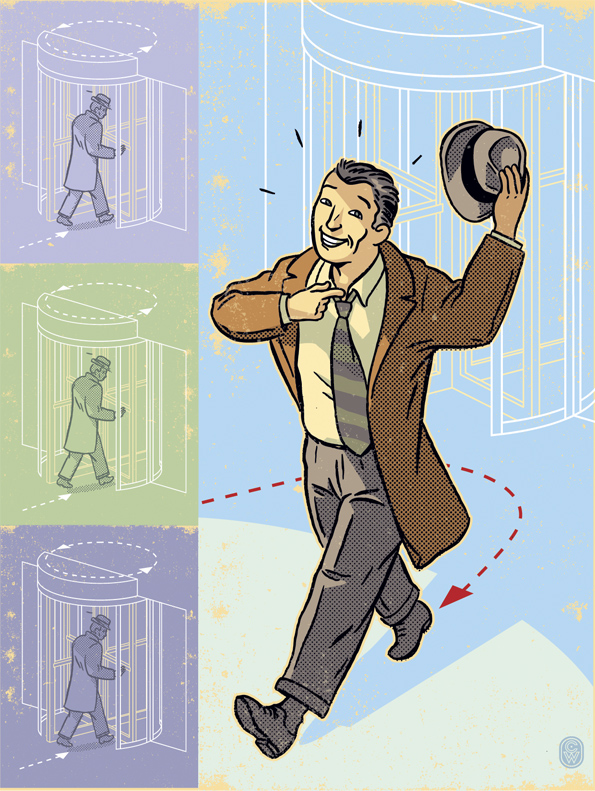 We've all experienced it: that feeling we're in a scene from Bill Murray's Groundhog Day. It's the sensation of the numbingly familiar: the morning alarm sounds, you brew coffee, go to work and feel your life is cycling from one day into the next without a flicker of change. When it seems like the seasons are coming and going, and you're stuck in deja vu, how can you shed that humdrum rhythm and try something new? Here's some expert advice on breaking the monotony, recharging your career and perking up your personal relationships.
Jazz up your job
You need it because: No job will stay the same for too long. "People still believe the myth that they'll have the same job for the rest of their lives," says Bobbi Koppel, director of career services at the University of Rhode Island. "Your job will change. Today, everyone is cross training and working in teams across disciplines."
Your first step is: Volunteer for a special project at work. "You might choose to organize an event or employee outing and find that you do it so well that it becomes part of your job description," says Koppel. "Don't wait until you're stuck in a rut." She advises that you actively seek out new opportunities because you'll acquire new skills and a valuable work portfolio that will help you in the long run.
Snafu to expect: Your boss, or human resources director, is too busy to provide you with opportunities. You'll have to search for them on your own. "My best employees are those with self-initiative. Go to your boss with your idea and explain why it's good for the bottom line or how it will enhance customer service," says Koppel.
Alternatives: Grow in areas that you enjoy best. "People forget they have lives. I know so many teachers who are also musicians. They form a band, play music outside work and just love it," says Koppel. Other options: Get involved with community projects with coworkers outside the office. Something as simple as a walk-a-thon can enhance networking. Not up for walking? Organize a dress-down fundraiser and give the casual Friday proceeds to charity.
Retool your career ambitions
You need it because: You've explored ways to improve your job, but your interests are elsewhere. "People wait too long to change jobs," says Bobbi Koppel. "Find a trusted circle of friends or personal board of trustees, such as a mentor, a former teacher, a colleague, or other people who truly know you, and ask for their input."
Your first step is: Never settle. "People often say, 'I would love to do xyz job, but….' That little word, b-u-t, is a barrier," says Koppel. She suggests thinking of ways you could be successful in that career. Ask questions like: How do I find out more about that job? Who is doing that job? "My favorite Thoreau quote is: 'If you have built castles in the air, your work need not be lost; that is where they should be.' Now put the foundations under them," Koppel says. "I like people to dream and go outside their comfort level." The point is that usually there's a way to find out how to do something you love. Your job should be fun. "I tell people that work should be part of a passion. If you don't enjoy it, then it's not right," Koppel says.
Snafu to expect: Changing careers will take some work and soul searching. You'll need to research what the future outlook is for your job, study the workplace, and delve into what it's like to be part of that workforce.
Alternatives: Scan the bookstore or library for books on career change. Niche books exist for nearly every field. What Color is Your Parachute? may be considered the job hunter's bible, but consider other resources for career development such as specialty Internet sites (careermag.com ExecuNet.com, and IdeaList.org) and books (Do What You Are by Paul Tieger and Barbara Barron-Tieger, How To Be the Employee Your Company Can't Live Without by Glenn Shepard, and Great Jobs for English Majors by Julie DeGalan and Stephen Lambert). Or use the career resources of your alma mater. For instance, URI has an online program called TypeFocus, a free, self-assessment program that links you to a variety of career options based on your interests. Other colleges have similar online tools. Or find an interesting person in the field you want to explore and take them to lunch. Ask them about their job, what they like about it, and what they hate about it. The informational interview will provide you with concrete details — such as how they landed where they are, or what they wish they'd known before they started — that will help you decide if it's the right job for you.
Get a hobby
You need it because: All play makes Jack blah and uninteresting. Your life will become boring, and you'll become bored, if you never take time for fun. Pick a hobby that's amusing and will focus your attention, such as starting a collection. It doesn't require advanced skill and won't necessarily involve money. The fun is in the hunt.
Your first step is: Pare down which item you want to collect, says Suegray Fitzpatrick of Newport, a sea glass collector since she was a young child. Her collection of glass shards includes only those that are thoroughly polished by the action of sea and sand. "I toss back anything with shiny spots," she says. Fitzpatrick also looks for unique shapes of sea glass, such as hearts, marbles, bottle necks and bottle bottoms, and rare colors like orange, red and aqua.
Snafu to expect: Your collection might blossom into something else or become an obsession. For Fitzpatrick, collecting has given her concentrated vision. "When I'm looking for a certain shape or type of sea glass, I don't notice anything else on the beach," she says. She doesn't consider vacations to locales where sea glass isn't readily available, such as the Grand Canyon, she admits. Her collection also spawned an interest in kayaking (to secret coves in Narragansett Bay where she collects rare shards). Other sea glass hunters have also adopted sideline collections, such as wampum shells and discarded fishing lures.
Alternatives: Your hobby is only limited by your imagination. Trade with neighbors and collect plants for your garden. Rekindle collections you had as a child. Or take a decidedly adult approach, such as collecting wine corks or vintage whiskey bottles.
Give your home a makeover
You need it because: If your surroundings are dull rather than dazzling, maybe your home could use a weekend revamp. "Look at your surroundings. Are the colors dull? Is your home so crowded that it's difficult to get around furniture?" says Chris Eramo of Boston Staging Group, who teaches a Rhode Island School of Design Artful Living Continuing Education course with business partner, Julie Chrissis. "Your home is your domain. It's important to have beautiful things around you. It gives you a high feeling." A weekend shuffling furniture and redecorating with items you already own will immediately improve the comfort level in your home.
Your first step is: Have a plan of action. Start with one room. "In three hours you can have a big impact," Eramo says. "Step out of the box. Have a friend you really trust help you. Say to them, 'I have this idea, what do you think?' It's good to play ideas off each other." Chances are you'll come up with a better arrangement or decorating scheme when you work with someone else. "Let the ego go," Eramo says. "We get so attached to our surroundings, yet they might be all wrong."
Snafu to expect: Displaying every item of a collection can be a mistake. Eramo suggests paring down the number on display. "I've seen Hummels on every flat surface in a home. It just doesn't look good. Edit your collection to show off only your best pieces and keep it to one area," Eramo says.
Alternatives: Take Eramo and Chrissis's class, Weekend Revamp, and practice on someone else's house first. During their two-hour course held in a private home, you'll learn how to shop in other rooms for existing furnishings and other home makeover tips.
Focus on family relationships
You need it because: Relationships in general can go stale. In a stable atmosphere, your link to loved ones will be a welcome constant. But factor in an element of change; it'll add the oomph necessary to reduce predictability and allow for new experiences.
Your first step is: Take care of yourself, says Dale Blumen, a licensed marriage and family therapist and clinical coordinator at the University of Rhode Island's Family Therapy Clinic. If you're looking to improve your marriage or family relationships, you might not think to focus on yourself first. But, Blumen says, it's the primary ingredient in a recipe to help recharge someone in a care-giving role. "Think about what you can do to take care of yourself and get more energy. It might mean getting some kind of exercise; it might mean getting more sleep or having a massage. It might even mean going out with some friends," she says.
"Whatever energizes you and gives you space to be you will also be the best thing for your family relationships."
If you're not in a care-giving role, and are looking to invigorate intimate relationships, such as your marriage, Blumen says you should find ways to interact as a couple. "It's easy to lose touch with each other, especially if you are a dual-career family. You take a marriage for granted and need to prioritize being a couple," she says. When you're drawing up your to-do list for the week, make an appointment with each other. It might be for a a movie, or for a few hours listening to music together. Whatever it is, make sure that appointment isn't to talk about problems. "Make it a chance to say hi to each other," Blumen says.
Snafu to expect: You might have forgotten the best way to take care of yourself, given that work or family commitments easily erode personal time. Those on the receiving end of your attention may be a bit dazed. Don't worry; their initial surprise will give way to your welcome thoughtfulness. Experiment with different ways to feel refreshed or connected with your spouse, such as taking a themed cooking class. Then, make dinner for friends and share your new foodie talents.
Alternatives: Find a new way to connect with your family members. For example, if your dad's birthday is May 15, call him on the 15th of every month. See if he catches on. Or cut out the newspaper comic strip, glue it to a postcard, write a personalized caption and send it to them for no reason. Blumen says that spending time together, even for a short time but on a frequent basis, is more productive and constructive than a week-long vacation once a year.
Foster friendships
You need it because: We're human, and as humans we need intimacy. Whether it's with someone who understands you, who offers unconditional acceptance, or whom you can bounce ideas off, a friendship is a healthy venue for self expression. "We all need someone whom we can tell our real feelings to, or say something that's politically incorrect and know they're not going to turn you in!" says Janet Marquez, a licensed marriage and family therapist and president of the Rhode Island Association for Marriage and Family Therapy. "To a friend, you can express your true self and that's vitally important." And, when you have a low point, a friend might be just the person who props you up. "With a friend, you can relax and express your opinion. A friend will shake her head and say, 'Yep, I know what that feels like,' " Marquez says.
Your first step is: Meet with friends face to face. You can talk on the phone. You can e-mail each other. But avoiding face-to-face interaction severs connections. For the last thirty-five years, she's met monthly with the same group of women. "We've been there for each other, for babies, showers, divorces, weddings, health crises, you name it. These aren't the friends I'm on the phone with every day or even every week. But these are the people who come around at times of need," she says.
Snafu to expect: People change. "Sometimes you run out of things in common. Or maybe your friendship is intense at first and then fizzes out," Marquez says. Also, be watchful of friendships that drain your energy. Everyone has a low day or two, but a friend shouldn't always be negative and deplete you. "As a child, you were always told to include the kids in the neighborhood. As an adult, you don't have to follow those rules," Marquez says. "A friend should be someone you want to be with."
Alternatives: "Life happens to people along the way," says Marquez. Developmentally, our lives change and our friendships change. Maintaining connections gets more difficult as we get busier. So, if you can't manage to see your friends once a month, shoot for once a year. Email is another way to stay in touch with far-flung friends and relatives. "Build in traditions and rituals," Marquez says. "It helps bind families together, and it can do the same for friendships. Do or die, you know you'll get together for the annual girls weekend."
Learn how to change
You need it because: No one loves that stuck place. Except, perhaps, Bonnie Leonard, a professional life coach. "It doesn't feel great, but not liking being stuck means that you're not going to stand it one more day. You're going to do something about it," says Leonard. "You've come to a fork in the road; some call it a voice. You can be extremely successful in a career, and suddenly you go to work every day, and it's all wrong."
Your first step is: Understand who you've become. Leonard's "Compasswise" program, for example, helps clients take a personal inventory. She labels each direction — north, south, east, west — corresponding to her client's talents, passions, values and purpose. They will be the starting points for transition, she says. Leonard says the transitions she coaches usually have two parts. First, decide what you want. Then, find how to make your "journey" there as effective and fulfilling as possible.
Snafu to expect: "Sometimes I notice in myself and in other people, just in the moment when what you're trying to change is about to become a habit, we stop doing it. We want to throw away this new way of doing something," Leonard says. "It's a sign that we're about to change, but that's why you should stick with it."
Alternatives: Trust your pace, says Leo-nard. Accept who you are and dig out of your rut a little at a time. "Be evolutionary rather than revolutionary," says Leonard. If Leonard hears that someone wants to revamp their messy office, she suggests that they start with the pen and pencil holder. "Toss out the old pens and replace them with some shiny new ones that all work," she says. Inch by inch, row by row, you can make a change.
Boost your brain power
You need it because: Maintaining a healthy brain and neural connections keeps your mind spry.
Your first step is: "Use old-fashioned, healthy common sense," says Dr. Stephen Salloway, Director of Neurology and the Memory and Aging Program at Butler Hospital. Avoid being overstressed. Eat plenty of vegetables. Get enough sleep. Be physically active, with both cardiovascular and strength-training exercises. "In terms of keeping your brain healthy, it's also important to socialize with others, learn a new language, learn an instrument, pursue hobbies that involve others," Salloway says. "There's a lot of interest in nutritional supplements that keep your brain healthier," he says, and some recent evidence suggests that diet and nutritional substances have a neuroprotective effect. New studies indicate that your brain may benefit from eating more vegetables, consuming moderate amounts of red wine, green tea and Omega-3 fatty acids, and indulging in a Mediterranean-style diet.
Snafu to expect: Recognizing you need new mental stimulation can be difficult. Often a child, especially a teenager, or trusted friend, can see it best. "They'll say, 'Mom, you're in a rut. Go do this or that,' " Salloway says. "It's hard to break out of a mold. But if you engage in something new, little by little one thing will lead to another."
Alternatives: Forgetting people's names or misplacing your car keys can be a nuisance, but they commonly happen to everyone. However, if you do it all the time, or if you can't remember what the keys are for, then it's a sign you need a memory evaluation, says Salloway. "The problem with memory loss is everybody feels like they have the beginnings of Alzheimer's. When people really have memory problems, it tends to get noticeably worse," Salloway says. "In that case, the ostrich approach is not good. You need to get help."