Greycork and Studio Endo Bring It Home
The high-profile young local furniture makers have very different styles.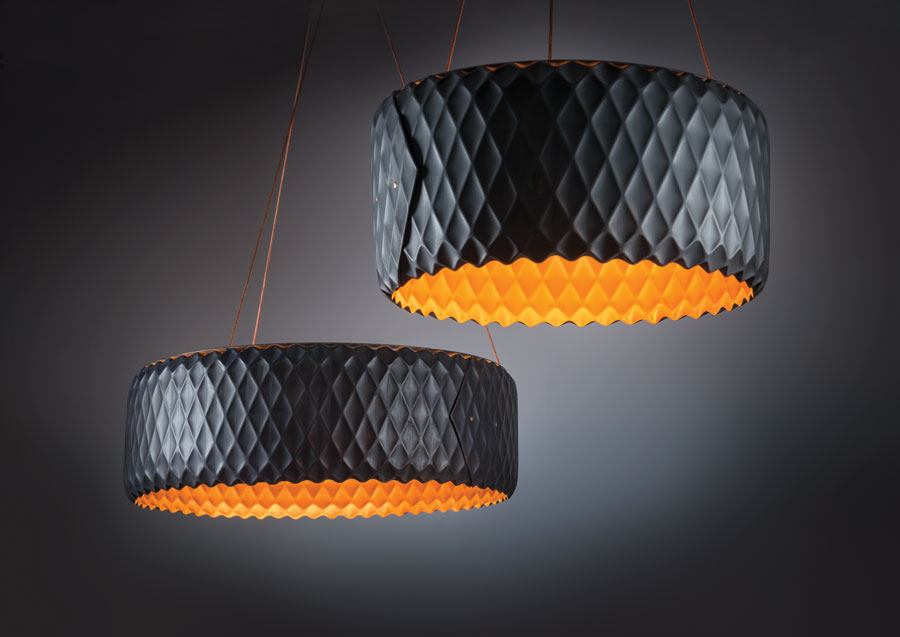 Heavy Metal
In his nearly decade-long career as a furniture designer, Miles Endo has taken inspiration from many sources: architecture, early twentieth-century industrial design, even a paper clip once served as a starting point for one of his signature stools. But he didn't have to look quite as far for his latest collection. While carrying on his Japanese father's tradition of making Taiko drums, something Endo does annually, he was struck by the design inside each instrument that gives it its unique acoustic sound. That patterned metal became the focal point of his newest Hira series (pictured here), which includes a pendant light and an ebonized oak media cabinet showcasing the diamond-stamped copper. "I try to use classic materials and natural finishes and show off material for what it is. Bold geometric lines are another element of my work," Endo says. A RISD graduate, Endo once thought he'd end up in architecture or car design. But a furniture-making class enlightened him to a process that held more appeal. "I liked the control you have from beginning to end in furniture making," he says. "Plus it's a little bit faster than designing buildings, which take years and years and require a lot of people's approval."

Local Love
Endo spent a brief time in New York City after college, but the Hawaii native soon returned to Rhode Island, where he now runs his Studio Endo business out of a shared space in the south end of Providence. While much of his work is done for private clients, it can also be seen in Providence restaurants Ken's Ramen and Figidini, the Converse Shoe Company headquarters in Boston and the Little Tokyo Historical Society in Los Angeles. Earlier this year, Endo got a taste of the national spotlight when he appeared on HGTV's "Ellen's Design Challenge," an experience he describes as "really stressful, but a lot of fun." Whenever possible, Endo uses local craftsmen and fabricators to manufacture his work. And the local love goes both ways. This spring, Endo was awarded a Providence Design Catalyst grant, which enabled him to show his work at the Architectural Digest Design Show in New York for the first time and buy many of the materials for his latest collection. But perhaps more importantly, it reinforced why his decision to start out here was the right one. "Rhode Island has been a really great place for me to grow and I hope to stay here for a little while and continue to grow."
Starting Up
Shopping for furniture as a twentysomething is an all-too-common challenge. What looks good isn't always affordable, functional or pleasing to the design-conscious dweller. That's the dilemma John Humphrey encountered when he began his post-college life working in venture capitalism in Florida. "Buying furniture in my early twenties, I never felt like there was a good option for me. I wanted something that I could feel proud of and that was unique." His solution? He founded a startup called Greycork three years ago to manufacture ready-to-assemble, online-order furniture that had all the qualities he was looking for. The company started with baby steps, with Humphrey, who grew up working in his family's business, Horner Millwork, in Somerset, Massachusetts, continuing to work in Florida. Meanwhile, he hosted Google Hangouts to talk about the company every Sunday night with a partner, Bruce Kim, a RISD grad based in Rhode Island. A third founder, Alec Babala, starting working for the company during his final semester at RISD. Several months and a move to Rhode Island later, and the first Greycork collection — a bench, coffee table and side table — launched in late 2014.
Assembly Required
Greycorkhas grown from a three-man operation to a nine-person team with an office, warehouse and research and development studio in Providence. After the first collection, the team headed back to the drawing board to lower price points and upgrade materials. A second, five-piece collection was sold by pre-order through an Indiegogo campaign starting in late 2015. Customers from forty-four states placed orders for more than 1,000 pieces. Recently named to Forbes' "30 under 30" list, in May, they launched another version of their living room collection, this time shipping orders out in real time starting this month. Greycork believes customers buy furniture to fulfill specific social, personal and productivity aspects in their home. "The living room is a collection for the social experience. So our next collection may address another need," Humphrey explains. The startup has big plans, including custom fabric options and a Providence showroom opening in June. "We're starting to get our roots in Providence and we're interested in meeting new people who want to work here or partner with us. It's important for us to feel like a part of the community."