Good Night Lights Say Goodnight to Hasbro Kids Every Night
Volunteer Steve Brosnihan started a tradition between the Hot Club and Providence Steamboat Company that you can see every night at 8:30 p.m.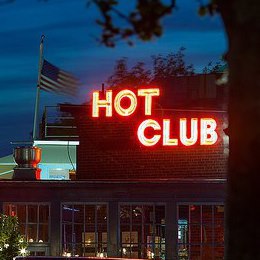 Editor's note: This article was updated with new information at 10:10 a.m.
Every night at 8:30 p.m., you might see the Hot Club's lights flash for a minute, as well as the lights at Providence Steamboat Company/McAllister Towing. It is a way of saying goodnight to the children in the Oncology Unit and all of the patients at Hasbro Children's Hospital, who can see the lights from their windows.
The new tradition started with cartoonist Steve Brosnihan, who has been a volunteer in the Healing Arts Department at Hasbro Children's Hospital for more than twenty-five years. "I spend about eight hours a week at the hospital drawing cartoons with patients and teaching them how to draw," he wrote in an email response last night. "My assignment at the hospital is to amuse and distract. I'm not an art therapist. That said, I have been told by staff that there is a therapeutic element to what I do."
Brosnihan is a bicycle and bus commuter, and about five years ago, he began signaling from the light on his bike to the kids as he made his way down to the South Water Street bus stop. "Eventually, I figured out that I could send a good night signal right from the bus stop that would be seen by many rooms," Brosnihan says. "The bus stop signal goes right over the Hot Club, so their neon sign became the marker that I told the kids to focus on."
Then he got the idea to approach the Hot Club to see what they could do to help. "Asking the Hot Club to become part of this was a natural since I knew how visible it was to many rooms at the hospital," he says. "I've had kids tell me it was the highlight of their day."
Here is the Hot Club's response:
Now groups of people are bringing flashlights to the Hot Club to signal good night to the pediatric patients at the hospital. The Hot Club is open Christmas Eve from noon to 6 p.m. tonight, but the owners are coming back to say goodnight to the kids at 8:30 p.m., according the the Hot Club's Facebook page.
Tonight was awesome! Channel 10 and channel 12 are covering this awesome project "Good Night Lights"… They were filming from the hospital and from the Hot Club. They were on the floor with the patients . They said kids were jumping on their beds .. Parents with babies that have cancer flicked their room lights . This my friends is why this is so AWESOME! Kids areConnecting with the outside world. We are showing them that we are thinking of them! The Providence Tug Boats flicked their lights as well.We are going to try and find a place that will donate flashlights. That way every child can get a flashlight….if you want to see what is taking place in this awesome city of Providence check it out on the news tonight ! #goodnightlights

Posted by Sarah Waters- Bates on Wednesday, December 23, 2015
Brosnihan has been volunteering for twenty-five years at Hasbro. He had lost a job at a newspaper and began freelancing, but says he still wanted to work with people and volunteering to draw for hospitalized children provided an outlet for him to help. While he is a volunteer, his work is also supported through grants disbursed through VSA arts of Rhode Island.
He adds that the whole hospital campus gets in on the fun. "If you're a patient on the general hospital campus with the right view, you can see this minute of light mayhem," he says. "The kids are the main target — but in a way, they are sharing this with all hospitalized patients."
Brosnihan is also a member of the board of directors for the Tomorrow Fund for children with cancer. "The Tomorrow Fund kids are my most regular customers for the 'Good Night Lights' thing, since they are often hospitalized for extended stays," he says. "One hope of mine for this project is that people will become more aware of the experience our oncology kids are going through and realize that they can do something very simple that will raise their spirits every night. The larger hope is that eventually all of our patients can be in on this nightly neighborhood 'good night.' "