Golden Afternoons on Block Island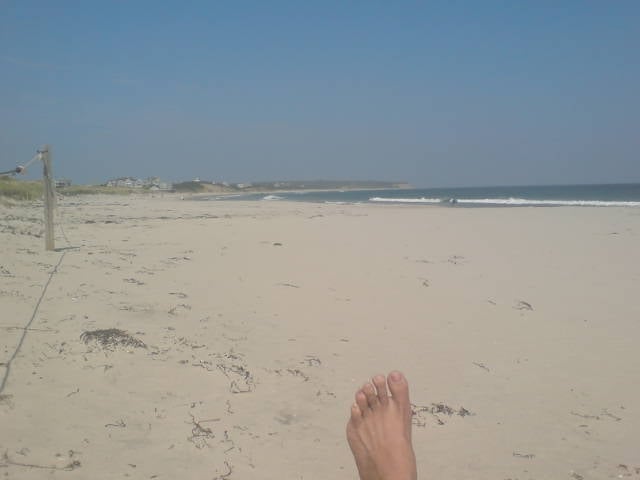 If you've never been to Block Island before – and come on, admit it, if you're a native Rhode Islander you probably haven't – or just haven't been there much lately, seize the moment. Or rather, the next month.
It really is the money time on the island right now. The water's warm, the views stretch out across the Atlantic unencumbered by summer haze, the restaurants are still open – minus the lines – and the stores are all having sales. Hotel rooms and even house rentals can be had with far fewer restrictions than usual – for instance, in the summer there are two-night minimums at hotels on weekends and one-week minimums for homes, but now you can pretty much name your night – and the rates are literally half-price. If you like fishing, you'll know that now's the time to charter a boat and go out after game fish; if you like shellfishing, wardens are opening up new areas of the Great Salt Pond that haven't been plundered over the summer; and if you like the beach, well, just look at that pic. The big September beaches stretch out, almost empty of people, at their most expansive point in the year – later, as winter sets in, they'll be robbed of sand by Nor'easters, stripped down to the underlying rocks. But right now they're as sandy and welcoming as anyone could wish, and while the ocean is already darker than the translucent blue greens of summer, it's still worth a dip. Last Saturday, striped bass were swimming around me when I went in at Town Beach. It's nice to know the ocean's still alive.
Plus, down at the fishing docks, you can buy cull lobsters for $3.99 a pound right now – that's some pretty sweet eating!
These days, the island, seasonal though it remains, doesn't start shutting down until Columbus Day weekend. So if you want restaurant options and warm days, get there in the next couple of weeks. But if beach walks appeal even in chillier weather, there's lots going on out there all they way until Christmas. Check the ferry schedule – the high-speed runs until Columbus Day, but the slow boat runs all year, and there's usually a late ferry leaving Point Judith on Friday night to get your weekend started right.
For somewhere to stay, try a rental through Ballard Hall Realty, or stay at a hotel like the Manisses/1661. Block Island Reservations has both options. And eat as much seafood as you can; shellfish, including lobster, only gets sweeter as the water gets colder. If you want it simply steamed, I loved my lobster at Finn's last weekend; more sophisticated eats can be found at Harry's, Winfield's and Eli's.
And remember – just because it's fall, don't forget your sunblock! I did last weekend, and I have the raccoon eyes to prove it.