Going Coastal
Living by the ocean is an irresistible dream for most of us, but the government is determined to protect waterfront homeowners from themselves.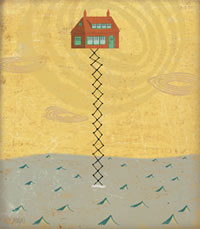 Daniel Wheelan remembers the time Edna came to town. She was a wild one that set his grandfather's '48 Dodge a-rockin' as they hunkered inside to track her on the car radio. But the house his great, great uncle built in Narragansett stood up to her, dry and tight, and to Carol, and to the Hurricane of 1938, too. With a history like that, Wheelan wasn't prepared for a jolt from Katrina. But, like a lot of Rhode Islanders, the Wheelans got the bad news last fall that they would be losing their homeowners' insurance. His home, half a mile from the shore, was five feet within a newly drawn hurricane hazard zone.
"We were shocked," Wheelan says. "This house has been through all those storms and hurricanes, and no water had ever come up here."
Across the bay in Newport, Paul Crowley had his own insurance problems. After twenty-five years with Andover Insurance, he and his Fifth Ward home were being dropped. And, as he moved through the stages of homeowners' insurance loss –– shock, grief and, finally, anger –– he met a lot more people in the same boat.
"People were completely puzzled," he recalls. "People who didn't feel their house was in a floodplain or a precarious
situation; people who had paid their insurance religiously and never made a claim were being told, 'You're not worth the risk.' So, it was very disturbing."
As sturdy as these little Rhode Island houses appear, they might not be able to withstand the ravages of a twenty-first-century storm. In 2005, Hurricanes Katrina and Rita delivered a $61.2 billion loss to the insurance industry. It was the worst year ever –– by a wide margin –– for insured catastrophic losses in the U.S., and it drove the smaller companies inland and the insurance rates and deductibles up.
"In Florida, a single hurricane or a string of large losses can wipe out profits from previous years or even decades," says Loretta Worters, vice president for the Insurance Information Institute. "Among the reasons for significant rate increases are the probability of more violent storms and the rising cost of reinsurance –– insurance for insurers –– that spreads the risk of loss over a wider base. In addition, rating agencies, the firms that assess companies' financial health, are requiring insurers to increase the amount of capital they have on hand so that they can better withstand the growing cost of mega-catastrophes. This, too, adds to insurers' costs."
Crowley didn't think those were reasons enough to jack the rates in Rhode Island. Being a state representative for twenty-six years, his beef took an official tone. He convinced the House leadership to convene a special commission to examine the science behind the industry's hurricane forecast models. He hauled representatives of the insurance industry to Smith Hill for explanations. In late spring, the General Assembly passed his bill (co-sponsored by Democratic Representative John Patrick Shanley of South Kingstown) and a second by Corporations Committee Chairman Representative Brian Kennedy. Together, they created a permanent commission to assess the accuracy of hurricane modeling and make it harder for insurers to raise deductibles related to hurricane damage.
The bills may save a property owner's insurance policy, but what will save the property?
A major storm hits Rhode Island about once every sixty years, and some meteorologists believe that the state is due for another. The last big hurricane was Carol, in 1954. She was a Category 3, blasting Block Island with 135-mile-per-hour gusts. The storm surge topped out at thirteen feet above the mean tide. Narragansett Bay filled up like a bathtub and the wa-ter roiled through downtown Providence, swamping 3,500 cars. And while the Fox Point hurricane barrier will protect much of the city, a major storm could swamp many of the shoreline communities south of Providence.
Less dramatic, but more profound, would be the effect of sea level rise on the state's coastline. According to a 2006 hazards assessment study prepared by the Coastal Resources Management Council (CRMC), Rhode Island Sea Grant and the URI Coastal Resources Center, Rhode Island's rate of rise is greater than the global average, at 8.4 inches this past century, compared to a top rate of 7.9 inches. If the trend continues, by 2100, sea level in Rhode Island would rise nearly three to five feet.
Rhode Island already had some of the toughest coastal development laws in the nation. By prohibiting major construction on the barrier beaches, 82 percent of them remain moderately developed or untouched. But for the last three years, CRMC has intensified its planning. In 2006, the agency completed, as mandated by a 2004 law, a Marine Resources Devel-opment Plan to protect the environment, guide coastal development and maintain public access. The CRMC is also updating its erosion maps and writing and revising its special area management plans (SAMPs) –– blueprints for development, customized for the unique features of each region, from the urban waterfront to the salt ponds of South County. Finally, the CRMC is preparing for the disaster that might be created by the combination of higher sea level and a catastrophic storm.
Improving our resilience to flooding will require more stringent building codes and permitting processes. It will also demand more coordination among the various local and state governmental entities that permit and oversee development.

"Despite progressive policies, we still have quite a bit of exposure. There's a lot of coastal damage in a major storm," says Grover Fugate, CRMC's executive director. "In the rebuilding, we're already looking at: What do we want to see the next time around to lessen our concern about the next cycle?"
The state's determination to answer these questions makes it a national leader, says Bill O'Beirne, the National Oceanic and Atmospheric Administration's team leader for the Atlantic coastal program division. Very few are trying to address such a broad range of hazards-related coastal development issues, especially the ones that will be created by sea-level rise.
"That is way cutting edge. There are just a handful of people even taking a look at that. It's a difficult issue, with a lot of uncertainty," O'Beirne says. "Katrina and Rita woke people up. I don't know what it's going to get them to do. The whole issue of hazards and resiliency is being spoken of more. But there are some definite challenges in how to address that in a fairly anti-regulatory climate."
Even in Rhode Island, the pressures to allow landowners to push a house or a condo project past the boundaries of good policy are substantial. In June, the Conservation Law Foundation petitioned the Rhode Island Ethics Commission to probe the CRMC, alleging a pattern of ignoring the rules for some well-connected developers. The Conservation Law Foundation said it found eighteen instances of the politically appointed body contravening staff recommendations or regulations and permitting property owners to fill wetlands, clear buffer zones or expand a marina.
"Building too close to the shore is damaging to the shore and risky," says Conser-vation Law Foundation lawyer Cynthia Giles. "We do have rules designed to protect the people living there. At a minimum, we ought to see the council enforcing those, never mind changing those rules and making them tougher."
Whatever impression the hurricane sea- son of 2005 made on Americans, it wasn't bad enough to dissuade them from living by the shore. Coastal populations are growing. In Providence, $4 billion worth of coastal redevelopment plans are on the boards. It may not be easy to tell people in the Ocean State that they can't live near the ocean. But surely, our plans will be tested. And the ocean will have the last word.