Gluten-Free and Vegetarian Friendly Restaurants in Rhode Island
Gluten-free, nut-free, vegetarian, vegan, paleo? No matter the diet, these guys have your back.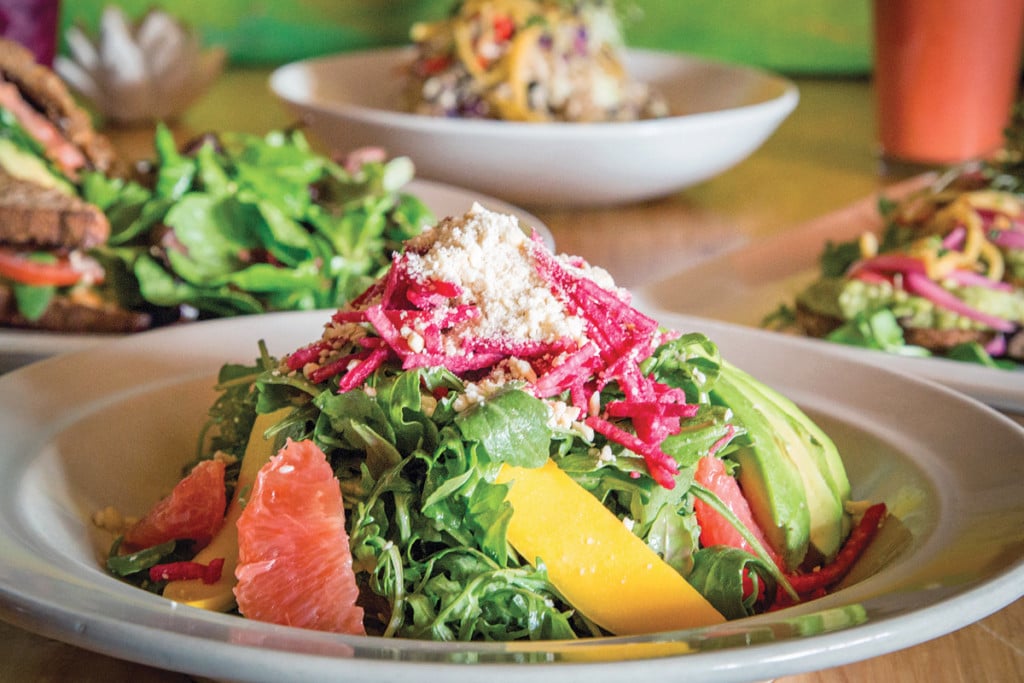 Gluten-Free
Lola's Blue Farm
After Christina Scotti discovered she had celiac disease, she knew that she didn't want to miss out on eating her favorite foods and she realized that others in her situation probably felt the same way. And so, she founded Lola's Blue Farm, a 1977 Volkswagen Bus that serves up classic New England fare (including fish and chips, clam cakes and fried shrimp) with an entirely gluten-free twist (the batter is made from chia seed, panko and corn). Catch this innovative food truck at the seawall in Narragansett on Saturdays or at the Newport folk and jazz festivals. Various locations.
Blackie's Bull Dog Tavern
Blackie's Bull Dog Tavern takes great pride in providing the local celiac community with a "creative, extensive, safe and memorable dining experience." They have a sticker system in place to alert the kitchen and servers of any allergies, and they offer an entirely gluten-free and paleo menu for those adhering to strict diets. Choices include shrimp pad Thai salad, crispy squid and pulled pork nachos, truffled wild mushroom pizza on Against the Grain crust and gluten-free burgers. Smithfield.
Jigger's Hill and Harbour Diner
A husband-and-wife-team brought Jigger's Hill and Harbour Diner, an old townie favorite that closed in 2011, back to life in 2012. Serving breakfast and lunch, the updated establishment highlights local ingredients and provides a separate "Gluten Conscious Menu." Specials include signature chicken fajita and Southwest steak bomb omelets, as well as various eggs benedict dishes and griddle favorites. East Greenwich.
A and J Bakery
As their website says, "Getting allergen-friendly desserts is now a piece of cake!" A and J Bakery is a dedicated nut- and gluten-free facility that makes prevention of cross-contamination a priority, (note: some products can be produced in a combination of dairy-, egg- or soy-free versions as well!). The bakery is known for its pies, cookies, breads, brownies, pie dough and other items, but they also have some prepared foods available to heat and eat. Cranston.
Jo's American Bistro
A downtown Newport hotspot, Jo's American Bistro, has a menu that can be altered to provide gluten-free-friendly options. Just look for listings designated with gluten-free symbols or simply let your server know that you're interested in converting another dish into a non-gluten meal. Some dishes that are already gluten-free include: sticky glazed duck drumsticks with polenta, spinach and hummus dip, the Jo's Burger and lobster salad roll, steak frites, the grilled pork chop or seafood fra diavolo. Newport.
Massimo / Pane e Vino
You don't have to skip the pasta if you head to Pane e Vino or Massimo, two acclaimed Italian restaurants (owned and operated by the same culinary masterminds) on Federal Hill. Each bistro has a specific gluten-free menu that includes choices like penne alla bolognese, mushroom ravioli and risotto with shrimp. Locals are especially fond of the veal or chicken Milanese at Pane e Vino and the gnocchi al forno, carbonara and chicken Parmigiano at Massimo. Providence.
Vegetarian and Vegan
Crazy Burger
Who would have thunk that a joint with "burger" in the name would be so vegetarian-friendly? Crazy Burger is a local fave where you have to arrive early to snag a table — but the menu variety alone is well worth any wait you may have to endure. In fact, you might have a hard time not coming back for more. Try a vegan-style breakfast sandwich, the Wild and Crazy Mushroom Burger or the Just Plain Nuts Burger if you're feeling nutty. Narragansett.
Garden Grille
With humble beginnings as a healthy fast food joint, the Garden Grille has since blossomed into one of New England's premier dining spots for vegetarians. Not only is the menu entirely kosher, a majority of the options are organic, locally grown and GMO-free. Even better: They still do takeout. Pawtucket.
The Grange
If what they say is true and vegetarians only survive on rabbit food, then patrons of the Grange are a bunch of pretty lucky bunnies. The establishment's aim is to elevate diners' perception of vegetables. Whether you are there for breakfast, lunch, drinks or dessert, vegetarians and vegans won't be disappointed by the menu's array of tasty and organic selections. Providence.
Veggie Fun
Veggie Fun offers Pan-Asian vegan and kosher food including kimchi, spring rolls and vegetable dumplings. Pair your order with one of their organic hot blended teas, like the Fire Light Chai (cinnamon, ginger, cardamom pods, whole cloves, Valencia orange peels, nutmeg and black pepper) or a fresh lemonade. Providence.