Girls Rock! RI Camp Inspires Young Rockers
Participants learn how to play instruments, practice with a band and work in group settings at the weeklong day camp.
Everyone knows Elvis is the king of rock and roll, but it's time to meet the queens.
Girls Rock Camp is a weeklong day camp offered to youth ages eleven to seventeen. Started in 2010, the program welcomes those who identify as female, transgender and gender-nonconforming, and it teaches participants about everything from playing guitar to social justice.
"The goal of the camp is to help girls and women, and trans and non-conforming folks, empower themselves through music," says Hilary Jones, executive director of Girls Rock! Rhode Island. "They have an idea of how they want to perform, and we're going to help them get to it."
Girls begin the week by participating in ice breakers and choosing their band. Over the course of the week, they take instrument playing lessons, enjoy lunch performances from guests, experience band practice and create band art. They also engage in workshops about feminism, media literacy and other topics. The musical week concludes with a final showcase on Friday night, when they perform original songs in front of hundreds of family members, friends and community supporters.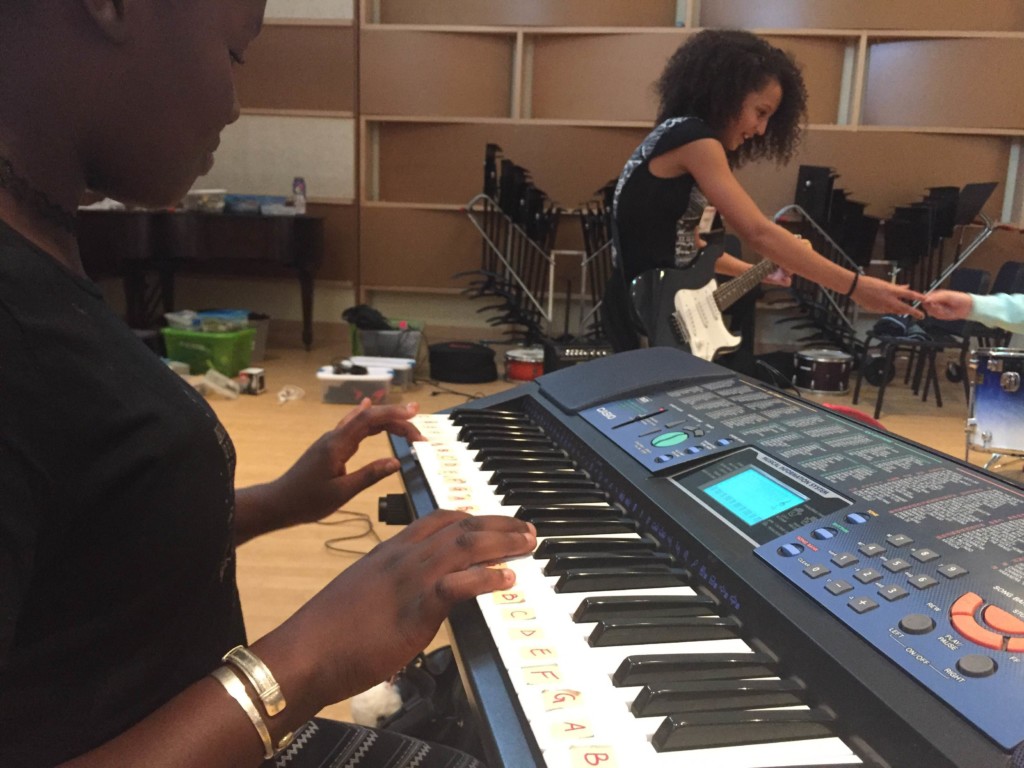 Jones says that on the first day, some children will come in and barely talk, but it doesn't stay that way.
"By the end of the week, you'll see them screaming into a microphone as loud as possible, and you're just like, 'what happened?' It's kind of a magical thing to witness," she says.
Long-time camp participants also see this shift in themselves. The camp has many GRITs, or Girls Rock Interns in Training, who are clear examples of the program's impact.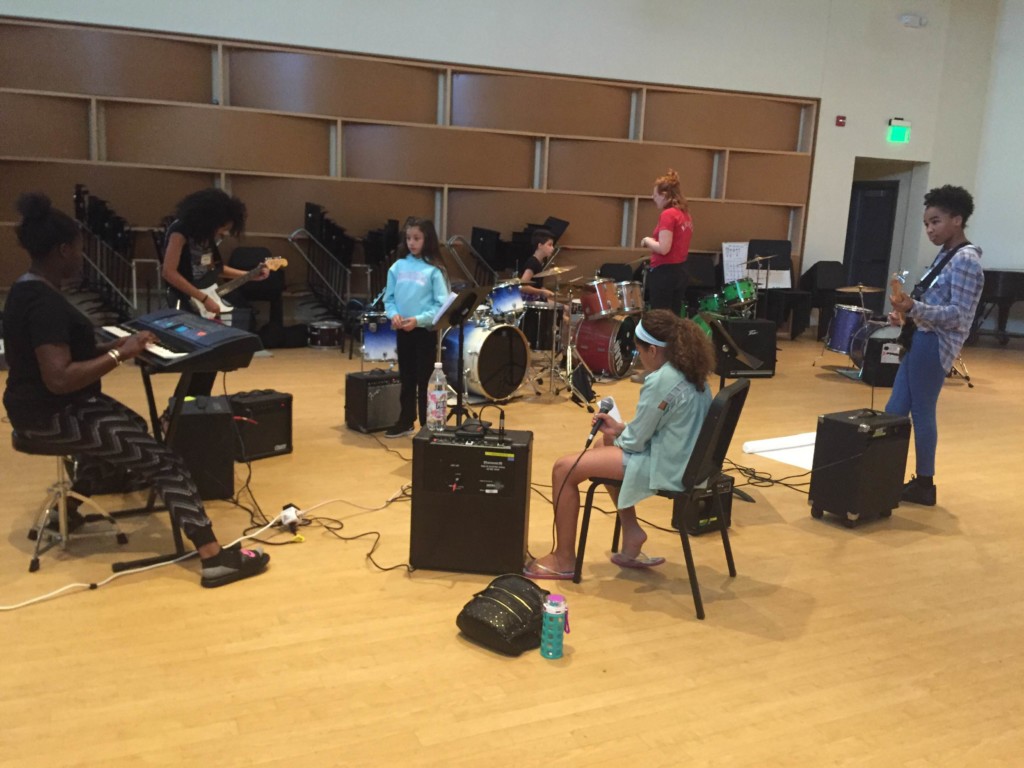 "It's intense, but it's such a wonderful experience; it just enhances everything basically. You learn not only your instrument, but in all the workshops that we do, you learn so much more about the world, about yourself," says Mariah Najera, age fourteen. "You grow as a person, even in just this one week."
GRITs stick around several years after being a camper, and the changes they experience are noticeable. Now that she's been on both sides of the camp, GRIT Amelia Chapman, fourteen, says she's noticed how far she has come. "The first time I played guitar was here, and now I'm helping other campers," she says.
In addition to the life lessons and music lessons, the girls see first-hand the power of teamwork. Zoe Cute, fourteen, says that she's become a better person because of all the time she's spent working in a group setting. "I learned how to cooperate with people. I can be more open-minded now and not just listen out of courtesy to other people, but really take in what they have to say. A lot of times it's a really good idea," she says.
Cecily Goulis, also fourteen, says the amazing people who make up the camp are a major reason for its success. "A lot of times in my life, girls aren't that nice to each other, so it's really nice to have this amount of girls all supporting each other for a common goal, and working together to just have a really awesome time," she says. Goulis says the program has also helped her grow into the strong, conscientious feminist she is today.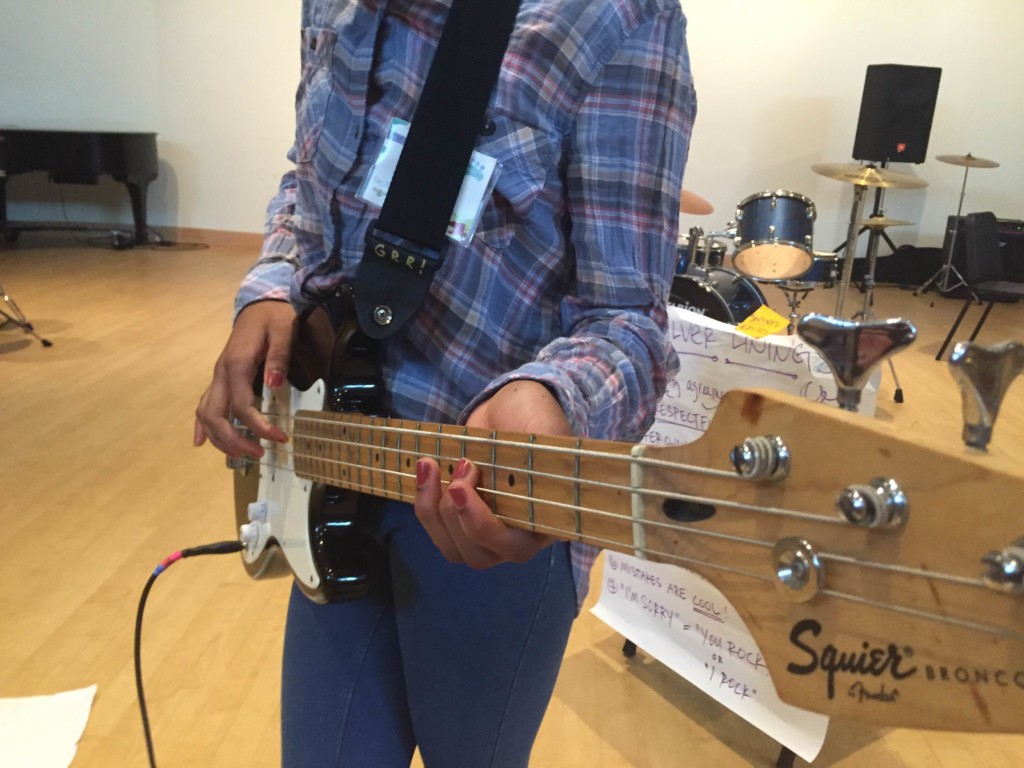 According to Jones, the all-girls environment allows campers to thrive in a space where their self-expression never needs to be restricted. "For us, it's important for them to have a space to feel comfortable being themselves, and in this space, they're able to do that. They're able to have role models that look like them," says Jones.
Two sessions make up the summer camp program. There's one for children ages eleven to thirteen at the Rhode Island Philharmonic in East Providence, which has a capacity of fifty. The second is for ages fourteen to seventeen at JamStage in Pawtucket.
One-third of campers attend camp on full scholarship, another third rely on partial scholarship, and the final third pay for the program in full, Jones says. Campers also come from all over Rhode Island and parts of Massachusetts, forming a diverse group of girl rockers.
Girls Rock! RI is a volunteer-based nonprofit that was formed in 2009, and stands as a multifaceted organization. It's composed of the summer camps, a Ladies Rock camp for adults, an after school program, drop-in hours, a youth gender discussion group, a variety of lessons for people of all ages, and more. The organization now has a headquarters at 769 Westminster St. in Providence, where many of these programs take place.
The programs have been gaining momentum and continue to grow. To put that in musical terms — the crescendo has just begun. girlsrockri.org