Giraffes and Robots and Dinosaurs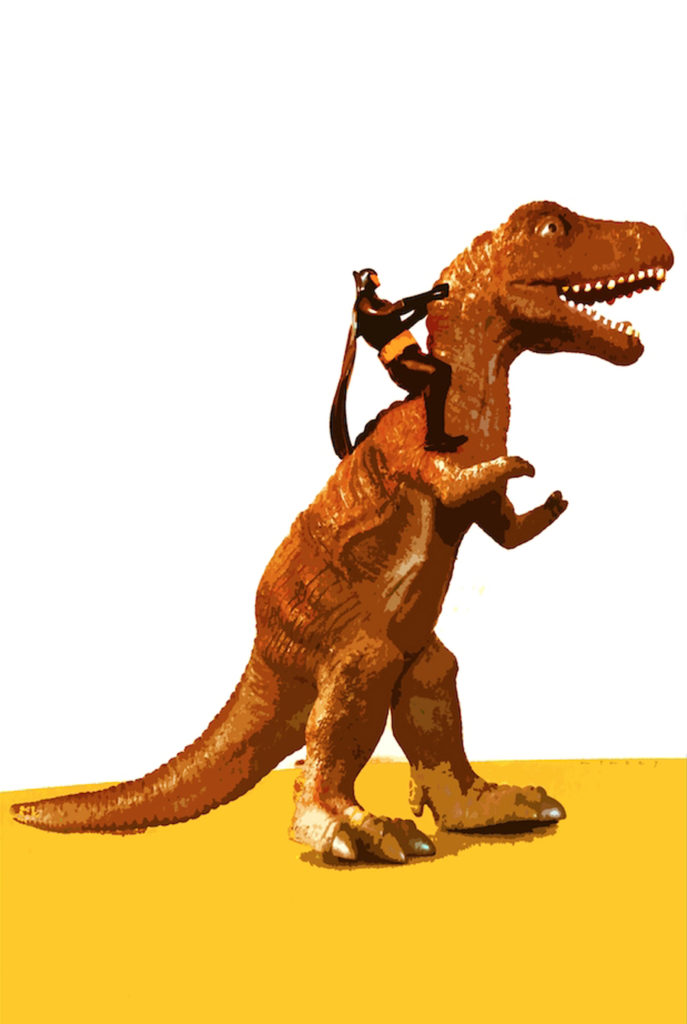 Atabey Sanchez-Haiman planned to be an astronaut, but found she couldn't stop drawing giraffes. In high school, she got a C in art class because she wouldn't draw anything but giraffes. As a biology major at Brown University, she made woodcuts of giraffes with friends from RISD that she gave out as Christmas presents. After she decided not to pursue a career in science because she didn't like operating on animals, she landed in Barcelona, where the owner of an art supply store told her that she could be an artist too. "She got me a set of acrylics and a canvas and she said, 'go paint and show me what you did.' And I did. Then I got addicted. I've been painting ever since."
Of course, her first paintings were of giraffes.
For years, she painted them. She worried that she might be pigeonholing herself, until an artist friend said to her, "why are you putting pressure on yourself to do anything but giraffes? If giraffes are what you want to do, then do giraffes. You know, Picasso had his Blue period, it's just your giraffe period is lasting forever." And one day, she knew she'd switch.
Atabey was living in England when she saw a book of metal robots. She'd been inspired by Japanese art, and always loved design and toys. "And then I entered my robot period. For years, I've been doing robots and spaceships. I'm still there, but I'm going into my dinosaur period now."
That's how Giraffes and Robots was born, though Atabey thinks she should now add dinosaurs to the name as well. She shares a love for T-Rex's with her four-year-old son. And originally from Puerto Rico, the East Side resident also incorporates Spanish songs she sings to her son, spells and characters into her work.
Fans of Atabey's work include college students, comic book junkies, the mayor of Providence, kids and, of course, people who love giraffes. You can find her work at markets such as Providence Flea, Homestyle on Westminster Street in Providence, Multiverse Comics, White Buffalo and Cluck! on Broadway in Providence. It's also available through giraffesandrobots.com.