Gilded Tomato's Farm to Crust Pizza
The artisan pizzas are made in mobile, wood-fired ovens.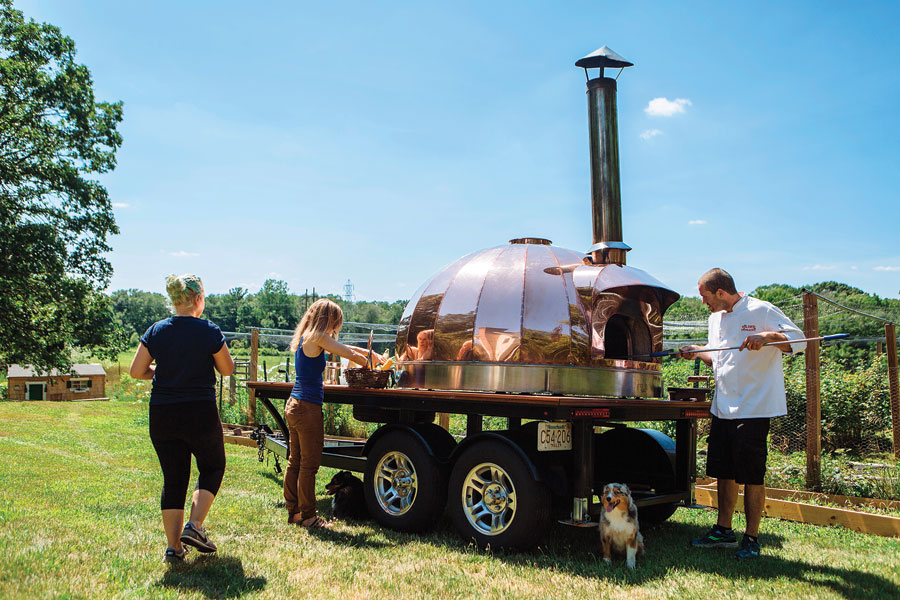 The copper dome glints in the sun like a shiny penny attracting attention. Inside, the fire can burn up to 1,200 degrees where masterpieces are crafted in ninety seconds from dough, sauces and purees, local meats and seafood, vegetables and cheeses. The flames are the blazing heart of Gilded Tomato's artisan pizzas made in two wood-fired mobile ovens named Gilda and Gatsby. They travel by teak trailer to weddings and events, both lavish and casual, all across New England.
The name of the business is a play on Newport's Gilded Age. Owner Julia Sweet helps clients throw one good party among the whisperings and the Champagne and the stars. And she gets a lot of help along the way. Johnson and Wales University (JWU) culinary students head up the cooking under European-trained executive chef Jori Rieben. Social Enterprise Greenhouse and the Center for Women and Enterprise also provide advisers and mentoring, and Hope and Main serves as its commercial kitchen space and support system. "This was not a solo project," Sweet says. "This is everybody's strengths pulled together."
The dough recipe was specially formulated for the ovens by international award-winning baker Ciril Hitz, who is Rieben's brother, and most of the seasonal produce topping the pizzas comes from an organic garden planted on Sweet's homestead in Rehoboth, Massachusetts. The home doubles as the business headquarters and a lab for culinary students. The garden grows everything from heirloom tomatoes and zucchini to tomatillos and herbs, plus raspberries, strawberries and blueberries for their signature dessert pizzas.
"Our big thing is to create a healthier version of pizza," says Sweet, who has a fitness background and a degree in exercise physiology. "You won't find a ton of cheese on our pizzas. The dough is 40 percent whole wheat. We use a lot of fresh vegetables and herbs. We grow everything in our garden. We are as much farm-to-table as possible."
For fall, they highlight pumpkin puree, butternut squash, caramelized onions, local cranberries, herbed ricotta, Rhode Island Mushroom Company mushrooms, Vermont maple bacon and Pat's Pastured sausages. Sometimes vendors at the farmers markets will share what's in season, and they might get to try it on a Gilded Tomato pizza.
"Pizza is like creating a sandwich. The possibilities are endless and you never know until you give it a whirl," says Sweet. "But if you have great ingredients from the start, that's when they come together and taste really good."
Sweet employs four JWU students who help tend the garden, train to be "fire masters" and learn about crafting pizzas using the freshest ingredients. Eventually, she hopes to open a restaurant and retain more student chefs and graduates. They've worked with Rhode Island Community Food Bank's Community Kitchen culinary job-training program and they've mentored student interns from the MET School and Moses Brown, who gain experience for possible future careers in culinary arts, entrepreneurship and social enterprise.
Marissa Sanderson recently graduated from JWU with a degree in wellness and sustainability and culinary food service management. Over the summer, she worked with Gilded Tomato and dreamt up pizza recipes like one topped with roasted beet and goat cheese puree, squash blossoms and tomatoes. "I like the fact that this is geared toward what I learned in school," Sanderson says. "In the wellness program, we learned a lot about using local, fresh ingredients and supporting local farms, and that is essentially what we are doing. We're tending to our own garden and connecting to other farms in the area."
Mike Mangione is also a JWU culinary student who values his experience at Gilded Tomato. "I've been able to use what I've learned in school to better what I'm doing," he says. "It's confirmation that I like what I'm doing and this is where I am meant to be." info@gildedtomato.com, 508-336-0123, gildedtomato.com
Clockwise from top: Owner Julia Sweet; executive chef Jori Rieben cooks and slices pizza.