Gilbert Stuart: RI's Most Famous Painter
We explored the artist's homestead in Saunderstown and learned a thing or two about his rise to fame.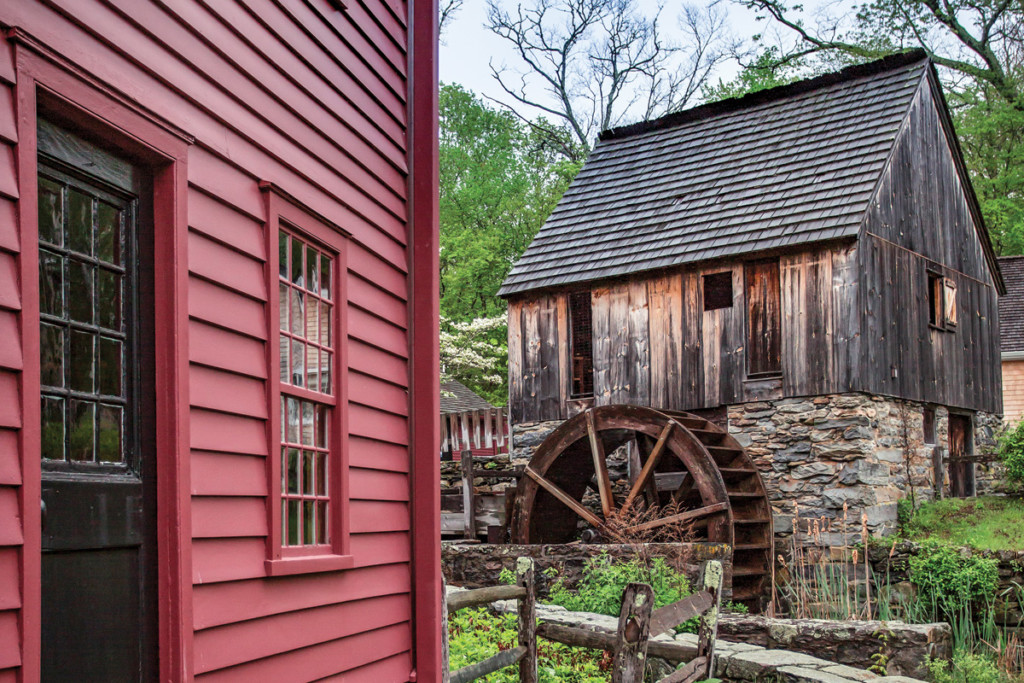 My breaths are shallow and my lungs are burning. The Saunderstown Post Office whizzes by as I pedal along Boston Neck Road, leaving my hometown of Narragansett in my wake (and they say we never go north of the tower, psh). Soon, I come up on Casey Farm and my limbs are screaming for me to take a breather at the clearing on my right, the one that gives way to my favorite view of the Newport Bridge overlooking the bay. But I pump my legs harder instead, resolving to get up the incline in one go. When I finally do, I cross onto the entry of Snuff Mill Road. Huffing and puffing, I hit the brakes, jump off my bike and prop my elbow on the sign posted next to me. As I wipe beading sweat from my forehead, my eyes drift to the thing that keeps me upright. Its lettering indicates that I'm only a mile from the Gilbert Stuart Birthplace and Museum.
My thoughts immediately turn to the crumpled $1 bill in my zipped jacket pocket. Although I'd passed this sign hundreds of times in my two decades as a Rhode Island resident, I didn't learn portraitist Gilbert Stuart's claim to fame until I joined the Rhode Island Monthly staff nearly three years ago. Since then, I'd wondered how a guy from Saunderstown (a place some longtime locals can't place on a map) managed to land a gig as sweet as painting the most famous portrait of George Washington. I always figured that one day I'd pay a visit to the museum and find out.
But today would not be the day.
Instead, about a month later, I find myself driving down the winding roads leading to the historic homestead in a much more presentable state. The sight of a three-story barn-like structure confirms that my GPS hasn't led me astray. I park in a small dirt lot across the street.
It's a gloriously sunny spring day, and the expansive grounds are at peak bloom. I hear the telltale sign of rushing water as I approach and, sure enough, a wheel is churning at the base of what I have gathered is not a barn, but rather an operational mill.
I enter the more modern-looking building to my right and, once inside, I'm greeted by a gift shop (my favorite find: a pair of long socks embroidered with an adorable caricature of George Washington) and then by the director of the museum, Peggy O'Connor. Formerly a teacher, O'Connor fell in love with the property when her son volunteered here as a high school student. She took over as director in 2005 and the museum has only thrived in the years since.
After giving me a preview of the building's spacious gallery — filled with both Stuart originals and local contemporary art — O'Connor leads me to her office, ready to tell the story of Gilbert Stuart and how his painting of the first president of the United States ended up on the $1 bill. Proud of my supposed familiarity with Rhode Island history, I state that surely the pair must have met during one of George Washington's four visits to the state.
Not even close.
The youngest of three, Gilbert Stuart was born in the room above his father's snuff mill (the very one I saw upon my arrival). He enjoyed the quiet life of a Saunderstown resident until the age of six, when he and his family moved to Newport. It was there that he began showing an artistic inclination, and Dr. William Hunter, a respected name in the Newport community, was amongst the first to notice the young boy's talent (in fact, one of Stuart's first-known paintings is of Hunter's dogs).
"Dr. Hunter introduced Stuart to Cosmo Alexander, a traveling artist who was living with him at the time, and Stuart later traveled with Alexander to Scotland as a teenager to study under him," O'Connor says. "Then, in 1775, he moved to England and worked with a famous American painter, Benjamin West, for a while before setting out on his own. But it was his 1782 portrait, 'The Skater,' that really catapulted him into fame. It was exhibited at the Royal Academy of Arts. After that, everyone sought him out."
In 1793, Stuart returned to the United States with his new wife, Charlotte Coates, and a couple of letters of introduction.
"Betsy Hardigan, who you see right there," O'Connor gestures to a small portrait of an unassuming woman, "her husband was a surgeon who once helped repair Stuart's arm after an injury. So, in return, Stuart painted both of their portraits. They then wrote letters introducing him to some distinguished familiars back in New York, who went on to write letters of their own, and so on."
This chain of recommendations eventually landed Stuart in Philadelphia, where a session with Chief Justice John Jay led to the ultimate introduction: to President George Washington.
"Washington came to Stuart's studio and sat for him a few times," O'Connor reveals. "The first painting, 'The Vonn,' is not as well-known because Stuart wasn't happy with the end result, but the second portrait, the unfinished one called 'The Athenaeum,' is the one that everyone knows. It was commissioned by Martha Washington in 1796, and during this sitting, Stuart and Washington had a lively conversation about farming and horses. After a couple of hours, Stuart knew he had nailed it."
I get hung up on the unfinished designation — the $1 bill image had always looked pretty complete to me — and O'Connor explains that, originally, "The Athenaeum" was meant to be a full-bodied portrait. However, feeling that he had perfectly captured the likeness of the most famous man in the world, Stuart decided to quit while he was ahead. He kept the original for himself, using it as a reference for producing copies (like the full-length "Lansdowne" version, which today hangs in the National Portrait Gallery at the Smithsonian). He recreated around fifty to eighty portraits in the years that followed, selling them for $100 a pop.
But I still have questions. O'Connor concedes that Gilbert Stuart was not the only famous artist to paint George Washington (Rembrandt Peale among them) so why, then, did Stuart's version make it onto the front of the $1 bill in 1869, more than forty years after the artist's death?
"Supposedly, this is the most accurate representation of Washington's looks, not counting the life mask [or bust] that was done by Jean-Antoine Houdon, which you can hardly put on a bill," she says. "According to the Washington family, Gilbert Stuart's portrait was the most lifelike."
As proof, she shows me a book that displays other artists' interpretations. Some illustrations depict Washington with a more prominent nose while others show fuller cheeks and deeper frown lines. Though reminiscent of the legendary figure I'd read about since elementary school, these portraits aren't as recognizable. But even so, Stuart's "Athenaeum" is a bit foreign to me. When comparing a copy of the painting (which now also resides in the National Portrait Gallery) to a bill I fish out of my jeans pocket, I see that the $1 portrait is more detailed and crisp. It's clear that the currency is based on the original painting, but not an exact replica.
During our chat, O'Connor tells me that Stuart went on to paint quite a few more prominent figures, including John and Abigail Adams, Thomas Jefferson, James and Dolly Madison, James Munroe and John Quincy Adams. While the museum doesn't own a George Washington portrait (yet!), it does have some of Stuart's original works on display. It even has some portraits by his youngest daughter, Jane, who picked up the craft while helping out in her father's studio as a child.
"After he died when she was sixteen, it was up to Jane to support the family, so she arranged for the sale of the 'Athenaeum' painting to the Boston Athenaeum — that's where it got its name." O'Connor says. "Then she started painting copies of her father's work, mostly George Washington in various poses. She also painted two of her father, one of which we have on loan from the Rhode Island Historical Society."
The property has a lot of other surprises as well. Sure, you can hear all about Gilbert Stuart (believe me, there's more to the story) and see his art in person, but that's not all.
"We always encourage people to come visit. Every day we hear, 'I've driven by that sign for twenty years and somehow never made it down here.' "
She laughs when I look abashed, having said something to that effect when I first stepped inside the museum just an hour earlier.
"Then, one day, they just finally decide to stop by, and when they do the overwhelming response is: 'I can't believe how beautiful this place is!' It's such a dynamic site. We have two operational water wheels, a grist mill, a snuff mill and acres of nature trails. You're not just spending an hour hearing about one man; our docents will also talk about local artists, about the tobacco that was made here, about daily Colonial life and about the migration of the river herring."
We walk outside towards the rushing water I glimpsed earlier, the head of the Narrow River. O'Connor points to a large group of fish that seem to be lying in wait. She explains that a chemical signal prompts the river herring to swim upstream every spring to get back to where they were born (for these guys, this area) and spawn. They never forget their origins and it makes me wonder if Gilbert Stuart ever gave much thought to his. Did the portraitist ever pass my favorite clearing and think the view of Narragansett Bay was as peaceful and worthy of a painting as I do? We'll never know, but one thing is for sure: His roots never forgot him.