Gift Givers
Local shop owners have ideas that are sure to please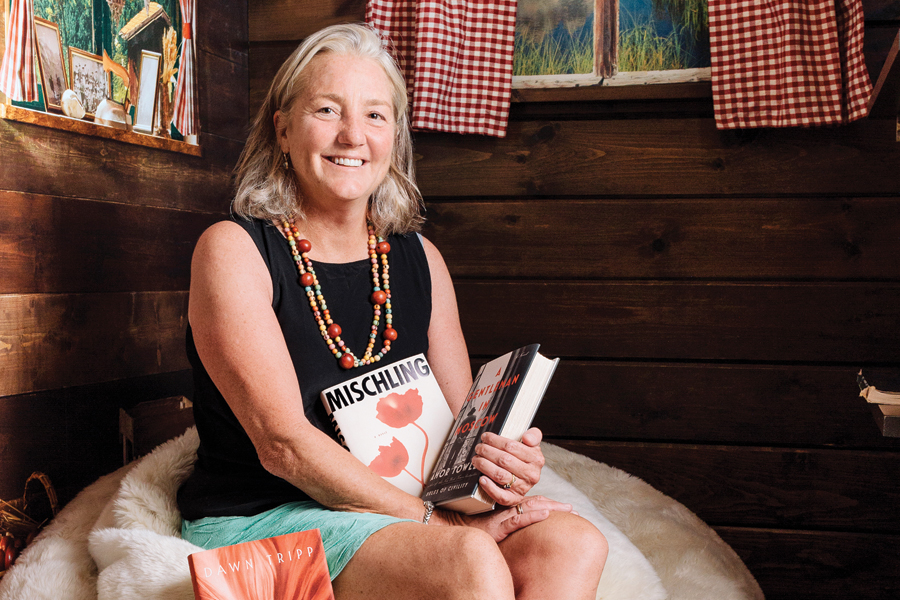 Annie Philbrick
Savoy Bookshop and Cafe
10 Canal St., Westerly, 213-3901, banksquarebooks.com
Annie Philbrick, owner of Bank Square Books in Mystic, Connecticut, jumped at the chance to open a sister location in downtown Westerly after being approached by local developer Charles Royce, who transformed an old hotel into the 3,000 square-foot, old-fashioned bookshop. The space comes with a playful children's section, cozy reading nooks and a locally operated cafe with tasty baked goods. Savoy Bookshop and Cafe celebrated its grand opening in April. –C.B.
What makes a book a great gift?
I think that giving a book to someone is like giving a part of you to someone. It's a tactile and useful gift; it can be passed on, and read again and again.
Do you have recommendations for books that spotlight Rhode Island or local authors from greater New England?
We have titles from History Press, Rhode Island ghost stories and local authors such as Melissa Mowry, who is a blogger who has a following of young mothers. We try to be supportive of area authors as much as we can be at Savoy.
Any other gift ideas for the book lover besides books?
We sell handmade ornaments, replicas of Mystic Seaport's remaining original deck prism from the whaling whip, Charles W. Morgan, as well as beautiful paperweights, pens and stationery.

What is your favorite book?
I don't know if I can pick just one favorite book, but one of the best gift books is Find the Good by Heather Lende. It's nonfiction about a small-town obituary writer. In the book, she looks back at the obituaries she has written and explains how she has learned to always find the good in people. We've sold probably 200 copies.

What new release is a must-read?
One I'm really excited about is called A Gentleman in Moscow by Amor Towles.
It's set in Moscow and follows a banished count who is put on house arrest in the Metropol Hotel in Moscow. The language is beautiful, and it's an amazing story of czarist Russia. I also am excited about Georgia by Dawn Tripp from Westport, Massachusetts. It's a nonfiction account of Georgia O'Keeffe's time in New England.

Any advice for picking out a last-minute gift?
Ask the bookseller at your bookstore for help. One thing they'll ask you is, "What do you think this person would like to read?" or maybe "What do you like to read?" One time, someone came in looking for a book for his wife where nothing bad happened. It was tough, but we found it. As booksellers, we know what people like to read and what sells.

Dixie Carroll
J. Marcel
808 Hope St., Providence, 383-9777; 40 Maple Ave., Barrington, 289-3977, jmarcel.com
Dixie Carroll, who co-owns J. Marcel on Hope Street in Providence with her husband, Bill, opened a second location of their full-service boutique in Barrington in May. Carroll says she "feels at home" in the new space, and so will you, as you peruse the impressive selection of trendy clothes, high-quality leather handbags, handmade and costume jewelry, perfume and gifts. –C.B.

What do you think will be a hot seller this holiday season?
We always sell a lot of sweaters and outerwear around the holidays. They make easy gifts, especially if you don't know the exact size of the person you're buying for. Also, scarves, hats and gloves, because, living in New England, you need to get new ones every year. We are also expanding our perfume selection to include special scents you can't get at the mall.
What's one item here that you'd like to get as a gift?
Right now, I'd have to say our leather bomber and moto jackets. They're from Germany, and the leather and dye are very high-quality. They are priced at $200 to $250. It's hard to find high-quality pieces at that price point.
Tips for staying warm and stylish this winter?
In New England, it's all about layering. We're a very denim-centric store, because we believe that jeans make the best starting piece of an outfit. As a Southern girl living in a cold climate, I layer leggings or tights under my jeans in the winter.
What makes a great stocking stuffer?
We have earrings that come in tiny, cute gift boxes. We also have these mini emergency kits that are really popular. They are little pouches that come with sixteen essentials for life's little emergencies, one-time use products like tiny hairspray and bobby pins. They're our number-one selling gift item.
What to get the woman who has everything?
A gift certificate, because the woman who has everything loves to shop. It can seem like a little bit of a cop-out to give a gift certificate. But when you give someone a gift certificate, you don't just give them the money to buy something. You give them the excuse to make a day of it, to go to a nice shop, relax and take some time off for themselves.
What's a good way to make a gift feel personalized?
I'd say go the extra mile by taking your store-bought gift home and wrapping it yourself. You can put your personality into it, and people appreciate the time you put into the presentation.
Jessica Pierce
Tusk n Trunk
141 Water St., Warren, 396-6411, tuskntrunk.com
Whether you're browsing for a small hostess gift or you want to bring new life to grandma's vintage bureau, Tusk N Trunk has you covered. Not only do you walk away with a steal, but you're also giving back, thanks to, Jessica Pierce's charitable streak. –T.P.
What's the story behind the name of your store?
It's a play on words. It's supposed to sound like Tuscany, Italy — that European flair. My crazy love for elephants made us spell it a different way and have an elephant on our sign. As long as I can remember, I have been donating to elephant sanctuaries. Even though we're new, I do like to take as much money as I can each quarter and donate to one of my favorite charities.
Do you give gifts from your store to your friends and family?
Everything I give now is from my shop. The elephant bags were big over the holidays. We have these amazing candles that are made in Rhode Island, by a little shop called Jujiewicks. My friends are always asking for her candles, so that's another one I love to give.
What do you think will be a popular item this holiday season?
We've been selling a lot of linen napkins, and we do burlap and linen table runners. Like crazy, we sell these mango wood and copper serving trays. Everybody wants to have a nice table setting for parties and dinners, so our tabletop stuff sells really well.
It can be hard to shop for coworkers or distant relatives. What do you recommend?
We have these awesome iron whale bottle openers. They're great dad gifts. They're also great for an office, if you have to buy multiple of an item. Their price point is only $12 and everybody gets excited about them.
What's the best gift you've ever received?
Probably my dog. I was begging to get another dog and my boyfriend didn't think it was a good idea, since we already had two. Lo and behold, he got me a puppy.
You also repurpose furniture. Could this service translate into a gift idea?
A gift card could be used for someone to purchase a really fun item, but they could also use it to redo a piece of furniture — maybe that was their mother's and they've always loved it for sentimental value, but the finish is dated.
Any gift-giving advice?
Always give something personal. You want to know who you're buying for but also you want to buy something that you're excited to give.