Getting Your Fix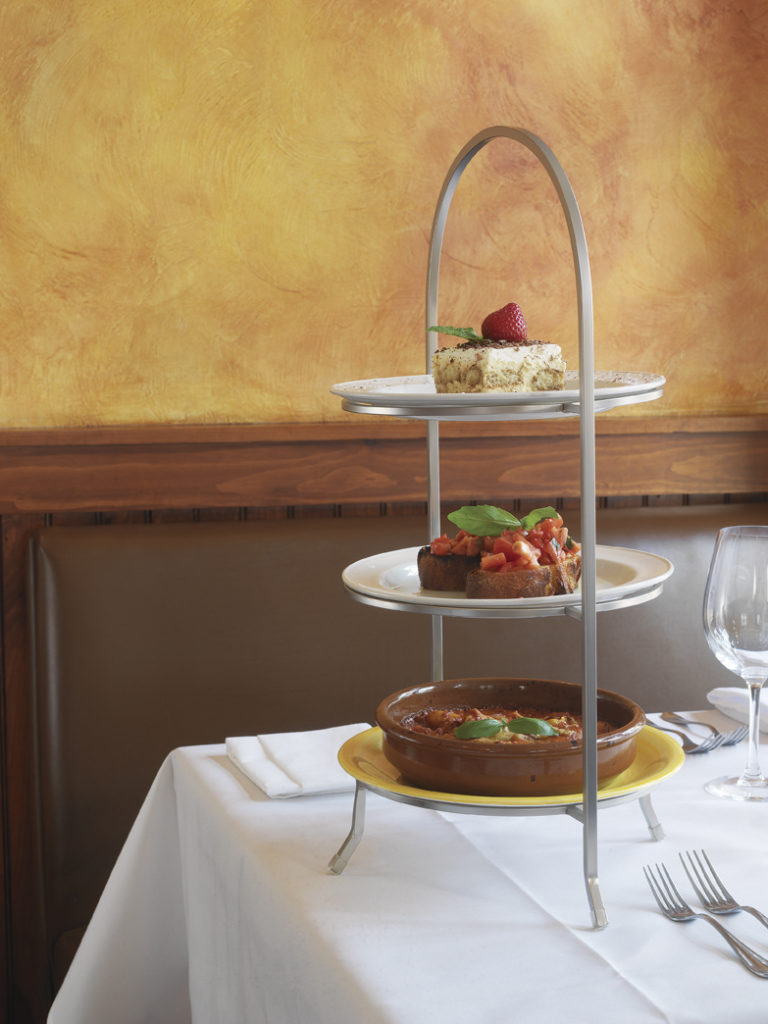 Castle Hill
The three words realtors use most — location, location, location — also aptly apply to the state's quintessential special-occasion restaurant: Castle Hill. With an Ocean Drive address, unobstructed views of the East Passage and an elegant Victorian mansion to house overnight guests and diners, Castle Hill is definitely not a once-a-week establishment. After all, as with real estate, those three magic words inspire an additional dollar sign or two.
Within the past year, Castle Hill has transitioned their dinner menu from a la carte to prix fixe. Diners now choose three, five or eight courses from a menu that changes seasonally. At $65 per person — the equivalent of a $40 entree, $15 appetizer and $10 dessert — the three-course prix-fixe menu is not a savvy marketing ploy, but rather an effort to lure those in search of a complete dining experience.
The atmosphere at Castle Hill tends toward the formal, thanks in large part to the original architectural details that have been preserved over the years. Much of the food, too, comes with a clear lineage — note, Old Chatham camembert, Point Judith squid, Manic Organic greens. Though a sweet corn soup with Anaheim chili lacks the expected creaminess and depth, the scallop appetizer, paired with roasted corn fritters, is more successful. From a choice of ten entrees, the salmon secures a vote thanks to the creamy English pea and rock shrimp risotto it sits atop. The duet of Colorado lamb (rib roast and a casserole of slow-cooked leg) proves an appealing, upscale riff on comfort food.
Dessert is never an easy choice, but the Belgian dark chocolate souffle may prompt you to make a snap decision — you have to pre-order the decadent house favorite with dinner.
*****
Offered nightly. $65 per person. Includes appetizer, entree and dessert. 590 Ocean Drive, Newport, 849-3800, castlehill.com.
Chez Pascal
Chez Pascal's great strength is that it is at once a homey neighborhood bistro and a sophisticated dining event. Its prix-fixe option is no exception. And because the reasonably priced three-course meal won't break the bank, it offers a chance to try this local favorite without feeling guilty you didn't cook at home.
French-sized, not supersized, portions enable you to sample an array of flavors without feeling stuffed. The menu changes weekly to reflect the season. Appetizer options are delectably simple, like a baby spinach salad with smoky bacon pieces and brioche croutons tossed in a tangy balsamic vinaigrette, or roasted mussels in a garlicky Pernod broth, ideal for bread-soaking once you've finished the pile of shellfish.
The entrees reflect the regular menu: modern takes on French classics. A grilled pork loin is drizzled with a tangy green salsa. A top sirloin steak in brandy peppercorn sauce sits atop pureed potatoes mixed with zucchini, corn and bacon. Bluefish is baked and served with an olive tapenade. Desserts are also quirky versions of the traditional: a profiterole filled with mint ice cream instead of custard, a sweet butter bundt cake made tart with an infusion of blueberries.
Pair this feast with enthusiastic service, generous drink pours and a comfortably elegant dining room, and you've got the perfect excuse to take the night off from the annoying what's-for-dinner dilemma.
*****
Offered Tuesday through Thursday (regular menu also available). $28 per person, $33 with a glass of house wine. Includes choice of three appetizers, three entrees and two desserts. 960 Hope Street, Providence, 421-4422, chez-pascal.com.
Gracie's
Gracie's three-course meal is not labeled as a prix fixe, but all of the components are there: appetizer, entree and dessert are brought with a flourish and a hefty price tag of $55 or $70 with wine. Although it's technically a "theater-goers" option, it's available to everyone, and your best bet is to opt for a night when Trinity Rep is dark and the restaurant isn't crowded.
Unlike other prix-fixe dinners, you won't have to spend time choosing your meal. This is a chef's choice tasting, which means anything goes. The waitstaff does, however, take note of allergies and objects of disdain if you simply haven't been able to forge a relationship with duck.
Diners can also claim an added minicourse since an amuse bouche is always offered. Expect something small and detailed such as caper-laced beef tartare served atop a Yukon gold potato crisp.
Complex presentations prevail including an appetizer of raw ahi tuna and mango tossed with ancho chiles served alongside sweet lotus root crisps. The menu, which changes regularly, features entrees like a sophisticated rendition of the traditional Portugese Ameijoas na Cataplana, a seared pork loin with littleneck clams and chorizo.
The downside of Gracie's prix-fixe option is that it is, at heart, a tasting menu, and everyone at the table must agree to order it. All participants receive the same first and second course, which means fewer dishes to sample but, fortunately, desserts are offered individually. Your vanilla bean creme brulee will be licked clean only moments after your gelato-and-sorbet tasting is finished.
*****
Offered Tuesday through Saturday (regular menu also available). $55 per person, $70 with wine pairings. Includes appetizer, entree and dessert, all chef's choice. 194 Washington Street, Providence, 272-7811, graciesprov.com.
New Rivers
At New Rivers, elegant details (fresh herbs tucked in tiny vases, antique salt and pepper shakers) mix with a casual bistro atmosphere (servers in jeans, paper on the tables). Special occasions are often celebrated here, but it's also a place suitable for a quick bite. The waitstaff is convivial without being intrusive, and from the corner booth, the intimate dining room and soft lighting will make you and a dining partner feel like you're the only ones in the room.
The food is special too. A mix of Portuguese, French, Asian and Italian influences inspire a menu of creative, seasonal pairings. And everything from the locally grown produce that outfits the starter salads to the dainty signature cookies that end the meal show that here preparation and presentation are equally important.
During the week New Rivers offers a fixed-price menu that, though limited in choice, changes weekly and gives the diner a good feel for what this restaurant is about. A Provencal minestrone is offered hot or cold, and while both are packed with fresh vegetables, the warm version is a soothing choice on a cool evening. A dollop of pistou — French pesto — adds another layer of flavor to the soup. The pork tenderloin, rubbed with Southwest spices and accompanied by black bean and spicy corn salads, could use a little more spice, but it's cooked perfectly to temperature and comes with the promised kick of heat. The menu's coup is a tender filet of local bluefish paired with pluots (a plum and apricot hybrid) and a watermelon and radish slaw. Dessert does not fail to impress either with fresh figs and raspberries, and a sweet, yet unexpectedly tart, gooseberry fool with pear shortbread. It's nice to know that you don't always need a special occasion to enjoy a special meal.
*****
Offered Monday through Thursday (regular menu also available). $25 per person. Includes soup or salad, choice of two entrees, two desserts. 7 Steeple Street, Providence, 751-0350, newriversrestaurant.com.
Nicks on Broadway
Derek Wagner's food conjures a line that snakes around the block. On hazy Sunday mornings, students, artists and cops mingle peacefully, waiting for thick slabs of French toast or smoked-salmon omelets. Now Nicks has skipped from 259 to 500 Broadway, where its 1,200 square feet can accommodate forty diners instead of eighteen.
But the expansion doesn't sacrifice Nicks's cozy appeal. It maintains the same unpretentious ambience, and the kitchen is still counterside if you like to watch. But this neighborhood diner has gone contemporary bistro, with a sleek stainless steel kitchen, tin ceiling, and red granite banquette with stained cedar finish. At night, recessed lighting provides a muted ambience, while storefront windows flood the room with sunlight during the day.
For the restaurant's evening fixed-price menu, the same dress code pervades: diners who feel like dolling up coexist with tattered jean customers. Jazz music — Billie Holiday, Lester Young and Dizzie Gillespie — sets a nocturnal mood. The menu changes weekly and reflects local harvest: the fall menu incorporates heartier ingredients like roasted meats, root vegetables, apples, mushrooms and roasted pumpkins. Wagner offers three choices in each category of appetizer, entree and dessert, always with something for the carnivore, seafood lover and vegetarian. The first course offers a soup or salad, then maybe a pasta or antipasto. Desserts are homemade and include a fix for chocoholics, seasonal fruit preparations such as warm pear and cranberry cobbler, and then a cake or custard-y dessert like creme brulee.
*****
Offered Wednesday through Saturday, $40 per person. Includes appetizer, entree and dessert. 500 Broadway, Providence, 421-0286.
Pane e Vino
Dinner at Pane e Vino is like spending an evening with your favorite Italian relatives. There's the small, inviting bar with Frank Sinatra crooning in the background, plus the soothing decor — rich, ochre-colored walls and warm hardwood floors. And there's Michele, the friendly manager, who reminds diners that Monday is an especially good night to come here because the wine list is half price. "No exceptions," she instructs. One example: a 1999 Carpineto Farnito, a silky tuscan. It's a $70 splurge that costs only $35 on Monday. (The same bottle retails for $40 next door at Gasbarro's.)
The menu is rustic Neapolitan comfort food: fresh ingredients prepared simply with appealing results. First courses include bruschetta topped with tomato chunks and ripped basil, and drizzled in extra virgin olive oil, as well as a Caesar salad; hearts of romaine, a nutty shaved Grana Padano, with a pungent traditional dressing. The pasta entrees are hearty comfort food served in a traditional Italian casserole. There's an irresistible robustness to the rigatoni and the gnocchi delights: tiny potato pillows with fresh basil and cherry tomatoes and creamy buffalo mozzarella. The polla alla piccata entree is a pan-seared breast in a lemon caper wine sauce, lightly crisp on the outside though still tender and juicy. Your server may insist on picking your dessert: "Tiramisu!" He's kidding. With the prix-fixe menu, the tiramisu is the only choice, and even if you're not a fan, this light-as-air version served with fresh strawberries will win you over.
*****
Offered Sunday through Friday from 5 to 7 p.m. (regular menu also available). $19.95 per person. Includes appetizer, entree and dessert. 365 Atwells Avenue, Providence, 223-2230, panevino.net.
Pot au Feu
The prix-fixe menu at Pot au Feu's salon is quintessentially French, not only in cuisine but also in structure. The three-course meal is proudly European, featuring an appetizer, salad and entree for ten dollars more than an a la carte main course. Though people may flock to the downstairs bistro for its casual and cozy ambience, Pot au Feu's upper dining room highlights traditional and sophisticated fare under the tutelage of long-time chef John Richardson.
Diners can choose one of ten first courses, including several pates, chilled shrimp in a delicate saffron mayonnaise or the potage du jour. Marinated artichoke salad, field greens tossed in a classic mustard vinaigrette, or crisp fennel and watercress with sweet cider dressing all serve as a welcome digestif before the substantial entrees.
There are more than a dozen main dishes to choose from, all artfully prepared in the style of George August Escoffier. Homard nature gratinee, featuring the meat of a whole lobster baked with lemon, white wine, breadcrumbs and butter, is sweet and rich enough to replace summer's boiled lobster. Carre d'agneau Bordelais, a whole, trimmed rack of lamb coated with grainy mustard and clover honey and served with red wine demi-glace, is requisite for any cool autumn evening. Five chops are accompanied by roasted potatoes, asparagus, and an orange and red cabbage slaw.
Though dessert will cost you another eight dollars, you may not be able to resist. Chocolate-filled crepes, fruit tarts and pot de creme round out a meal well worth a Benjamin Franklin. There's a reason he always loved the French.
*****
Offered Thursday through Saturday (regular menu also available). Three courses (appetizer, salad and entree) for ten dollars more than the price of an entree, which runs $24 to $34. 44 Custom House Street, Providence, 273-8953, potaufeuri.com.
Restaurant Oak
Although relatively new to the Providence dining scene, Restaurant Oak has already established itself as a neighborhood favorite among the East Side set. You'll half-expect to be greeted by name as many diners are when they arrive for dinner. The small dining room is decorated in fall hues, which evoke a feeling of warmth and comfort. Luckily, the food follows suit.
Mainstays like lobster ravioli, crab cakes and roasted chicken breast comprise most of the menu, though a dish such as the boneless pork loin stuffed with pancetta, spinach, raisins and pine nuts in a pomegranate glaze leans toward the more inventive.
Restaurant Oak's prix-fixe menu runs the gamut from familiar to innovative as well. Starters include a steak and cheese quesadilla and seared scallops in an orange pomegranate glaze. The sauteed steak and onions are a tasty filler, and the scallops, skewered on a sprig of rosemary and seared to perfection are visually appealing as well. The grilled pork tenderloin finished in a mushroom Madeira wine demi-glace is still flavorful even when cooked beyond the requested medium. Pan-roasted cod filet is tender, and the white wine plum tomato broth it's cooked in is nicely balanced. You'll wish you had more room in your stomach when dessert arrives. Generous slices of banana chocolate chip torte and carrot cake are dense and sweet and topped with fresh, definitely not-out-of-the-can whipped cream.
*****
Offered Sunday and Monday nights (regular menu also available). $20 per person. Includes appetizer, entree and dessert. 959 Hope Street, Providence, 273-7275, restaurantoak.com.
Rue de L'Espoir
The thirty-year-old Rue has always had a loyal brunch and lunch following. The restaurant's popular midday meal is inevitably jam-packed, sometimes just the scene you're looking for, but not always relaxing. Regulars who want to skip the inevitable daytime crowds might enjoy the more leisurely weekday evening experience afforded by the neighborhood institution's prix-fixe option.
The majority of the $19 menu is all about comfort food, filled with Rue classics like Annie's gooey grilled cheese with mozzarella and manchego cheeses; the Rue BLT, with grilled tomato and herb mayo; champagne-battered fish and chips served with lemon aioli; and ravioli filled with spinach, smoked gouda and ricotta cheese in a fennel tomato sauce. Stick with these and steer clear of more complex entrees like the barbecue spiced shrimp, which is overcooked and includes only three small shrimp.
A small starter — such as a serving of hummus and three pieces of toasted pita — precedes each entree. Unlike many prix-fixe menus, the Rue's includes a drink, a nice touch and a relaxing way to unwind at the end of a workday. You also get dessert: choose between a trio of warmed cookies or the chocolate dessert of the day.
Though the offerings aren't fancy, service at the Rue is, as always, friendly and efficient. And the weekday evening atmosphere — low lights, hushed voices, jazz playing softly — enables you to experience an old favorite in a whole new way.
*****
Offered Sunday through Wednesday (regular menu also available). $19 per person. Includes appetizer, choice of eleven entrees and two desserts, and a glass of wine or draft beer. 99 Hope Street, Providence, 751-8890, therue.com.
Zooma Bar-Ristorante
Though Zooma is Pane e Vino's sister restaurant, they may as well be distant cousins. Pane e Vino has an intimate charm, while Zooma — the eggplant-colored facade hints at what lies inside — is modern and minimalist. It's the kind of place where you might find a boisterous Ladies' Night, and in fact you will, in the lounge on Wednesdays.
While the din can reach a level that's not conducive to conversation in the bar, fortunately there's a large dining room tucked in the back. An open kitchen with sizzling saute pans and cooks moving at a frenetic pace ensures that the urban vibe is retained.
Zooma's menu is Italian through and through (the dishes are written in Italian with a descriptive translation), and the prix-fixe menu is no exception. They offer four courses — soup or salad, pasta, entree and dessert — plus a bottle of wine from a choice of five varieties. The prix-fixe offerings tend toward the recognizable: Caesar salad, pasta fagiole, tiramisu, chicken piccata. But there are a couple of house specialties thrown in for good measure. The spaghettini scuie scuie, or spaghetti in a hurry, is a relatively light mid-course with sweet cherry tomatoes, garlic, olive oil and basil, while the penne all'Amatriciana has some welcome heat courtesy of the crushed red chilies.
In the tradition of most Federal Hill restaurants, you won't leave here hungry. In fact, if you select the veal scallopine as your entree, you may need to pace yourself to make it to the sweets. Your restraint will be rewarded whether you go the raisin-bread-pudding route or opt for classic tiramisu.
*****
Offered Monday through Friday 5–7 p.m. $59 for two (regular menu also available). Includes four courses: salad, pasta, entree, dessert and bottle of wine. 245 Atwells Avenue, Providence, 383-2002, zoomari.net.