Getting Crafty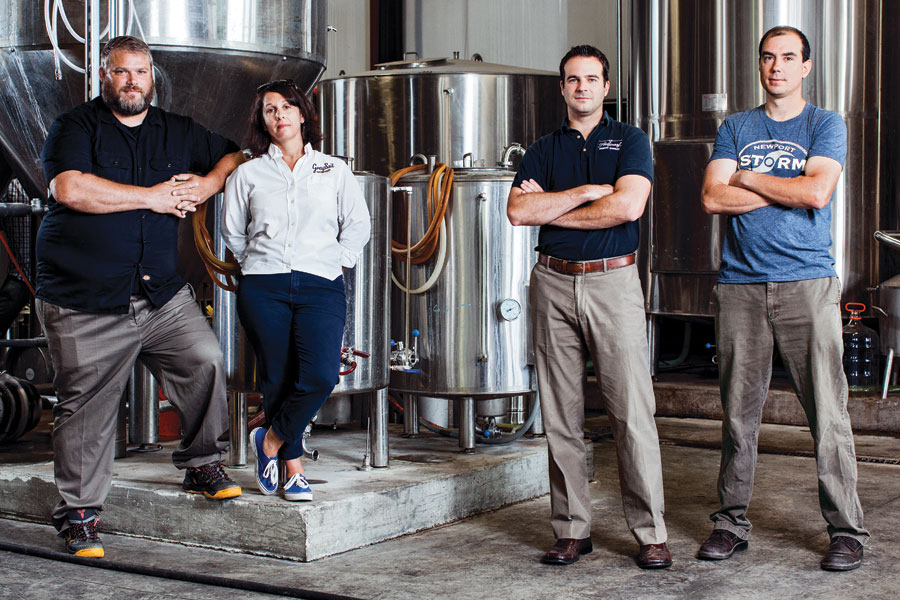 L to R: Sean Larkin of Revival, Jen Brinton of Grey Sail, Nick Garrison of Foolproof and Brent Ryan of Newport Storm.
Sean Larkin sits at the bar of the newly opened Brutopia Brewery and Kitchen just a few hours before the afternoon and early evening crowds start pouring in. Brutopia is Cranston's first brewpub and the latest beer-related project involving Larkin, who began his beer-drenched odyssey twenty years ago. Since then, his involvement with beer has changed and so has the overall culture of beer in Rhode Island.
Larkin, who works at Brutopia as a consultant, is a big man with an equally formidable knowledge of beer. While at the bar, a fellow brewer tending the equipment explains to Larkin his next moves, seeking approval to move ahead. This is the kind of reputation Larkin has achieved starting with his work at Trinity, which led to later endeavors. "I ran Trinity Brewhouse in a capacity where, after a year of apprenticing, I became head brewer, and opportunities that arose in the Rhode Island beer market were things that I capitalized on," Larkin says. These opportunities included consulting for Narragansett Beer and his current gig at Brutopia.
Narragansett first sought Larkin in 2006 to create beers to add to its base products, its lager and light lager. "In that respect, that sort of kick started the publicity around my name, meaning that they did a bunch of PR to promote their company and, in turn, the PR was positive for me," Larkin says. "Positive for me in the sense that if the beers did really well, which they did, then my name was in the paper and there was a lot of fanfare about it." Larkin has written the recipes for Narragansett specialty beers including the Bock, Summer Ale and the wildly popular Autocrat Coffee Milk Stout and Del's Shandy.
While Larkin was still an employee at both Trinity and Narragansett, there was no opportunity for equity at either company, which ultimately led to the opening of Revival Brewing Company as a brand, in 2010 by Larkin and two partners. With Revival, Larkin went into beer making with the philosophy that there's a different beer for different people. He's not interested in trying to convince a drinker to like a certain type of beer. If one demo doesn't like it, there's another that will.
"It's a different business model than the world domination that I think I see out of the bigger breweries like Yuengling or Narragansett or Budweiser," Larkin says. "Their mission is to be in everybody's refrigerator, everybody's tap space, everybody's hand. There's nothing wrong with having a business model that looks at things that way. I just don't look at things that way."
When Larkin started Revival, the beer landscape in Rhode Island was still fairly thin. In the last two years, the state has seen the openings of Ravenous Brewing Company, Foolproof, Bucket Brewery, Whaler's Brewing Company, Crooked Current Brewery and Proclamation Ale Company. This growth was preceded by the opening of Grey Sail in Westerly in 2012, which was started by Jen Brinton, a wedding planner, mother of four and wife of an avid beer lover and former home brewer.
Grey Sail's operation started with a capacity of just under 2,000 barrels and a manual canning line. Demand has since exceeded their projections, causing them to grow faster than expected. "The downside to that is that you've got to keep up with that," Brinton says. "In order to keep up with that, we needed to do these expansions and these investments — heavy investments, really heavy capital investments, heavy personnel investments — sooner than we had planned." The company, which started with two full time employees, now has five and underwent two major changes last summer: increasing annual capacity to 5,000 barrels a year and installing an automated canning line. Previously, the entire staff was needed on canning days, but now it only takes one or two people to run the line, allowing brewing to occur simultaneously. The brewery will launch its third year-round beer this fall, a double IPA called the Captain's Daughter. "We weren't this highly invested in the company. This was a family business that got off the ground quickly," Brinton says. "I think that that's hopefully inspiring, that others would say 'hey, if they could do it, we could do it, too.' "
About a year after Grey Sail, Foolproof Brewing Company opened its doors in Pawtucket. After less than a year of home brewing, founder Nick Garrison brewed the beer for his wedding in 2008. While visiting a brewpub on their honeymoon, his wife mused, "Wouldn't it be cool to open a place like this?" Garrison says that was the moment he knew he'd open a brewery. Garrison chose to open in Rhode Island because he loved the state and also because he realized it was an underserved market.
It took him a year and a half to research and to write a business plan and an additional two and a half years to raise money and to network. Foolproof, known in those early days as High Jinx, moved into its location in May 2012 and started brewing that December. The brewery changed its name and branding two months before launching in 2013 after being notified that it wouldn't be able to trademark the name High Jinx. Today, Foolproof is distributed in Rhode Island, Connecticut and Massachusetts, and Garrison says he has aspirations of becoming a national and international brand. "I'd like to think that we played a huge part in what I like to call the Rhode Island beer renaissance," Garrison says. "I think people, just really collectively, people in Rhode Island realize we have this amazing food culture here but we don't have a lot of breweries."
While the additions of Grey Sail and Foolproof may have contributed to the momentum of other production breweries opening, Newport Storm opened in 1999 amid a market crowded with the usual suspects and without much of a craft beer scene. "When we started out in Newport, basically everyone had the same thing on tap," president and co-founder Brent Ryan says. "Basically it would be Bud, Bud Light, Coors Light, Miller Lite, Sam [Adams], Bass, Guinness and Killian's. Those would be the eight beers you saw. That was basically what you saw everywhere."
Ryan says the recent success of Rhode Island craft beer is due to a growing national interest. Ryan and three friends from Colby College started Newport Storm after graduating because they loved making beer and because they noticed craft beer starting to take off in other parts of the country. "More people were getting into craft beer so we felt that, on some level, there were people in Rhode Island who were interested in getting a local Rhode Island beer on tap or buying a local Rhode Island beer at their local liquor store," Ryan says.
When Newport Storm began, Ryan says it was hard to promote Rhode Island beer because they were the only one. "It was very tough for us to create that sense of, 'yeah, let's drink Rhode Island beer,' because it just came down to 'yeah, let's drink Newport Storm.' " Today, Ryan thinks the growth of local beer starts with the beer drinker. If more bars and restaurants start focusing on carrying local beers and clientele regularly frequent those businesses, then future bars and restaurants will start carrying more local beers, too. "Unfortunately for the Rhode Island brewers, we have not seen as dramatic a change in the amount of focus that the local brewers get as a portion of the total craft attention as other places have," he says.
To help the cause, the Rhode Island Brewers Guild was founded in 2010, giving local brewers a place to discuss issues ranging from the technical to legislative and marketing and promotion with the ultimate goal of improving the state's beer culture. "It kind of goes against the typical business model where obviously there's competition and you don't want to share with your competitors your secrets," says Larkin, the guild's president. "But for the technical aspect of things, I feel like most of that stuff has been put into books anyway. So if you're sharing that with your fellow brewers, you're elevating your own culture and you're not keeping it dumb."
Steve Sharp, brewer at Foolproof Brewery.
Garrison, who is the chair of the legislative subcommittee of the Brewers Guild, says it's important for Rhode Island to catch up to other states legislatively. "Vineyards can do a lot more than we can, and that doesn't really make sense to me," Garrison says. Unlike vineyards here, Rhode Island breweries cannot sell their own products. Currently, they are only permitted to give visitors up to a seventy-two-ounce take-home sample as part of a brewery tour or a tasting. Other states allow the sale of beer at breweries. "People don't like change, even if they don't understand that change in this case isn't radical change," he says. "It's really just bringing us up to par with how it is in most states around the country. Passing legislation is a huge effort. We [brewers] are a small community."
According to the Beer Institute, a national organization that represents the beer industry, beer contributed to 3,430 jobs in Rhode Island in 2012 between brewing, distribution and retail. The Cranston-based distributor McLaughlin and Moran accounts for 120 of those jobs. The men and women behind the curtain take to the delivery trucks and make sure Rhode Island's taps and store shelves are stocked. Though 97 percent of McLaughlin and Moran's business is with Anheuser-Busch, its elevated spirits division is dedicated solely to selling high-end craft products. Their portfolio includes brands such as Wachusett and Heavy Seas, as well as Grey Sail and Revival.
General manager and vice president Mark Wahlgren credits the business's growth to Anheuser-Busch. The company was started in 1936 by first cousins John McLaughlin and John Moran in the basement of McLaughlin's family home. In 1945, McLaughlin and Moran was selected to be the Rhode Island distributor for Anheuser-Busch. Over time, the company moved to Providence and eventually to its current 114,000-square-foot location in Cranston. They now have up to fifteen trucks running daily, delivering 15,000 to 24,000 cases of beer a day, and a little more than four million cases a year.
A walk through the 58,000-square-foot controlled climate room is like walking through a Sam's Club or BJ's that's fully stocked with beer. The enormity of beer stacks is only outdone by even larger stacks. At one juncture, Chuck Borkoski, vice president of marketing and portfolio development, points to a pile in the center and says "that's about nine days worth of beer in Rhode Island."
Crushing blueberries at Newport Storm. Alan brinton of Grey Sail brings a new tank into the brewery in 2012.
In addition to physical deliveries, distribution involves other logistics including receiving, warehousing, selling, marketing and administrative components such as paying taxes and collecting money. "The route to market for beer is a competitive environment that wholesalers have to navigate," Wahlgren says. "Without our help in navigating, they never get to the consumer." John Richard, a consultant at McLaughlin and Moran, is also the owner of the Avery, a popular bar in the West Side of Providence. He's seen firsthand what can happen if a brewer hasn't figured out distribution. "As a retailer you see people coming to you with product which is really good and you may not see them again because they haven't figured out who their distributor is going to be, how it's going to get to me," Richard says.
Meanwhile, more breweries continue to pop up. One of the newer breweries on the scene, Proclamation Ale Company, was started by Dave Witham, a former music teacher turned stay-at-home-dad turned brewer. Currently, the brewery offers Tendril, a beer in between an IPA and an imperial IPA, as its one draft account. Down a dirt road off of Route 2 in Exeter is Ocean State Hops and the future home of Tilted Barn Brewery. It's here that Matt Richardson started farming hops to support his personal homebrewing during a worldwide hop shortage. After harvesting more hops than he could use, Richardson started selling his product to other brewers. Now he's in the process of opening his own brewery.
While new breweries continue to open, news about Narragansett Beer's return has been quiet. The brewery, which prides itself on all things Rhode Island, still brews the bulk of its beer in Rochester, New York. When asked in July about opening a brewery in Rhode Island, CEO Mark Hellendrung said the company was sixty days from making an announcement, but that something would definitely happen before the end of this year.
In Providence, Jeremy Duffy and Devin Kelly are working through the logistics of opening Isle Brewers Guild. The planned facility will be located in an 80,000-square-foot building in Providence and will have the capacity to brew up to 60,000 barrels a year. Isle Brewers will not be producing its own brand of beer. Rather, it'll be a beer cooperative for smaller brewers who have a brand identity but might lack the equipment to produce larger volumes. Information about the contract brewery and its cooperative model has been scarce and Duffy declined to comment for this article. Larkin says Revival was approached to be part of the Isle consortium but it declined because the Isle Brewers business model did not fit with Revival's future plans as a company.
"Revival needs to have its own brew house. Right now we're doing exactly what the consortium is offering to do, meaning that we're brewing out of someone else's facility, but we're doing that just through the normal contract relationship where we're paying for that beer," says Larkin. "We didn't have to buy into a consortium to do it, so there's no incentive for me to join [Isle Brewers]. Number two, the consortium isn't going to give us the identity we need as a company so that people from out of state can really come and see what Revival is all about."