Get Your Tiny House Inspo on the WBNA House Tour
The third-annual tour takes participants through ten urban cottages and courtyards.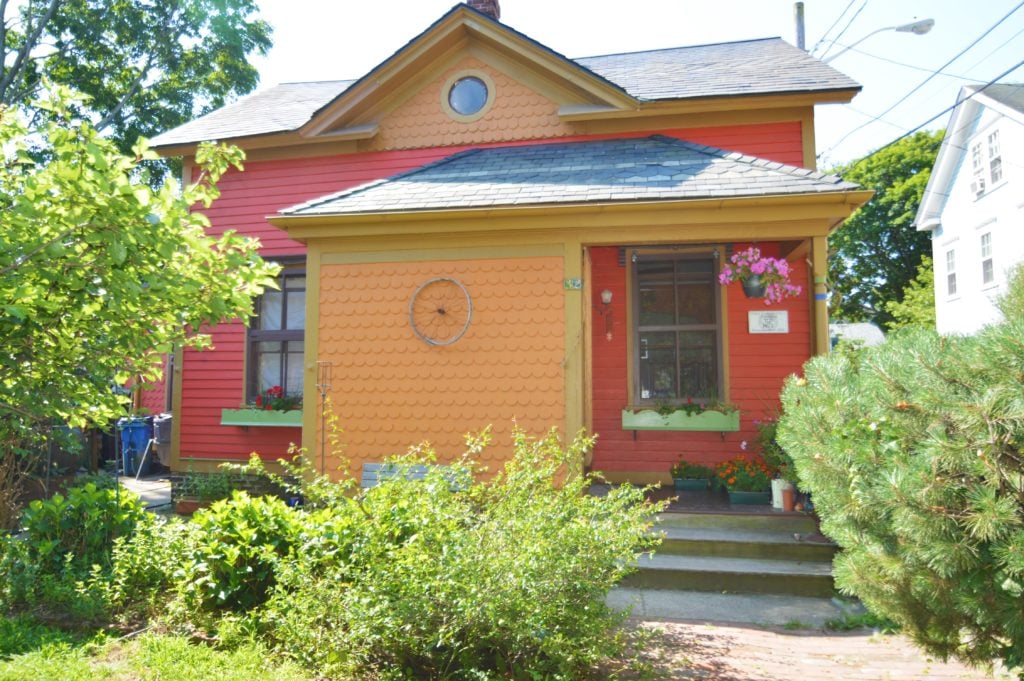 When you think "city," does beekeeping come to mind? What about solar panels or chickens or beautiful old rain barrels?
They should. An enclave of colorful, pint-sized, eco-friendly homes exists on the West Side of Providence, and on October 1, from 10 a.m. to 4 p.m., you can see them for yourself. For the third year in a row, the West Broadway Neighborhood Association (WBNA) hosts a ten-house tour. Previous years explored the castles of Broadway and the historic homes surrounding the Dexter Training Grounds. This year, it's cottages, where hard-at-work homeowners keep vegetable gardens, bees and fowl in their urban courtyards.
Kari N. Lang, executive director of the WBNA, owns one of those houses. She bought her sweet orange cottage on Willow Street (photographed above) in 1996, after it had been vacant for four years.
"It's tiny, about 1,000 square feet," she says. "It's one and a half story, with two bedrooms upstairs and a bath. The closets, you can't stand up in them. They're very hard to keep neat, let me tell you!"
Lang, who has a background in historic preservation, brought her house back from the brink. During the twenty years she's lived there, she re-slated the roof, added solar panels and renovated the interior. "And I'm still not done," she adds.
Lang says it was a priority to use local sources for her renovations, from her funky paint colors sourced from Adler's Hardware in Fox Point to her reupholstered couch by Kreatelier in Summit. "I'm going to try to do a list – in between painting the stairs – of all the local people who worked on my house," she says. "Maybe people can get fun ideas from it."
One of the co-owners of Kreatelier recently moved to Lang's neighborhood, and her house is on the tour. Architect Jack Ryan, who renovated his Bianco Court home from top to bottom, is another host.
Lang says the October 1 event will feature food trucks and cider doughnuts for sale from the Hard-Pressed Cider Company. Registration is from 9:30 a.m. to 3:30 p.m. at the WBNA headquarters, 1560 Westminster St., where attendees may also access restrooms.
Leading up to the tour, the WBNA hosts two additional events. The first is a slideshow of historic before-and-afters at the Columbus Theatre this Thursday, September 22, at 7 p.m. (It'll have Hard-Pressed Cider Company doughnuts, too, and admission is free.) The second, a preview party at the Nicholas A. Fenner House on September 30 from 6 to 9 p.m., boasts drinks from Gasbarro's, oysters from Walrus and Carpenter, bites from Julians, Pastiche Fine Desserts, Virginia and Spanish Peanut Co. and Apsara and live music from Miss Wensday.
Tickets to the preview party and tour, which range from $25 to $100, can be purchased here. All proceeds benefit the WBNA and its varied committees, including a green initiatives committee, which has installed more than forty solar panels on the West Side, and a parks committee that helps maintain the neighborhood's public green spaces. The WBNA also has a hand in the enhancement project at Luongo Square (where you'll find the Avery and north), which includes new cobblestones and a fountain.
The Details: Historic slideshow Sept. 22, 7 p.m., Columbus Theatre, 270 Broadway, Providence. Preview party Sept. 30, 6–9 p.m., Nicholas A. Fenner House, 26 Dexter St., Providence. Tour Oct. 1, 10 a.m.–4 p.m., registration at WBNA headquarters, 1560 Westminster St., Providence. To learn more about the WBNA and to purchase tickets, visit wbna.org.