Get Your Ride on This Weekend
Providence is hosting a series of events for cycling enthusiasts this weekend, from races to a builders' ball.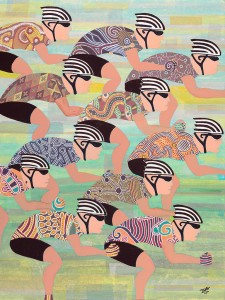 This weekend should be beautiful and no one will likely appreciate it more than the cycling enthusiasts gathering in Providence this weekend for Bike Week. Participate yourself or come out and cheer the riders on. Here's a breakdown of the events:
New England Bike-Walk Summit. This all-day gathering features panels of cycling advocates, academics, politicians, planners and retailers discussing everything from encouraging bike sharing on college campuses to getting federal funds for bike paths to maps and apps. You can see the full program here. Friday, $40 for the full day includes lunch, $20 for members of the East Coast Greenway Alliance. The Biltmore, 11 Dorrance St., Providence.
New England Builders' Ball. Come out and see some of the best bicycle builders in the business show off their talents. This fundraiser for the East Coast Greenway Alliance, a nonprofit working to develop a trail system from Key West to Canada, will also feature a silent auction of items such as a framed and autographed Astana Team Jersey from the 2009 Tour de France. Friday, 7-10 p.m. Admission is free, but donation suggested. The Biltmore, 11 Dorrance St., Providence.
Providence Cyclo-cross Festival. More than 5,000 spectators and exhibitors are expected to come watch UCI racers from the United States compete against bicyclists from Canada, Europe, Australia and other places. The three-day event features an expo with retailers and a food court. Check out the schedule here. Friday, Saturday and Sunday. Roger Williams Park, 1000 Elmwood Ave., Providence.
Grand Fondo New England. The first event of its kind held in New England, the name of this bicycling event is Italian for "big ride." Participants can choose between three distances, which can take them through Rhode Island and into Connecticut and Massachusetts. You can see the routes here. Starts Sunday at 7 a.m. Roger Williams Park, 1000 Elmwood Ave., Providence.