Get the Ultimate Luxury Manicure or Pedicure at MiniLuxe
The new nail salon at Garden City in Cranston certainly delivers a pampered experience.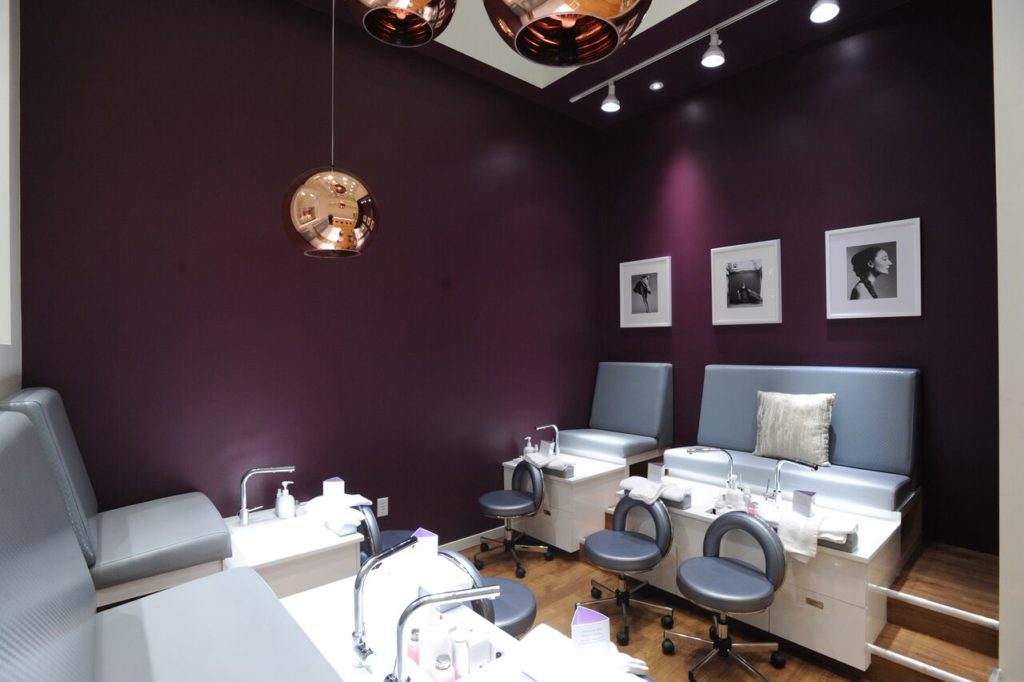 I've been to my local strip mall nail salon many times, and while it's an affordable, convenient option, a manicure or pedicure at the new MiniLuxe at Garden City brings the treatments to a whole other level. One step into the clean, white, contemporary salon with soothing music and the season's runway shows projecting overhead on the wall, and you know you are in for an upscale experience. Manicures start at $20 and pedicures begin at $39, and you can also book brow, bikini and body waxing for your visit. Yes, including a Brazilian, if you dare.
MiniLuxe was founded in 2007 in Newton, Massachusetts, and now there are eleven salons in Massachusetts, three in Texas and one in Rhode Island. For all the Boston gals and New England sports fans, the wall of nail colors boasts some names for polishes like Tom Brady, Love That Dirty Water, Fenway Spark and more.
You can choose from traditional wet polish, a hybrid polish (a gel alternative that dries in minutes and can be taken off at home) and UV-free gel. All polishes are the healthiest varieties out there, called "five-free" (made without five common nail polish chemicals), and the salon does not use acrylics, so all you are breathing in is fresh air.
Each nail station is set up for you before you arrive, and cleanliness is a top priority. "The station is clean, the tools are sterilized, and we are not passing anything but good karma," says MiniLuxe brand ambassador Michele Santell. "We always start with our hand sanitizer first and nothing ever touches the skin. We never cross-contaminate. We're really germaphobic."
MiniLuxe explains the three-part sterilization process that happens in the on-site Clean Lab. Metal tools are hand-scrubbed, they go through sonic cleaner system, then they are laid out to dry and packaged in a SteriPack. After that, they go in the sterilizer and they come out in a sealed package that is delivered to each station. "We bring them to you sealed so you know you are getting a clean set of tools," says Santell. You can also take your file and buffer home with you; otherwise they will be thrown out.
The atmosphere is total luxury. The eight pedicure and seven manicure stations are built for ultimate comfort with beautiful fashion photography and specially-commissioned prints by illustrator Anja Kroencke on the walls. There are no jets in the pedicure stations because it is more sanitary to go without, as bacteria can hide in the nooks and crannies. There is also a semi-private pedicure station with side-by-side chairs that can be booked by couples, friends or family members for an extra-special experience. MiniLuxe's own line of body cream is massaged onto hands and feet for that extra bit of pampering and softness.
The separate couples' station.
There's a hot pink accented drying center, complete with all the latest magazines, though Santell admits it is becoming a bit obsolete. "With all the new polishes, the gel manicure and the new hybrid, you don't have the big wait at the drying station anymore," says Santell. "It's changing what a manicure is… You don't have to come in with your flip flops anymore." 55 Hillside Dr., Cranston, 401-287-8770, miniluxe.com
My nails on the NailCam, showing off Rhode Island jewelry designer Loren Hope's bracelets.