Get the Inside Scoop–From Your Smart Phone
Rhode Island Monthly has launched a free app that brings you the best of Rhode Island--whereever you are.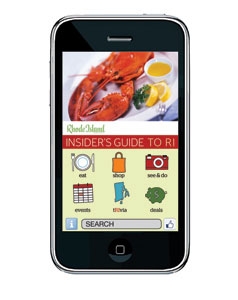 Want to get the skinny on the best places to eat, shop and have fun in Rhode Island? Now you can access that information from your smart phone.
Rhode Island Monthly just launched a free mobile web app called the Insider's Guide to RI. It's got great information for tourists and locals alike. Looking for some Italian food? Check out the Eat section. Want to go seal-watching? Search the app for a tour.
The app also features digital coupons and deals like free desserts that you can get by showing them at the participating restaurant on your smart phone. Got some relatives coming to town? You can search events by the day and find out what's going on around Rhode Island — tailored to your location. The app can also help you sharpen your trivia skills, with fun Rhode Island facts and tidbits on famous locals.
Download it here.