Get Spooky With Monster Mini Golf Founder Christina Vitagliano
What it's like inside her Providence-based monster-creation factory and to work part-time for Gene Simmons.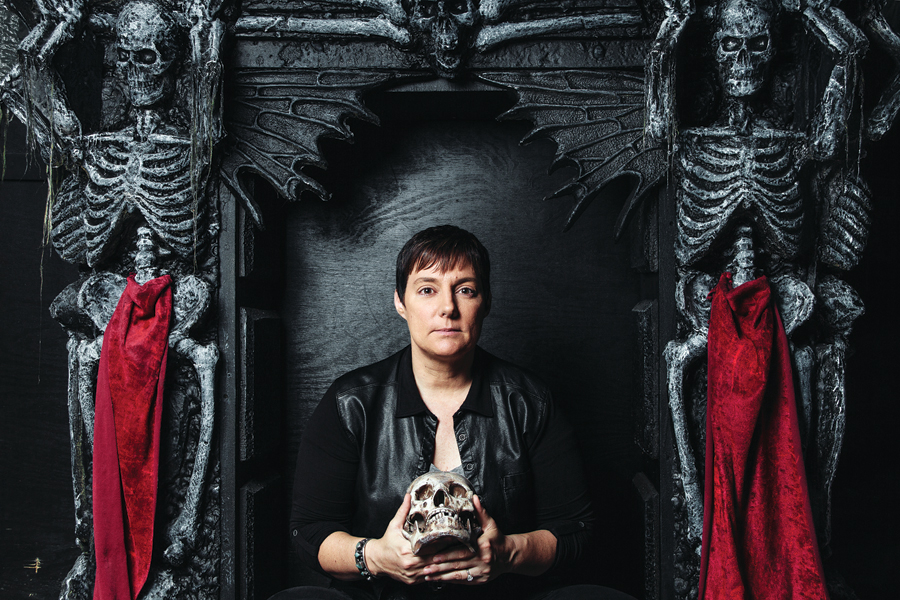 A grim reaper-like skeleton greets guests by the front entrance of Christina Vitagliano's Providence office. "He died there," she says with a laugh. The founder of Monster Mini Golf, along with cofounder and husband, Patrick Vitagliano, now has thirty-one glow-in-the-dark mini golf courses spread out across the nation and two in Canada. The closest course is in Seekonk, Massachusetts, but the headquarters, where they create all of the monsters for the attractions, is located on Providence's West Side inside a dark mill that's spooky enough on its own.
While it's bright and sunny outdoors, artists crouch in the murky warehouse, crafting foam monsters covered in fluorescent hues illuminated by purple blacklights beaming down from the ceiling. The evil props they're designing will soon be shipped off to Chantilly, Virginia, for the latest Monster Mini Golf Course.
It was Vitagliano's passion for toys, her husband's obsession with KISS and a fateful fluke that inspired a KISS-themed Monster Mini Golf Course in Las Vegas. Glo-Zo the clown appears on the eighteenth hole of every course with its protruding tongue and gaping mouth that led many friends to say: "Why didn't you just build Gene Simmons's head?" It got her thinking. "You can't just put Gene's head on your course, because Gene will get very mad," she says. "…but what if we did a co-brand?"
She got hold of Gene Simmons's lawyer's email, established a connection and then a licensing deal was secured to use the KISS name. Once the first payment was made to Simmons, the Vitaglianos got to meet the man himself, along with Paul Stanley. The KISS by Monster Mini Golf course opened in Las Vegas in 2012. As the business relationship grew, Christina got another idea: "I told my husband, I want to write a book about Gene Simmons making fun of Gene Simmons," she says. "He said, 'Are you crazy? You are going to poke the demon?' " But she developed a business plan, and Simmons approved, as long as she got the book published by one of the top six publishers and he got a share of the profits. Gene Simmons is a Powerful and Attractive Man was released in April and now Simmons helps promote it.
On top of the Vitaglianos' responsibilities with the Monster Mini Golf empire, Simmons also summoned Christina to coordinate his backstage concert meet and greets. "So now we tour with Gene," she says. "Having a part-time job when you own a company is really messed up but, I've learned so much from him, it's actually made me better at what I do." monsterminigolf.com
Click here for an extended Q-and-A with Vitigliano.