Get Moving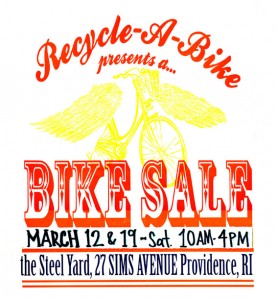 While we're on the topic of benefits, this Saturday is your last chance to check out Recycle-A-Bike's bike sale. The way I see it, if my Irish luck holds through the weekend, then this weather will hold, too, and Saturday will be a perfect day to ride a new set of wheels right off the Recycle-A-Bike lot at the Steel Yard to the nearby Woonasquatucket River Bikeway and beyond.
Recycle-A-Bike's deal: They teach bicycle maintenance and mechanics, share their shop space and tools, give after-school classes where kids can "earn" the bikes they repair, rehab and sell donated bikes, and outfit cyclists with all sorts of parts and gear. The folks there are volunteers, and their aim is to make Providence a city where bikes get used, safely, for transportation.
Since the group is moving their shop next month, the motivation to get rid of stuff is real. The bargains, they say, will be unreal. Get the details here.