Where to Get Iconic Rhode Island Foods
Little Rhody has its fair share of iconic yet quirky snacks, meals and libations.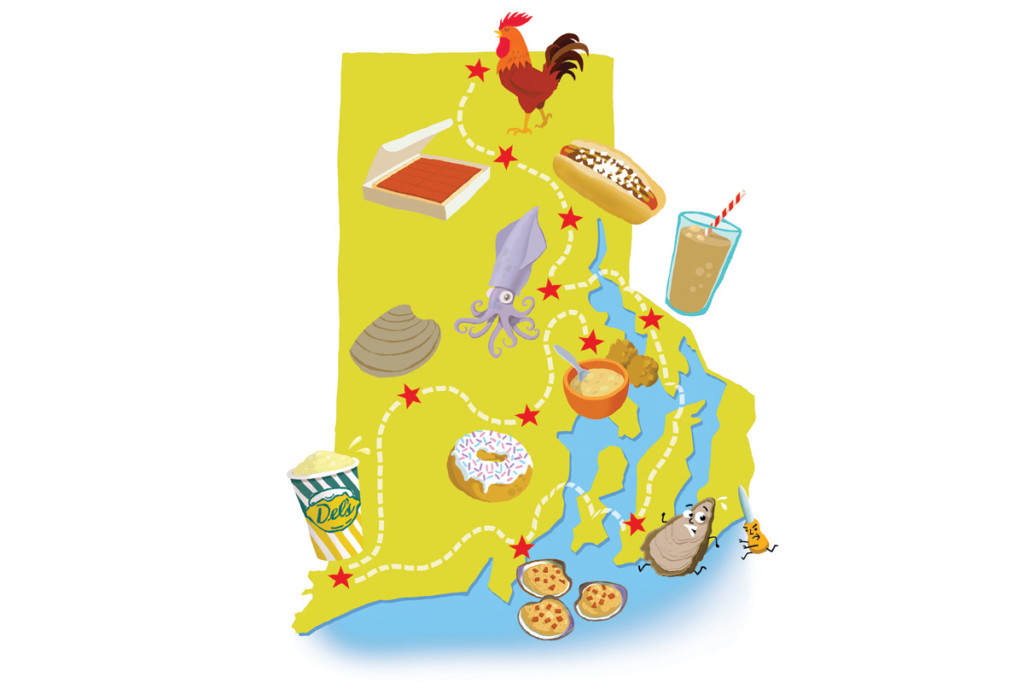 Wright's Chicken Farm
As much as we love our state bird (the Rhode Island Red), we love an old fashioned chicken dinner from Burrillville's famous eatery more.
Cold pizza strips
Don't knock it until you try it: A fresh box from bakeries like DePetrillos in Glocester is often a given at Rhode Island gatherings.
Hot Wieners
Providence's legendary Olneyville NY System wieners can only be consumed one way: fully loaded with mustard, onion, celery salt and ground meat.
Calamari
Order calamari at Twin Oaks in Cranston and you'll check off two bucket list items in one stop: trying the state appetizer and visiting a state family-favorite.
Coffee Cabinets
Rhode Islanders are known for their affinity for coffee-flavored milk, but don't even get us started on these creamy milkshakes from Delekta's Corner Store in Warren.
Oysters
These bivalves are all the rage in the seafood community currently, so we'd be remiss if we didn't send you to Newport's Midtown Oyster Bar.
Clams Casino
Said to have originated in Narragansett, this mouth-watering app is a must-order for any visitor to the Coast Guard House.
Del's Frozen Lemonade
Sweet yet tart, this refreshing drink is the lifeblood of summering Rhode Islanders. Grab a cup from any beach snack bar or from the stand in Westerly.
Stuffies
Quahog isn't an actual town, but it is a delicious base for this savory dish, a staple on the menu at Dan's Place in West Greenwich.
Allie's Donuts
Another party pleaser, Allie's Donuts in North Kingstown has always been way ahead of the craze with their made-to-order doughnut cakes.
Clam cakes and Chowder
Also known for their fried dough slathered in sugar, Iggy's Doughboys and Chowder House in Warwick serves up some of the best variants of this classic pairing.
---
Local Chef Spotlight
Melissa Denmark
A native of Columbia, Maryland, Melissa Denmark likes to say that she grew up with a cookbook in one hand and a whisk in the other. It was this passion that eventually led her to pursue a bachelor's degree in baking and pastry arts at Johnson and Wales, a top tier culinary school in Providence. Her hard work not only earned her a summa cum laude designation at her 2010 graduation, but it also landed her the role of Executive Pastry Chef at Gracie's that very same year.
Located on Washington Street in Providence, Gracie's is known for its three-course dinner menus that source fresh, local ingredients. Thanks to their mission of aiming to enhance and educate the palate, Gracie's patrons can always expect a spectacular first two rounds (which often involve everything from baby green salads and artisan cheeses to various land and sea dishes), but it's the third course that really gets us drooling. Melissa loves to use unusual ingredients to create savory-sweet desserts — some of our favorite items have included her spiced carrot cake and her chocolate buckwheat torte.
Fun facts: Melissa is also responsible for developing the Parisian-inspired bread and pastry program at Gracie's sister eatery, Ellie's Bakery, and she was a 2017 recipient of Zagat's 30 Under 30 award.