Garden City's Past and Present
The sleek Cranston suburb has a gritty history.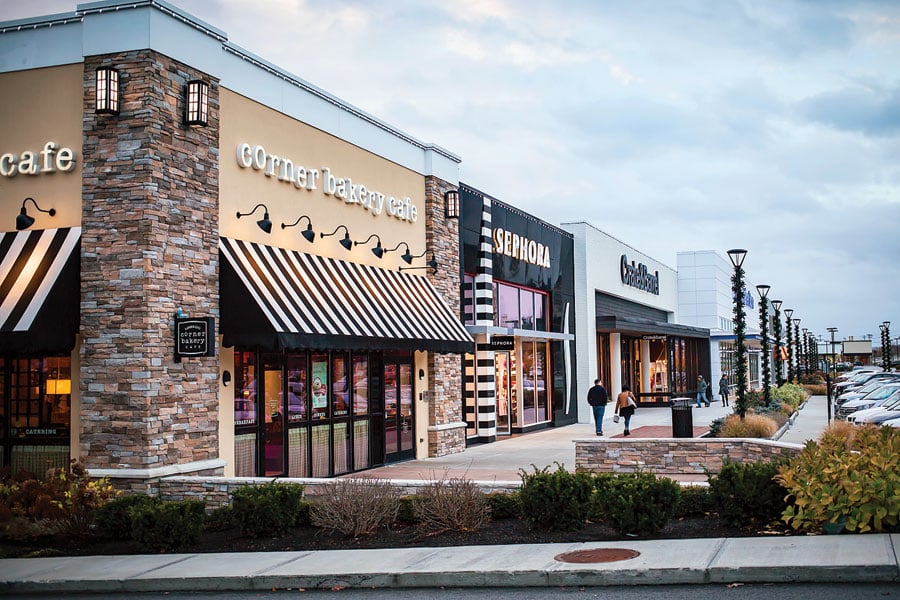 When I think of Garden City in Cranston, I don't think of acres of farmland or a coal mine belching soot into the air. Yet, they are as integral a part of this neighborhood's identity as Italian food, upscale shopping and freshly lacquered fingernails.
To find out more about what I had always thought of as pure suburbia, I drive over to the nearby Sprague Mansion to talk to Sandra Moyer, president of the Cranston Historical Society.
Moyer, pretty in purple, cheerfully greets me and pulls up a chair. If anyone knows Cranston, it's Moyer, who spouts off facts and figures with colloquial ease. "Let's go back to 1638, and to a man named William Harris," she says, rewinding the clocks.
Harris was a key player in the history of Cranston, particularly Garden City, leaving what was then Providence proper to make his fortune further south. "He had come to the colonies, not so much for religious reasons like Roger Williams, but rather for land. He was a very poor man in England so he came to find his riches, and he did.
"He settled near Blackamore Pond, near Eden Park Elementary School," she says.
Harris accumulated farmland with a fervor that Roger Williams disliked, but that gave his descendants sizeable control over this newly settled part of Rhode Island.
Indeed, by the mid-1800s, his descendants owned all of what is now Garden City and Woodridge. "One farm in particular was right where Garden City is now. Then in 1869, his family started a coal mine there."
On the very site where today Newport Creamery mixes milkshakes and flips burgers, soot-covered men once lumbered up and down dark coal shafts. The coal mine was there until the 1950s, when an entrepreneurial Italian named Nazarene Melocarro came to town.
"Good old Nazarene Melocarro bought the land in the late '40s, after World War II, when a whole bunch of veterans were coming home, getting married and starting families. He was smart," Moyer says. "He saw this as a good opportunity."
Melocarro put up a bevy of small, affordable ranches and capes all abutting Garden City, which he transformed into a shopping center. But instead of Crate and Barrel and Anthropologie, the Garden City of the '50s was more about convenience than luxury.

"Most of the stores were locally owned shops. There was a drugstore, a hardware store, a bakery, a dry cleaner, a post office, a grocery store. In those days, the average family had one car and the husband took the car to get to work. So the wife was home all day because she usually didn't work, but she could walk to all her errands."
Melocarro, in his quest for '50s housewife convenience, created one of the first planned suburban communities in the United States. As time sped forward, two cars per family became more ubiquitous and larger chain stores started moving into Garden City, shifting the local vibe to a more cosmopolitan one.
The result stands today.
Exploring its residential neighborhoods, I find serpentine drives with classically suburban names — Poplar, Crocus, Hollyhock — and trendy apartments fashioned in a former Catholic school. The once-upon-a-time Sockanosset School for Boys is now Chapel View, a sprawling emporium with offices, condos, boutiques and eateries. Across the way, Garden City Center has a complementary vibe, with traces of new and old that subtly mark the shopping trail. Older couples hold hands as they sit on benches, soaking up the scenery, while shoppers with aviators and boots meander into the stores, emerging with bulging bags and cell phones clutched in hand. The smell of coffee wafts from Starbucks, mixed with burger grease from Newport Creamery and cologne and perfume.
Gone are the days when William Harris tilled the land, when coal fumes perfumed the air, when women with A-line dresses shopped for groceries and got their blouses pressed.
Today, Garden City is a brave new world, forging ahead from its agricultural past towards a bustling, multifaceted future.

Great Places for Foodie
Cranston
Avvio
One of the newer kids on the Garden City block, Avvio focuses on classic Italian dishes prepared with simple ingredients. You really can't go wrong with dishes like carefully layered eggplant parmesan or hearty rigatoni Bolognese, especially when they are made with deft hands and served in a cozy setting.
90 Hillside Rd., 942-2900, avvioristorante.com.

Chapel Grille
Featuring hearth-style cuisine and locally foraged ingredients, Chapel Grille is down the street from Garden City Center and an elegant way to end your shopping day. They serve classic dishes kicked up a notch, like deviled eggs with parmesan, celery leaves, chives, white truffle oil and beet and cabbage slaw, or homey favorites like linguine with clams.
3000 Chapel View Blvd., chapelgrilleri.com.

A Short Drive Away
Basta on Broad
Basta, which won best restaurant in RIM's 2016 reader's poll, is a great choice when you're unsure which Italian ristorante you want to hit up tonight. With classic dishes like clams casino and calamari, plus a large wine selection (including stellar sangria), you won't be disappointed.
2195 Broad St., Cranston, 461-2300, bastaonbroad.com.

Poco Loco Tacos
This is the ultimate joint for a quick, affordable and tasty lunch. Grab a taco (or two…or three…) and choose from options like the Napalm (chicken, jalapeños, Napalm sauce, cheese and Southwest sour cream) or the PBJ (pork, black beans, jalapeños, cheese and a sweet chili barbecue sauce). Oh, and did we mention everything is less than $8? You'd have to be a poco loco not to come here.
2005 Broad St., Cranston, 461-2640, pocolocotacos.com.

Great Places to Shop
Cranston
Barrington Books Retold
Barrington Books' second location is conveniently located in the Garden City Shopping Center, and offers a wide array of books, toys and cute gifts. They also have book signings, readings and staff that are happy to help you find your next winter read.
176 Hillside Rd., 432-7222, barringtonbooks.com.

Cohoes
Cohoes might be a chain, but this discount luxury store conveniently located in Garden City is often a pleasant surprise for folks who've never ventured in. Find discount name brands, from Gucci to Asics, at affordable prices. Of special note is the wide selection of cute boots and jackets, perfect for the winter months.
Garden City Center, 156 Hillside Rd., 946-7740.

A Short Drive Away
Edgewood Cheese Shop
For all you queso-philes out there, the Edgewood Cheese Shop might be the closest thing to heaven. With unique, hard-to-find cheeses, Edgewood also boasts an array of cheese boards for some heavenly nibbling and scrumptious cheesy sandwiches for heartier fare. It's the perfect place to stock up your fridge; after all who doesn't need more cheese?
1828 Broad St., Cranston, 941-2400, edgewoodcheeseshop.com.

Great Places to Explore
Cranston
William H. Hall Free Library
With a gorgeous, arched facade and intricate interior details, this branch of the Cranston library system is an architecture lover's dream. Peruse the shelves for books that are tucked into carved dark wood shelves, and when you find what you're looking for, settle down into a Colonial-style chair or comfy couch for a lazy afternoon spent reading. 1825 Broad St., Cranston, 781-2450, cranstonlibrary.org.

Governor Sprague Mansion
Tour this historic mansion (make sure to book an appointment), home to the financially and politically powerful Sprague family. Built in 1790, the house has seen Cranston change throughout history, witnessing important events like the murder of Amasa Sprague, whose death and succeeding trials showcased the anti-Irish immigrant sentiments at the time.
1351 Cranston St., Cranston, cranstonhistoricalsociety.org.

A Short Drive Away
Wolf Hill Forest Preservation
A quick jaunt away and a nice escape from suburbia, Wolf Hill is famous for its scenic views of Providence and, on an especially clear day, the Mount Hope Bridge across the bay. The trail follows old farm roads and passes the site of a WWII-era plane crash. Sneak scenic peeks of the Woonasquatucket Reservoir, greatly rolling fields and keep your eyes peeled for huckleberry and blueberry bushes.
Waterview Dr., Smithfield.

5 Cranston pubs with notable grub
Thirsty Beaver Hometown Pub and Grub
If you are a curious soul, the name Thirsty Beaver should be enough to lure you into this cozy, pun-filled pub ("It's dam good!" Get it?). With a vast selection of brews and tasty nibbles, the Thirsty Beaver is a great place to hit up when you have the munchies. Plus, you never know when their costumed beaver will pop up next to you for a pint.
288 Atwood Ave, 270-7686, thirstybeaverri.com.

McShawn's Pub
A classic sports bar, McShawn's wood-paneled interior makes it a prime place to stop by for a pint and watch the game. Their menu is loaded with deli-style specialties, including a wicked reuben served alongside a crunchy kosher pickle, or for the more adventurous, a liverwurst sandwich.
1336 Cranston St., 942-9747, facebook.com/mcshawnspub.
PJ's Pub
With a spacious interior and outdoor patio seating in the warmer months, PJ's is a classic watering hole to grab some friends for some food and brews. Make sure to try their unctuous poutine, loaded with house made gravy, cheddar cheese curds and topped with fresh scallions.
1139 Pontiac Ave., 383-5885, pjspubcranston.com.

The Big Cheese and Pub
This place has been around since 1968 and is an ode to college life in restaurant form. I mean, what is more reminiscent of carefree college nights than pizza and beer? And for those with a hankering for something heartier, say eggplant parm or a meatball sub, well, they've got you covered on that too.
606 Reservoir Ave., 467-8210, bigcheeseandpub.com.

Brutopia
Not only can you get some finger-lickin-good pulled pork nachos here, but Revival Brewery brews out of the space, ensuring fresh, local beers on tap. Try their seasonal brews, like the sweet, caramel-y Bonfire Brown Ale or the hop-tastic RIPTA Belgian Triple IPA, paired with the house smoked meats like their brisket or chicken thighs.
505 Atwood Ave., sorborestaurantgroup.com/brutopiabrewery.