Garde de la Mer
At this new downtown bistro, the sleek, eye-catching interior is matched by its equally successful menu.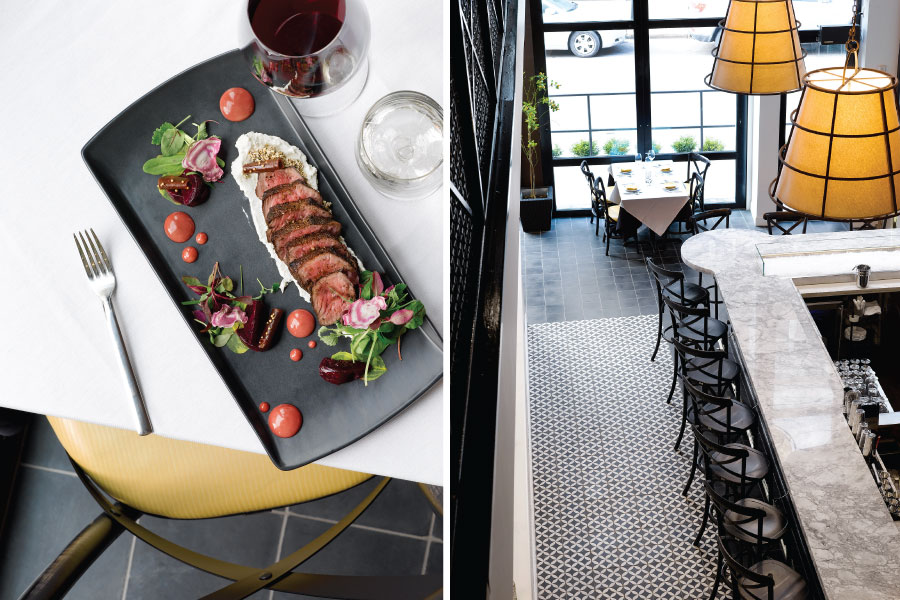 86 Dorrance St., Providence, 632-4799, gardedelamer.com. Open for dinner seven nights a week. Reservations recommended. Wheelchair accessible. Valet and street parking. Cuisine Modern American with a French backbone. Capacity About ninety, including bar seating. Vibe Seriously polished without losing its edge. Like David Beckham in suit. Prices Appetizers $8–$19; entrees $25–$38; dessert $10. Karen's picks Lamb sirloin, tuna tartare, foie gras, striped bass, Delmonico steak, desserts by the dozen. Key *Fair **Good ***Very Good ****Excellent +Half-star
Key
Fair
Good
Very Good
Excellent
Half-star
In the simplest terms, restaurants offer us two things: tradition or modernization. And though it sounds like a vast generalization, it's no triviality. Food may be the most visceral form of art we have, one that not only asserts culture but shapes it and one that's available to the masses and elite alike. Of course, we gravitate to each category in different ways. Traditional foods are often ethnic, usually inexpensive and decidedly casual. They remind us of who we are. But modern food crosses national boundaries, demands financial sacrifices and asks for more than a pair of sweats and a hoodie. What it gives to us, however, is a vision of how we might be — in some future time or aspiration.
Garde de la Mer, the ProvidenceG's latest culinary anchor, heavily favors the progressive approach — its menu is rooted in imagination — but it stands on the shoulders of continental cuisine in such a way that diners forget they're being pushed forward. They only know how good it tastes.
Born into a corporate family (owner Vincent Geoffrey has thrown his full financial backing into all three of the building's eateries, including the vista-laden rooftop bar), the space has been dramatically redone in black iron, white-washed wood and the earthier hues of brick and mustard. The sterling kitchen is open but set to the side, and though the massive bar sits in the back of the restaurant, it holds serious weight. I'm willing to argue that wine is an infinitely richer field than hard liquor but the Garde bar puts out cocktails with such finessed flavor that they immediately spark a liquid romance. Every rendition is rooted in something familiar (a bloody mary, a dirty martini, a margarita) but each glass is stripped down to its elemental notes — acidic, spicy, herbal — making both the drink and its edible pairings more pronounced. These are libations that taste better when you're sober; so good, in fact, that you can't stay in that state too long.
Yet the mood at Garde is rooted in mature revelry. The dining area presents itself like a showroom and the ceiling soars, but the kitchen, even in its infancy, is so grounded that diners have to up their game. At other restaurants, bread baskets are a pastime to fill the void between ordering and appetizers. Here, Platonic dinner rolls parade out in hot pans, licked with butter and sea salt. Not to be outdone, the amuse bouche shows up as soon as you begin wishing you hadn't downed a sphere of dough in ten seconds flat. And here is where the course — translated literally as "mouth amusement" — lives up to its name. Every version has a hint of humor in an otherwise serious endeavor. One night, it's bits of blue cheese rolled in almonds and pecans and served with Granny Smith shavings; it could appear at a 1970s PTA party if it weren't so damn refined and delicious. Toasted rye bread with speck and Gruyere is an equally compelling juxtaposition of sophistication and kitsch, somewhere between a canape and a croque-monsieur. It's as if childhood could come back to you in a euphoric, well-seasoned dream.
Oyster and sorrel stuffed trout with braised lentils, brown butter roasted vegetables and pickled shallot soubise. Pork and clams Basquaise with potatoes, butter beans, baby mustard greens and cider broth.
The cornerstone here, however, is seafood, which plays out simply in the raw bar and even better when offered in more complex terms. Tuna tartare ($14), though laced with cured chiles, is a delicate dish that almost always plays to sweetness without ever going overboard. It's initially difficult to discern the diced tuna from the smoked tomato caviar that lies underneath until they fall in contrasting consistency on the tongue. Paired with a corn emulsion, each mouthful unfolds quietly but with great effect. Texture is tantamount to chef Aaron Thorpe and while the tuna is a subtle study, he goes for drama elsewhere. Clams are paired not with chorizo but a French-inspired pork confit ($26), peeled baby tomatoes, toothsome butterbeans and a cider broth. Lobster and carrots are combined for another homage to natural sugars but it's tough to top the striped bass ($29), which astounds. "It reminds me of fried chicken," says one diner, and it's this kind of unexpected presentation that will secure Thorpe's reputation. Roasted so hard that the skin does indeed taste fried — in the best possible way — it highlights the silken flesh as well as an unexpectedly cold tapenade of tomatoes, olives and preserved lemons with a spattering of smoky lamb lardons. Every bite is an enigmatic reward in culinary yin and yang.
It would be a waste to deviate from fish were it not for the kitchen's shameless love of meat. A lamb sirloin starter ($13) is exuberantly indulgent: unctuous meat alongside baby beets, crisped amaranth, crumbled ricotta, dollops of pureed rhubarb and viscous quince jelly vinaigrette. If it sounds overloaded then it's lost in translation; the dish eats like a circus come to life. Less innovative is the Delmonico steak ($38) with potato puree, root vegetable pave (double down on starch) and demi-glace, but the steakhouse evocation is still superb.
If the guests are teary-eyed over their food, the staff too seems impressed with where they've found themselves. One hostess, basking in the fluidity of the first month's mechanics, could barely contain her enthusiasm. "It's awesome," she says. "I actually feel privileged to be here." It almost seems overwrought until you throw a fork into Andrea Russell's desserts. Servers will suggest the flourless chocolate torte with nougatine and a revelatory brown butter ice cream ($10) — understandably as it's bold in every bite. But Russell delivers whimsy so well that it's worth exploring her less audacious options. A honey pine nut tart with a rosemary crust evokes treacle but, paired with a distinctly floral lavender ice cream and petite orbs of poached quince, the plate falls into harmonic rhythm.
Diners have to be willing to be stretched (in taste and finances) to love Garde de la Mer but it's a gentle pull into the potential of Providence food. Sitting window-side in such an ambitiously designed restaurant, one notes the struggles of Downcity's businesses. But to gaze around the space — industrial yet thoroughly polished — residents and visitors can take pride in the city. It looks like the future will burst out of a classic old gas building, one plate at a time.