Game Face
She's a Jersey girl and a former PC basketball star. Now Doris Burke is calling the shots in the big league world of sports announcing.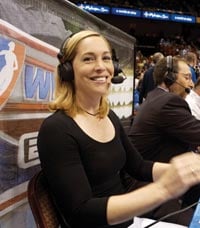 She likes these sessions in the makeup artist's chair, finds them a last chance to relax before the lights go up and the mike goes live, putting her on the spot to say something interesting about the basketball game quickly unfolding before her.
"Do you have your iron?" Doris Burke says to the makeup artist, Alisha, a young woman with raven hair, blue eyes and confident hands.
"Yes," Alisha says, she does indeed have her curling iron. "You have hair that's so fun to do," she says, sinking her hands into Burke's blond, shoulder-length hair. "It's thick, it's gorgeous."
Burke, covered in a black smock, closes her eyes and settles deeper into a high director's chair. "It's like a spa," she says,
except this spa is set up in a cement-block locker room beneath the basketball arena's stands at the Mohegan Sun Casino. Even now, two hours before game time, fans are filtering in from the casino gaming rooms. This game, which Burke will call live for ABC TV, is a Women's National Basketball Association (WNBA) match between the Connecticut Sun and the Phoenix Mercury. It's sold out because Phoenix's roster includes Diana Taurasi, one of the best women's basketball players ever to lace on sneakers. Taurasi played for the University of Connecticut before turning pro, and Connecticut fans want to see her even though she now plays for the enemy.
Alisha has a whole arsenal of makeup in her multitiered tool box: concealer to match every conceivable hue of skin, eyeliner and eye creams, lipstick that she daubs on from a palette.
Using a brush as big as a mouse she quickly swabs blush on Burke's cheeks. "It gives her a little warmth," Alisha says. There isn't that much to do on Burke's face: a little eyeliner, a pencil-thin line of red around the thick lips and it's on to the curling iron, for the face is already pretty enough for TV.
When the ball wasn't in her hands, she felt it should be.
This scene would have been unimaginable twenty years ago, when Burke played on the Providence College women's basketball team. She arrived on the campus as a tough New Jersey chick with cropped hair, bad skin, bad clothes and a good game. A very good game. She is second all-time at PC for career assists (602 times she made the pass that led to her team scoring).
There is something of the ugly duckling story in Doris Burke's emergence as one of the top TV announcers in sports.
There have also been moments of the classic understudy-makes-good story, such as her very first TV appearance in 1991.
The New England Sports Network's Sherry Levin couldn't make it to Providence, and NESN needed a fill-in announcer at the last minute. They hauled Burke out of the radio booth (she was then in her second season of broadcasting PC women's games).
Her husband, Gregg, who has a different memory of this incident, said, "Wear navy blue.''
She rummaged through her closet and emerged with her one blue dress, a matronly thing with white lace round the neck.
"Is that what you're wearing?" Gregg said.
"Well," Burke recalls, "when your husband makes a statement like that, even if you should change you can't."
She looks back at a tape of an early game now and laughs. "I wouldn't even look at the camera!" Yet when that first game was over the producer called Gregg from the truck. "She's unbelievable!" he said. "She's unbelievable!"
Beneath that frumpy dress and the face made up for radio was a lifetime's worth of basketball knowledge. Makeup artists could easily tease out that blond hair, highlight those thick lips and bring warmth to that expressive face. But that obsessive knowledge of the game, there's few people alive, man or woman, who could bring that to the table.
She is the daughter of George and Mary Sable, he a Golden Gloves boxer and lifelong construction worker, she an Irish immigrant. They took seriously the Genesis commandment to be fruitful and multiply—eight children in ten years. There were four boys and four girls in the family, but they used to joke that Doris was such a tomboy that the boys had a 4.5 to 3.5 edge.
Burke still doesn't know exactly what her father did on construction sites for forty-five years; she just knows that he habitually left before dawn and arrived home for a late supper. With eight children to feed and clothe and house on a construction worker's salary, there wasn't even loose change to be found in the Sable household.
George and Mary tried to do the right thing by moving their family out of a tough New York City borough to Manasquan, a small town on the Jersey Shore. For Burke, who was seven, the move was a good one, but her oldest brothers had reached their teens by then, and they hated it. Two of them moved back close to New York City as soon as they were old enough, and one of them, Danny, was shot to death there by a robber.
Burke's older brothers and sisters always worked whenever they could—summer jobs as waitresses or line cooks down on the Jersey Shore, so she spent a lot of time alone. The new house abutted a park, Indian Hill Park, and just by straddling a fence she could be over there playing basketball, or softball or tackle football. Whatever sport was going on, she'd join in.
At first she'd hang by the basketball courts waiting for the kid with the ball to show up. Then her father scraped up the cash to buy Doris her very own ball, a small, plastic cheap ball called a Voit.
Her family didn't see much of her after that, though they always knew where to find her: dribbling, shooting, working on her game. Most of the important parts of her world were out of her control: where she lived, what she wore, the comings and goings of her older siblings; but her basketball, that was a heavenly body that she could bend to her will.
On weekends she liked to watch the college games on TV, all men's games then, and then she'd hop the fence to Indian Hill Park and emulate the moves she'd just seen. Maurice "Mo" Cheeks of West Texas State was a favorite. She'd watch him dribble the ball between his legs and think: I want to do that.
In fourth grade she beat the boys in a foul shooting contest, winning a coveted purple jacket. She'd put that on and run between the hedges of her yard, fantasizing that she was leading a team from locker room to basketball court in a crowded arena.
She was a strange kid. Her family had no money for fancy clothes, and besides, what did her Irish immigrant mother know of current American fashion? She dressed plainly and kept her hair short to keep it from interfering with her game.
Looking back on that time in the mid-1970s, Burke recalls: "What's changed now is that female athletes are admired, they're celebrated. I think in the past, many times there was a negative association—you're a tomboy, you're a jock. The stereotype was that if you're a woman athlete you must be gay."
And with adolescence came acne. So Doris was not going to be Queen of the Manasquan Prom. She truly did not care.
"I'll tell you the truth—I was good at it," Burke says, not just of basketball but of all sports. In fact, she thinks she was best at softball. "When you're good at something you feel good about yourself." So she was confident, content with who she was. "I had bad hair, bad skin, didn't dress particularly well," she says. "But my concern was: Could I ever hit a jump shot with the consistency to make me reliable enough to make the big time? Nothing else mattered."
In her senior year she got her answer: Not only did she make all-state in softball and basketball, she won a full scholarship to play basketball at Providence College, which was then a powerhouse program.
She's now Joanie Kostacopoulos, but back when she played starting center for a very good Providence College basketball team she was known as Joanie Powers. Joanie was a sophomore when Doris Burke arrived on campus in the fall of '83.
"She came on campus and she was confident, just you know, kind of a tough kid from New Jersey," Powers recalls of Burke. "She had an incredible amount of skill. She could dribble like nobody's business. She was a very likable person, but she was quiet, kept to herself. She came on board and she just fit right in. She was the floor leader about from the get go."
College was an entirely different world for this poor kid from the Jersey shore. For the first time in her life, she was surrounded by like-minded people, women with a passion for basketball.
Sure she was still a tomboy, but so what?
"We were all tomboys,'' Powers says. "But there was also a part of us that wanted to look nice when we went off to class."
"I used to put makeup on Doris in the back of the van,'' she adds. "The van would be bouncing all over the place, and I would be trying to put mascara on her."
Off the court, the PC women's basketball team drew Burke out of her shell. On the court, that wasn't necessary for the five-foot, six-inch point guard. Even as a freshman she showed them new possibilities of how to play the game, for Burke's style of play was twenty years ahead of its time.
Gregg Burke, now Doris's husband, recalled that the first time he saw her play he thought: This is the dirtiest player I've ever seen.
He was then the sports information director for Holy Cross, whose women's team was playing against Providence. "Not that she was playing dirty, she just played in 1986," when women played more delicately than they do today. "When the ball wasn't in her hands, she felt it should be," he says. "She played aggressively, like
a guy."
As Burke's last season at PC dwindled to a few remaining games, she peered into her future and wondered what was next. There was no women's NBA then; her only options for playing professionally were to go overseas. And she had offers: one in Sweden and one in Ireland. But for a Jersey girl who had seen little of the world, the idea of living and playing overseas was overwhelming.
She played her very last game in Ama-rillo, Texas, a playoff game against the Creighton University Blue Jays. With ten minutes left in her career, Providence trailed but the game was still winnable. She turned to catch a pass. And suddenly her right knee exploded with the kind of pain that made her sick to her stomach.
Burke knew what it was: a torn ACL, anterior cruciate ligament, one of the four major ligaments supporting the knee. Torn ACLs were and are the scourge of women's basketball; any woman who plays for a while will invariably see some of her friends and opponents collapse as though they'd been shot.
The team trainer helped her hobble off the court. Burke raised her injured leg on a chair and watched through sweat and tears as the scoreboard ticked off the final seconds of her career. She felt pain and she felt fear. For the first time in memory, basketball, the thing that gave her a scholarship, peace of mind, an identity, seemed to have no place in her future.
Graduation day came and went; after a picturesque drive cross country in a van she found herself back home in Man-asquan with a bachelor's degree in health care administration and social work, neither of which interested her. A job opened up in nearby Ocean County, serving as a counselor for emotionally disturbed children. It didn't pay much, $16,500 a year, but Burke soon discovered that you couldn't pay her enough to bear that yoke. Teachers and counselors who work with the emotionally disturbed are special, saintly in a way that she is not.
So when Providence College called in the spring of '88 to ask whether she could work as an assistant coach for the wo-men's basketball team, Burke dropped everything. She took a $2,000 pay cut. Even in 1988 her $14,500 salary wasn't much to live on. She lived with six other women in a house on the corner of Elm-hurst and Eton, close enough to walk to the campus gym.
"We weren't making a helluva lot of money, but we had a lot of fun," Burke says.
In Burke's second season there, Joanie Powers joined as an assistant coach and the two women became inseparable. Together they took trips to recruit top talent, drilled players in practices, cheered from the sidelines. Providence won most of the time, advancing all the way to the NCAA Tournament's Sweet 16 in 1990. What did it matter that they had no money? They were having a blast.
By then Gregg Burke had moved down from Holy Cross to become Providence College's assistant athletic director. They both held assistantships, Gregg and Burke, the kinds of jobs that require young people to work long hours. And one night around 11 o'clock the phone rang in Gregg's office. It was Doris.
"What are you doing right now?" she said.
"Working," he said.
"I want to take you out for a beer,'' she said.
"Let the record show," Gregg says now, "that she asked me out first."
But he's the one who proposed, one knee bent to the Cliff Walk in Newport on Va-lentine's Day, 1990. Two years later, their daughter, Sarah, was born, and Burke was content to stay at home, happy to be a mother. Again basketball seemed to be over; but this time it didn't matter as much.
Gregg Burke had a novel idea: Providence College ought to broadcast its wo-men's basketball games on the radio. Nobody else was doing it, and there was a fan base for it. His boss, athletic director John Marinatto, agreed. He said they'd get former PC basketball star Joey Hassett to call the games.
Nah, Gregg said. They ought to have a woman.
Fine, Marinatto said. "We'll just ask Doris."
Doris? His wife, Doris? No way. "She'd be too bashful," Gregg said. He compiled a list of five women candidates and handed it to Marinatto.
Marinatto called Doris.
She started doing radio broadcasts of the women's games in 1990, just the home games, maybe a dozen that season. She was good at it. Besides knowing the game so well that the men's coach, Rick Barnes, sometimes picked her brain, she had a good voice for it.
"She's got a great voice. It's a commanding voice," says her friend, Joanie Kostacopoulos. "When people hear her speak they listen because they know she knows what she's talking about."
That season she did a TV game on NESN when Sherry Levin took sick before a wo-men's game. But that wasn't the best un-derstudy-makes-good story of her career, not by Gregg's lights. That came a couple of seasons later: a men's game, Pittsburgh at Providence. As the Big East Game of the Week, this would be shown on the Eastern Sports Network from Maine to Florida.
That morning Gregg expected to have his hands full. As associate athletic director, he had to ensure that the ESPN crew had everything it needed. He began that day by pumping some iron in his basement; his two-year-old boy, Matthew, sat on the weight bench watching his dad work out.
Suddenly the boy pitched forward. He fell off the bench, cracking his head on the concrete floor.
"It's a head wound, so it looks like he's been shot," Gregg recalls.
He ran the boy up the stairs where Doris hugged him to her chest. They all trundled off to the hospital, where doctors sewed up the gash with four stitches. This was B.C.P.—before cell phones—and when they returned home the message machine was lit up with something like seventeen messages, each one sounding more dire. Due to a scheduling mishap, Mike Gorman, the ESPN's lead announcer, couldn't get into Providence. Could Doris help?
Tip off was ninety minutes away, her blouse was bloody; and she'd do it. She arrived forty-five minutes before show time. She knew nothing about the Pitt team, but it didn't matter. She knew basketball. Doris Burke went on air that afternoon and nailed it.
Within the Burke family they have nicknames: She is The Pirate, he is The Saint, or St. Gregory. Hers comes from her language on the golf course; if she shanks a drive or misses a putt, her language gets salty. He's St. Gregory because of his patience and understanding. Gregg does most of the housework, much of the cooking, the errand running.
"When I come in off the road, every single stitch of laundry is cleaned, folded and put away," Burke says. "If it weren't for Gregg, there is no way I'd still be in television."
Burke backs her red Toyota away from her house, the one she and Gregg bought when they first married, a one-story ranch with tan siding and green shutters on a small lot in North Providence. She acknowledges that she could afford a bigger house, but "It's just me and Gregg and the two kids. Do I need a mansion? No. Do I need a Mercedes? No. So I drive a Camry."
As soon as she turns the corner from her house, she plugs her cell phone into the cigarette lighter and speed dials her sister-in-law Karen. The kids call her Aunt Karen, though in the patois of her New Jersey accent Burke calls her Ant Keren.
Ant Keren is a school teacher. On the phone Burke asks her for a favor: Could she bring Sarah over tomorrow after Sunday Mass for a tutoring session? "I mean I might as well be looking at Chinese, I'm math illiterate," Burke says. "I can't really help her at all.''
The aunt says fine, bring her over. Burke, steering down Smith Street now, speed dials Sarah to report this news: "Listen, tomorrow after the breakfast and after the mass we're going to go over to Antie Keren's to do the math, okay?"
Burke hangs up and says, "As you can imagine I feel guilt all the time. In Feb-ruary there was a stretch where I had
fourteen games in twenty-eight days.
I don't think there's a working woman around who doesn't feel guilty at times, who doesn't say to herself, 'I should be at home.' "
When he was a toddler, Matthew used to kiss the TV when he saw his mother's face there. Sometimes now when she's on the road and Sarah says, 'Mom I miss you,' in a tone of voice that you know is really sincere, the guilt flays her.
Burke drives west toward the Mohegan Sun Casino. Now she can relax, decompress a little as she transits between the two very different worlds of her life: the loving, micromanaging mother and the commanding television personality who radiates out into American sports bars and living rooms some eighty times a year. For four seasons now, she's been working with the legendary basketball announcer Dick Vitale as part of ESPN's top team of announcers for men's basketball games; she also works the sidelines for ESPN and ABC for their joint coverage of the NBA.
With all this work in a field that was long the exclusive province of men, Doris has accomplished a variety of firsts: first woman to call NBA playoffs as analyst; first (and still only) woman to do New York Knicks on radio/TV; first (and still only) woman to do Big East men's basketball on TV.
She's hungry, and as she parks in the darkness of a casino garage she hopes she isn't too late for the crew lunch. She works out ninety minutes most days at a gym near her house, and she is as slender as she was twenty years ago when she played at PC. You wouldn't know it from looking at her, but she can out-eat any woman on the basketball circuit but one, and she's half Burke's age.
When she reaches the buffet line set up beneath the concrete stands of the arena, it has been picked over pretty good. She fills a plate with chicken, rice and corn
before sitting down to discuss the day's telecast with her smooth-as-pudding producer, Phil Dean.
"Could we have a long view of the court?" Burke says. "And show how Phoenix runs their lanes well?" The Phoenix Mercury is the highest-scoring team in the WNBA, and they play with a precision that Burke wants to share with the audience.
With the clock winding down toward game time, Burke goes in for her makeup session with Alisha. Just as she's getting out of the chair, in walks Rebecca Lobo, today's sideline reporter and one of the most recognizable faces in all of women's sports. Lobo once led UConn to a perfect 35-0 season and a national championship before joining the WNBA. She blew out her knee in 1999. She tried making a comeback after that but now, like Burke, is a mother as well as a TV commentator.
Lobo is six-feet, four-inches and still moves with an athlete's easy grace. She sits on a locker room bench next to Burke. Lobo notes that Connecticut plays a lot of 1-2-2 zone, which stacks defenders away from the basket, making it difficult for them to grab rebounds. She says she'd like to discuss that on air. Burke agrees it's a good idea and pledges to look for a replay that will illustrate the concept.
At twenty-five minutes before game time, Burke sits at the courtside table where she'll call the game with play-by- play partner Terry Gannon, himself a former college standout. She leafs through pages of statistics.
"Would you guys have ever guessed that Phoenix has taken fewer shots than their opponents this season?" she says.
"No," Terry says. "That's a good stat."
"A third of their shots came from three," she says. Meaning that Phoenix likes to take the long, three-point shot. "We could build a graphic on that."
Now Burke is pumping her right foot as if she's playing the bass drum. She's courtside, and she's psyched for the game, for the lights, for the action. She is where she has always been meant to be.