Fun Without the Sun in Newport
Hermine's swells and high winds provided ample entertainment.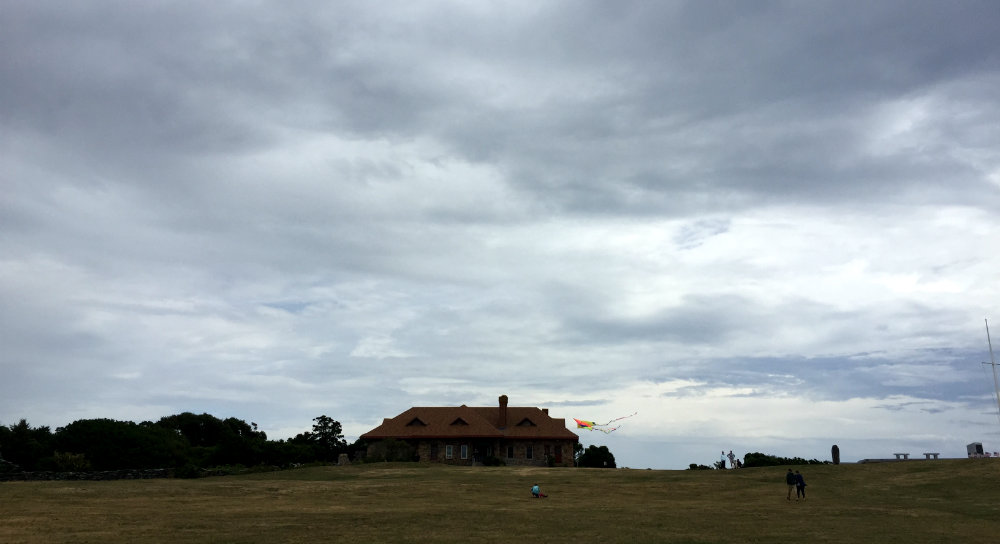 Yesterday, my parents, my daughter and I packed up for Newport to visit humble Hermine. Thankfully, the post-tropical cyclone's impact was minimal (except for those with Labor Day weekend plans). Hermine practiced restraint; there's no doubt she could've hammered our little Ocean State if conditions permitted it.
We were three generations of Rhode Islanders who love a strong gust off a choppy sea, and we weren't the only ones looking for some face time with Hermine. At Brenton Point State Park, other weather tourists (and their dogs) gathered to greet her. One daring surfer cut through the rip tide for a little one-on-one beneath an overcast sky.
But most of us stuck to the shore to feel the errant spray of sea water. Others used Hermine's high winds to fly colorful kites in Brenton Point's grassy fields.
We stopped by Fort Adams and were surprised to see the tall ship, Oliver Hazard Perry, docked in front of the gift shop. Hermine's waves battered the 200-foot teaching vessel, but he stood strong.
After our hair was officially blown out, we headed downtown to grab a bite to eat at Bowen's Wharf. The yachts and larger sailboats were docked, providing shelter for them and a nice view for us.