Fun, Fresh-Baked Treats for the Fourth
This blueberry cake with lemon glaze is an easy recipe worth celebrating.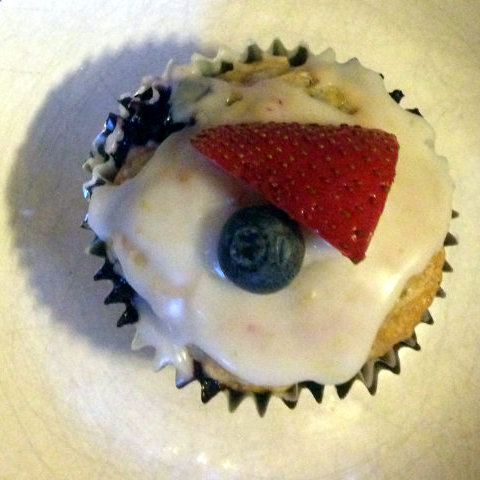 When I was a kid, my mom used to coat pound cake — or angel food cake, if she was feeling light — with whipped cream, then she'd cover the sweet, simple dessert with strawberries and blueberries in the shape of an American flag. Because of that cake, I'll forever pair strawberries and blueberries with our country's independence. Not a bad association, I think.
Instead of ripping off my mom, this year I sought out my own Fourth of July recipe that utilizes in-season fruits. Thankfully, I had a safe, Google-free place to turn: the URI Master Gardeners' excellent cookbook, From Rhode Island Gardens to Your Table. The recipes are thoughtfully organized by season, then broken down into subcategories based on local ingredients. The summer section is just bursting with good stuff — roasted ratatouille, Rhode Island clam chowder, grilled stuffed eggplant rolls, daylily confetti biscuits or chocolate zucchini cake, anyone?
Though I'd eventually like to try them all, the blueberry cake with lemon glaze recipe has been whispering my name since I received the cookbook in December. At long last, berry season is here. I utilized local blueberries and eggs, and doubled the recipe below to make twenty-four mini cakes. I also subbed in a low-fat butter substitute and fat-free sour cream; I was feeling light. To add some patriotic flair, I popped a blueberry and slice of strawberry on top.
Blueberry Cake with Lemon Glaze
Cake
1 cup flower
⅔ cup sugar
1 tsp baking powder
¼ tsp salt
1 tsp cinnamon
1 large egg, beaten
¼ cup butter, melted
½ cup sour cream
1 cup blueberries
Glaze
1 Tbsp fresh lemon juice
1 tsp lemon zest
½ cup confectioners' sugar
Preheat oven to 350 degrees. Sift together flour, sugar, baking powder, salt and cinnamon. Stir egg, melted butter and sour cream into the flour mixture.
Dust blueberries with flour (it keeps them whole while cooking) and fold them into the mixture.
Spoon the mixture into greased cupcake tins. Bake for 30 to 40 minutes, or until a toothpick inserted in the center comes out clean.
Cool (this step is important!) and spoon the lemon glaze on top.
Optional: For that patriotic touch, place sliced strawberries and blueberries on the glaze as it hardens.
Learn more about URI's Master Gardeners and their recipes at urimastergardeners.org or pick up a copy of the cookbook at the following stores:
Twice Told Tales, 2145 Broad St., Cranston
Jamestown Hardware, 5 Narragansett Ave., Jamestown
Custom House Coffee, 796 Aquidneck Ave., Middletown
Sweet Berry Farm, 19 Third Beach Rd., Middletown
The Farmer's Daughter, 716 Mooresfield Rd., South Kingstown
Wakefield Books, 160 Old Tower Hill Rd., Wakefield
Belmont Market, 600 Kingstown Rd., Wakefield
Grow RI, 105 Franklin St., Westerly
Other Tiger, 90 High St., Westerly