Fun and Easy Day Trips Just Outside of Rhode Island
Head west for Mystic, north for Foxborough and east for Cape Cod.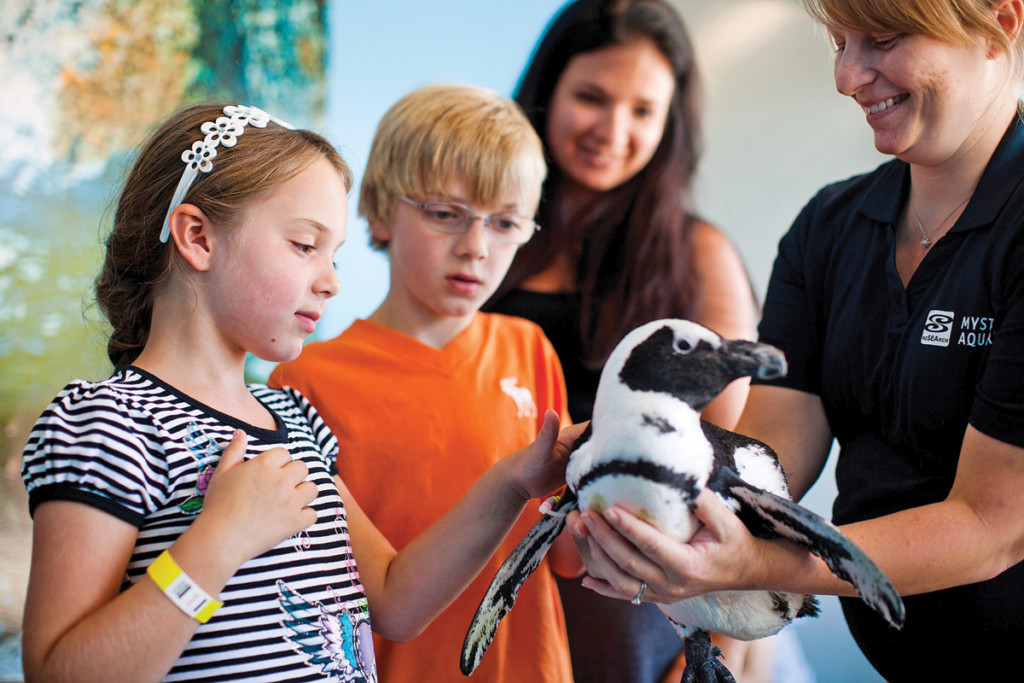 Mystic, Connecticut
(1 hour from Providence)
Less than an hour from Rhode Island's western border, Mystic, Connecticut is the perfect place for a family day trip. In fact, there's so much to do in this little seaside town that you could stretch the outing into an entire weekend without much trouble. Plan to spend an entire morning (at least) at the famous Mystic Aquarium where you can encounter sea lions and beluga whales up close, march with African penguins, pet sting rays and sharks and learn all about the more "weird and wonderful" creatures of the sea. Then, head on over to Mystic Seaport, a leading maritime museum that's home to the world's oldest merchant vessel still in existence, and finish the night off with a slice (or five) of some famous Mystic Pizza.
Fall River and New Bedford, Massachusetts
(25–45 minutes from Providence)
For a full day of nauti fun, journey just fifteen miles out of Providence to the riverside town of Fall River and pay witness to the world's largest collection of historic naval ships at Battleship Cove. There you can view and explore important wartime relics as well as Patrol Torpedo boats from the Pacific Theatre. When you're finished learning about how sailors lived on and operated these floating cities, take a quick fifteen minute jaunt to the New Bedford Whaling Museum, home of the largest ship model in existence, a.k.a. the Lagoda. Don't forget to gaze in awe at the magnitude of the numerous whale skeletons on display at the museum, and also be sure to visit its exhibits filled with old whaling logbooks, paintings and authentic scrimshaw.
Plymouth, Massachusetts
(1 hour from Providence)
New England is rife with historical artifacts; indeed, it seems as if you can't walk five steps without chancing upon some significant eighteenth-century building. But even amongst this crowd, Plimoth Plantation stands out as one of the most immersive historical sites in New England thanks to its staff of dedicated actors and its authentic reconstructions of early British settlements and native villages. Visit a barnyard complete with endangered seventeenth-century livestock, watch as artisans demonstrate the beauty of traditional craftsmanship, experience the Wampanoag village lifestyle and step aboard the Mayflower II to see how our country got its start.
Wrentham and Foxborough, Massachusetts
(½ hour from Providence)
If you're looking for a fun shopping day trip, look no further than ten miles outside of northeastern Rhode Island where Wrentham Village Premium Outlets lies in wait. This outdoor mall features hundreds of outlet stores, including familiar names like Coach, Armani, Bose, Hugo Boss, Talbots and more, and each regularly offers deals on last season's products. If your traveling cohorts are less into shopping (or if you yourself are looking for something else to do after you've conquered all the sales) send them on over to Patriots Place — yes, the plaza next to Gillette Stadium, home of the Super Bowl champs. It not only offers a variety of dining choices but also plenty of goings-on.
Dennis, Massachusetts
(1 ½ hours from Providence)
As natives know, the Ocean State has no shortage of beaches, big and small. But, for those beach junkies among us looking for a change of pace, the coast of Cape Cod (more specifically, Dennis, Mass.) can offer up just the fix. Arrive early to squeeze into Mayflower Beach where you can walk for miles along the pristine tidal flats and pools, stop for lunch at the seaside Sesuit Harbor Cafe for a world-famous lobster roll and finish the day in nearby South Yarmouth with mini-golf and ice cream at legendary Pirate's Cove.