Frozen Assets
For the freshest, best tasting scallops around, you've got to go frozen, says this Connecticut fishing family.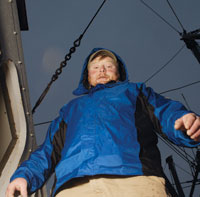 There's something about Bomster sea scallops. The creamy, half-dollar-sized shellfish come from just over the Connecticut line and are the kind of ingredient chefs lovingly plug on upscale dinner menus. One week they might be sauteed and served with a seared potato terrine, brown butter, and celery root and pistachio salad at Chez Pascal, the next, grilled with Rhode Island squid at New Rivers and accompanied by a scallion vinaigrette, quinoa and yellow beet salad, scarlet queen turnips and preserved lemon.
All that's a little fancy for scallop fisherman Joe Bomster, who offered them baked plain for breakfast when I visited the family business in Stonington. Scallops, he says, don't need butter or salt or anything at all, "unless you're trying to hide something."
These ones certainly didn't. They were nakedly sweet, delicate and firm, and tasted impeccably fresh.
Which was surprising, I thought, given that Joe hadn't tried to hide the fact that he defrosted them from a plastic bag before sticking them in the oven. Let's face it: Frozen seafood doesn't sound all that upscale; it's a definite disadvantage when you're talking about pricey shellfish like scallops that retail for $15 a pound. But frozen is all you'll find at the Bomsters' business, Stonington Seafood Harvesters, perched right where the ridiculously picturesque houses of Stonington Borough give way to working fishing docks.
For thirty years, Bomster men have been plucking big, juicy bivalves from the ocean floor. Bill Bomster Sr. started specializing in scalloping in the 1970s when his three boys, Bill Jr., Joe and Mike, graduated from high school and joined him on the open waters. The business has slowly grown and now operates two 100-foot scallop trawlers, the Patty Jo and the Stonington Jo. The number of restaurant requests for the sweet scallops has also grown. The family handles much of the distribution, so Joe has traded dredging expeditions to Virginia and Nova Scotia for nights in the sleeper cab of a refrigerated truck, which he drives through Connecticut and Massachusetts and as far as Delaware. Demand is high. Currently, they supply sixty to seventy restaurants.
So what sets these brand-name beauties apart from the rest? Taste. And texture. Both the family credits to their unique onboard freezing method, developed by Bill Sr.
It's clear that Joe is proud of his father's system, which involves freezing the scallops within a couple of hours of hauling them on deck. It's the only one of its kind in the region, he says. Judging by the shiny freezers and steady flow of traffic at the retail store, it's working for the family business. More importantly, it seems to be working for the scallops.
Because sea scallops, unlike smaller bay scallops, live in relatively deep waters and because strict fishing regulations keep boats running up and down the Eastern Seaboard to fill quotas, scallop boats typically go out for ten days or more at a time.
Unlike clams or oysters, scallops can't survive long out of their briny bath, so crewmembers shuck their catch as soon as it's hauled on board. Standard practice, says Joe, is to then wrap the scallops in canvas bags and store them on ice. By the time the boats dock, the scallops at the bottom of the hold may have been sitting in melting ice for a week or more.
Seafood suppliers buy the catch and all too often subject it to a further indignity: a soaking in sodium tripolyphosphate. Phosphate baths are approved by the U.S. Food and Drug Administration to cut down on moisture loss in frozen seafood, but the agency warns that the chemical can also be used to get scallops to absorb extra water. This "wet packing," as it's called, increases the scallops' weight—and suppliers' margins. But some consumers say it gives the scallops an off flavor and may mask the signs of spoiling.
Bill Sr. knew there had to be a better way to "get control of our product." Here's how his freezing system works. Working side-by-side at two metal troughs, each member of a seven-member crew cuts the circular white adductor muscle, the part that's eaten, from its shell. It takes about a second and a half to shuck each scallop, says Joe. The scallops are quickly rinsed in ocean water, then vacuum packed in heavy-gauge plastic bags and laid in a single layer on metal pans. The pans slot into an industrial freezer that can reach 20 below in a matter of seconds. Rock solid, the scallops go into a deep-freeze in the hold while the crew throws out the gear and continues fishing, working eight hours on, four hours off in a grueling cycle.
It's all pretty far from what Botticelli must have had in mind when he painted Venus emerging from a scallop shell. But the Bomsters swear you'll love the results.
The packaging seals in the natural juices, while quick freezing means ice crystals don't have a chance to form, compromising the texture. The flesh is never exposed to fresh water and never treated with chemicals. It all adds up to a scallop that retains its oceanic verve.
New Rivers was one of the first Providence restaurants to carry Bomsters six years ago. Owner Bruce Tillinghast had to be persuaded to try them because the restaurant generally uses only fresh ingredients. But they are "very sweet, and the texture is amazing," he says. "Scallops lend themselves to this process so well."
Frozen red meat, for instance, will give off a lot of liquid as it thaws. But "that doesn't happen with the scallops," he says. "They don't render a lot of juice. They are nice and dry, and if you want to sear them in a pan, you can get a nice crust on them."
He says the scallops are reasonably priced compared to other "dry-packed" scallops, or scallops that haven't been soaked in chemicals. And they are building up a local following: "We always name them [on the menu]," he says. "People are actually pretty familiar with them."
That's in large part thanks to Elizabeth Kearns, who has been peddling Bomster scallops around the state for seven years.
Kearns became friendly with Bill Sr. and his wife, Jo, in the 1990s, when she used their scallops at her Stonington restaurant, Boom. When she moved to Providence in 2001, the Bomsters had just purchased their second boat and doubled production.
Kearns helped out by making cold calls to restaurant kitchens, hosting cooking classes and attending farmers' markets
to sell the scallops. Now she delivers to twelve restaurants in Providence and Café Zelda in Newport. She also fills orders for people like Joe Paradise, a technical writer at Oracle in downtown Providence, and his four officemates, who periodically call for a dozen pounds to split among them. And there's a writer on the East Side who has been a customer for years. "I'll pull up at 9 a.m., and he'll shuffle out in his bath-robe. I'm his scallop broker," she says.
Bomster scallops are developing what Kearns calls "a bit of a cult following." Brown University president Ruth Simmons is a devotee, says Kearns, who fills orders from her private chef, and so are the powers that be at the University Club and Johnson & Wales.
"People get excited," says Kearns. "They really like telling their friends because they're so good and so different from what you get in the grocery store."
Stonington Seafood Harvesters, Stonington Town Dock, 4 High Street, Stonington, Connecticut, 860-535-8342.