Frosty Gazing
Instead of looking down at all the snow on the ground this season, why not take a moment and look up?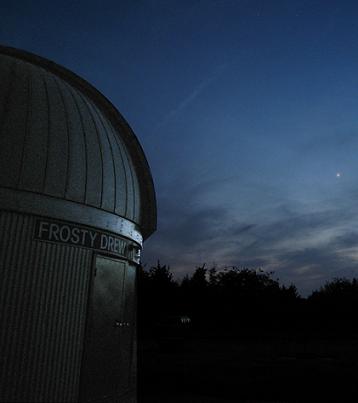 Winter's chill is officially upon us; it won't be long until the talk of the town turns to how many inches we have on the ground. But instead of looking down this season, why don't you take a moment and look up?
Situated at the edge of the Ninigret National Wildlife Refuge, Frosty Drew Observatory and Sky Theatre in Charlestown — named after the late environmentalist Edwin "Frosty" Drew — is considered to be the darkest spot in Rhode Island, and subsequently the best place to star-gaze. Unlike most of the natural beauty around the state (spring gardens, summer fruits, autumn foliage), the stars will still be up there when the ground is blanketed in snow.
The Observatory is open to the public every Friday around 6 p.m. for free observation nights. Executive Director Francine Jackson says ten-inch and sixteen-inch telescopes are available for those who do not have their own equipment; patrons with telescopes are invited to bring them along. For the newbies, Jackson says Frosty Drew astronomers are always on-hand on Friday nights to provide star-gazing tips.
Jackson says this time of year is best for viewing Earth's sister planet, Venus (in the early evening) and the largest planet in the solar system, Jupiter (into the night). She also says there should be some good passes of the International Space Station this week. But before you go on a Friday night, be sure to check out Frosty Drew's Twitter feed for observing conditions. If it says the sky is clear, bundle up and head down to Charlestown with the family, with a date, or just by yourself — observation nights provide a rare adult opportunity to take your head out of reality and let it float amongst the stars.
The Observatory also offers events to introduce new star-gazers to astronomy. Tomorrow night, Associate Director Scott MacNeill will lead a beginner's course on how to use a telescope, how to set it up for a night's viewing and how to properly care for it. The cost for the course is $20 per family or individual. MacNeill will offer the course again in January.
Whether you're a novice or a self-proclaimed "star-hugger," Frosty Drew offers a great opportunity to take in the beauty of winter, even on the frostiest of nights. For more information on public observation nights or to reserve your seat for the beginner's telescope course, email astronomer@frostydrew.org or call 364-9508.
Frosty Drew Observatory, 61 Park Ln., Charlestown, frostydrew.org.