French Twist
A creative couple throws an outdoor dinner party at their College Hill home that's high on drama and feels an ocean away.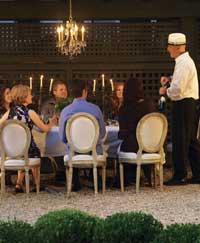 THE FIRST HINT that this wasn't going to be a garden-variety garden party came early on. The hosts, Audrey and Tom Monahan—outside-the-box types at heart (he ran an ad agency for years and is now director of SPEC advertising portfolio school at Johnson & Wales; she's a former dancer and choreographer; they're both avid antiques collectors)—were talking logistics.
Surveying their just-completed backyard oasis, anchored with a twenty-four-foot pergola covered in climbing hydrangeas, their eyes rested on the simple teak patio table and chairs. It was certainly a nice enough setup, but it wouldn't do. It was just too easy. "If I'm going to invite someone over," admits Audrey, "I need to do something special—it's me." And that's how their 200-year-old oak dining room table and nineteenth-century French chairs—a one-of-a-kind (non-weather resistant) pairing—wound up outdoors.
For some, party planning is a chore; for others, it's a joy. For the Monahans, it's an art. The duo have been hosting parties for some forty years, each one set apart from the last by a different theme, a different set of meticulously dreamed up details. There was the candlelit summer party in an eighteenth-century stone outbuilding in Tiverton, staged with antiques, china, silver and flowers. And more recently, the over-the-top all-silver, all-white pre-holiday "ice palace" bash. They knew their latest endeavor, the first outdoor gathering at their 1845 College Hill home, had to be equally theatrical and offbeat.
With the table and chairs came the theme: a French-inspired garden party. And, just as in the past, they rifled through their hefty antiques collection in search of suitable props. A vintage chandelier, also poached from the dining room, followed—rigged above the table and wired for mood lighting. The two French candelabras anchoring the table hail from dealers in Maine who keep a house in France. And marble statuary, a male to the left, a female on the right, would oversee the evening—and ratchet up the French countryside vibe—perched on plinths draped in hand-loomed French bed linens.
Before the guests—all friends and members of a self-styled cooking club Amici Nella Cucina or "Friends in the Kitchen"—had even confirmed, Audrey was preoccupied with the particulars. A perfectionist to the core, she adhered closely to the theme. Out came her collection of early-1800s cream and black French dinnerware; the ever-evolving inventory, most of which boast architectural scenes, hails directly from dealers in France. She dressed simple white linen napkins with vintage wine labels to add visual (and historic) appeal. And the piece de resistance? The dual purpose favors-slash-place cards, tiny boxes filled with French fleur de lis-shaped truffles from Newport Chocolates. The paper covering the mementos is printed with French script—"I have no idea what it says," admits Audrey with a laugh. With a bit of cutting and pasting, Audrey cleverly doctored the prose to include all of the guests' names and the date, time and location of the party.
FOOD, though not an afterthought, is admittedly not a strong suit of the Monahans. "I don't know how to cook," says Audrey. "It's an interesting problem because I love to entertain. I love bringing people into a magical atmosphere. I always used to say, 'Don't come for the food!' " Still, what's a cooking club without food? And, in fact, the group was designed to combat such shortcomings behind the stove. "We all do research," says Audrey, "and then we all teach each other something." The plan was to occasionally bring in a guest chef from a favorite local restaurant to up the learning quotient, and quell the anxiety level.
That's where Eric Wolf, chef/owner of Loie Fuller's on the West Side, one of the Monahans' regular haunts, came in. Called upon to create a French-themed menu, Eric delivered modern-day riffs on the classics: escargot, roasted lamb and chocolate pot de creme.
Truth be told, no one in the group so much as rinsed any greens or chopped any chives. The French wines (including a Jaboulet Hermitage 'La Chapelle') and a special aperitif mixed by Loie Fuller's co-owner Desi Wolf—the St. Germain cosmo—kept revelers happily occupied.
As the sun set and Eric plated the first course, Audrey ushered her friends from the small brick courtyard off the kitchen, up a few stone steps to the illuminated dining table. Tiny speakers Tom had rigged piped a campy soundtrack of 1940s Parisian recordings. "I choreograph an evening. I move the party. I play specific music," says Audrey. "I know the flow I want, just like opening night." As if on cue, the eight guests all take their seats on the beautifully set stage.
For recipies of the food served, please click here.