Former WWE Diva Maria Kanellis now a Student at Johnson and Wales
You can find her at New England Fan Fest's wrestling convention later this month.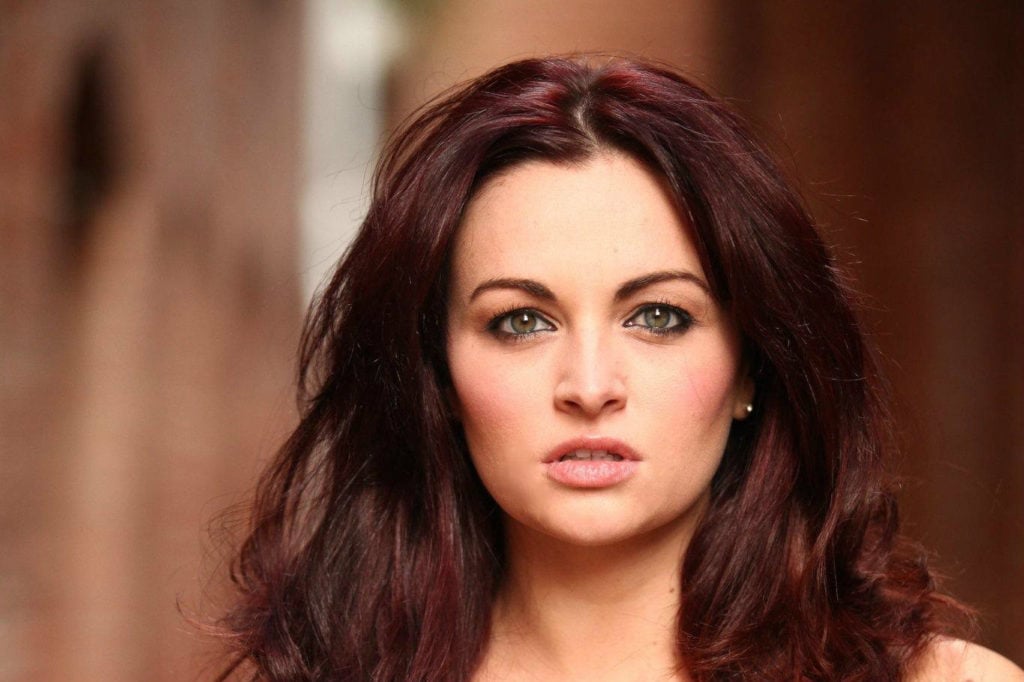 A couple of months ago, Johnson and Wales student Maria Kanellis finished a final exam on a break from her job while in a locker room in the United Kingdom. She was in a locker room because it was the only place she could find Wi-Fi — a necessity for getting the assignment done — and in the UK because…well, that's where work took her.
Kanellis is juggling her unconventional career with classes, and JWU professors have so far been accommodating. When classmates on campus ask what she does, she's frank. "I'm a wrestler," she says. "Now I hope we can do a good job on this group project."
Rather than work a conference room full of suits, Kanellis works the crowd while performing in the squared circle. The one-time WWE Diva and current Ring of Honor wrestler has been on "Celebrity Apprentice" and has also graced the cover of Playboy. She moved to Providence in January with husband and fellow wrestler Michael Bennett, and now seeks to add a sports entertainment and event management degree to her resume.
Kanellis, who turned thirty-three in February, has been in the entertainment business for more than ten years, starting when she entered the 2004 WWE Divas Search. Though she placed fifth in the contest, WWE later signed her to a contract, which she's parlayed into a prosperous career in and out of the wrestling ring. It's that past experience that made choosing her major a natural fit.
"I wanted to make it a valuable resource in my major," she says. "I already know what's going through the minds of the person putting on the event. I already know the concerns that would go through my mind from events I've been to." Prior to classes, Kanellis was already cognizant of aspects like risk management and crowd control and she doesn't lack ideas, but sometimes forgets about cost. "I think of how we can make things bigger. I think I take things outside of budget. I don't have a Vince McMahon budget."
In her most recent term at JWU, Kanellis traveled to Germany and Japan in addition to the UK, all while taking four classes and earning a 3.83 GPA. Given her schedule, Kanellis can only take classes on Tuesdays and Thursdays; to work a show, she'll sometimes fly out Thursdays and not return until Monday. She teases that when she sees students missing from her morning class at 7:10 a.m., that she'll drag them from their dorm rooms because she's made it there and they have not. Even still, she's increasing her workload in the fall to six classes and starting a podcast with Bennett called Mike and Maria in Wonderland.
As excited as she is about her studies, Kanellis isn't looking past the present. Someday, she would like to return to the WWE and is excited about being a wrestler during a time when she says women are starting to be taken more seriously in the ring. In a recent match for Ring of Honor, Kanellis faced wrestler O.D.B. and says the promotion, lead up and time given for the match was comparable to a men's bout. "For me it was an incredible experience," she says. "The women today in wrestling are starting to move this thing to a more equal ground."
Back in Rhode Island, Kanellis says she and Bennett haven't had too much time to explore since they arrived in January right before all the snow. However, they've recently enjoyed visiting the Rhode Island Antiques Mall and at the end of the month, Kanellis will be at the New England Fan Fest 5 wrestling convention at the Rhode Island Convention Center on Sat., June 27. For more information, go to newenglandfanfest.com.